Kurdish American tells his story in 'My Journey to America'
by Brittney Goodman | .(JavaScript must be enabled to view this email address) | Culture | June 22nd, 2017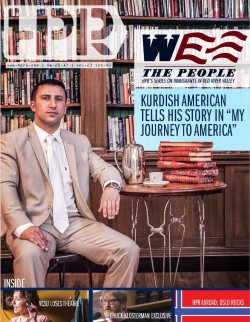 Newzad Brifki's journey to America began in Kurdistan and led him through a refugee camp in Turkey and eventually to Fargo-Moorhead. Currently, this Moorhead resident is focusing on work with the organization he created, the Kurdish Community of America, and publicizing his new book My Journey to America: A Kurdish AmericanStory.
Brifki came here in 1992 when he was seven years old: "I fled Kurdistan in 1988 and we lived in refugee camps in Turkey until we came to the U.S. in 1992." His family, his mother and five of his siblings made the journey. One sister was left behind as she was already married and the law did not allow her transport.
Brifki's text describes the Kurds as being "oppressed" under "brutal governments and dictators of Iraq, Syria, Iran and Turkey." The book describes the Kurds as "a brave race that have always been fierce warriors" who are "known for fighting throughout history against tyrannies."
Brifki's family came to our community before what he calls the "more systematic structure" of Lutheran Social Services. Their avenue to America was through sponsorships: "Families hosted us. They tried to welcome us, give us shelter, and to break the cultural shock of our transition. They welcomed us in a way to make us feel like we were home." He is grateful: "It was good for the years that we were there."
He graduated from Moorhead Senior High in 2003. He then went to college to achieve an Associate degree from MState and completed his undergraduate degree from MSUM in Business Administration. Brifki went on to receive an MBA from University of Mary in August of 2014.
The Brifkis currently live in Moorhead. They moved there from Fargo in 1995. Brifki has a wife, two daughters and one son: Peyvin is 5; Lorin is 3; and Perwer (which means "protector" in Kurdish) will be 1 in June.
Brifki's book is a personal memoir about his journey to the United States. The book came out in the middle of March, 2017. He has had many interviews and media appearances along with a reading at the Moorhead Public Library earlier this spring. Brifki will be doing a reading and book signing on June 28th at the Fargo Public Library at 7 pm at the Downtown Branch.
Brifki is founder and director of the Kurdish Community of America, housed in south Moorhead. The organization was established on September 9, 2009, and was Brifki's brainchild.
He says he began the organization because "there is a vast local Kurdish community and there was no representation for them. Kurds have been in the Midwest since the 1970s. We wanted to create a resource center for community members, to offer resources such as a community member coming to us for capital to start a business and also to be there New Kurdish Americans. Many came after Operation Iraqi Freedom.
Lastly, we wanted to provide an educational opportunity for the greater community – people who were born here – people who may not know much about different cultures. We are a part of this community too; we are Kurdish and want people to understand where we came from. Our organization is about building bridges and a better understanding of the Kurds -- the friendliest people you can ever meet. And we are the biggest US ally in the Middle East currently."
The organization has helped refugee children in the Kurdistan region of Iraq and has raised money to build a library in Kobane, the Kurdistan region of Syrian. In 2016, they collaborated with Elind Hozan, a famous Kurdish singer, with a project to raise money for orphan children.
He is very appreciative of his life in our community: "The things we have here are very good and one should be grateful to have these things – such as, running water, good roads, institutions we can have ready access to. It is a system we should appreciate. Nothing is perfect, but it is sure better than many other places in the world."
From his book, Brifki writes that we should appreciate: "Cold water to drink and swim in, grocery stores and markets that have shelves full of food. Good doctors and medicine to treat illnesses. Schools that are clean and where one can actually focus on their studies. Our lights are on all of the time when we need it in our developed countries."
His motivation to write the book came after being asked to speak at many service clubs, organizations and institutions who wanted him to speak about his experience: "I began to realize that I wanted to reach a larger audience. What if I could tell my story beyond Fargo-Moorhead, to the United States, to the world? I wanted to share my experiences – what I saw before and after I came to live here. I want to share how I have contributed to this country along with my gratitude to this country for allowing me to become the best that I can be.
"I feel compelled to educate people. We are a nation of many nations. If one were to really look deeply at the history of this country, he or she would greatly appreciate everyone in it."
Brifki has had to overcome obstacles in his journey to America. Brifki says that "when I was younger, my challenge was poverty. But when I grew up, it was more about trying to fit in and prove myself." Brifki's enthusiasm, confidence, intelligence and communication skills are evident, and he asserts: "When it comes to debate, it's going to be hard to defeat me."
Brifki's biggest joy is his appreciation of "the American people for giving me a safe haven. This includes good schools, good education and a good job. I have a lot of appreciation because here I can sleep well at night and wake up tomorrow knowing that I can be a better person and have more opportunity with the new day. I don't think a person would find that in a lot of the other countries in the world."
Brifki hopes for his children "to give them everything that they need to be successful and good people. After that it is going to be up to them to write their own book. I can't hold their hand every step of the way. But I can prepare them to be good people. And hopefully they will have more than I have."
Brifki currently is a substitute teacher for Moorhead Schools. In addition to that, he works hard at his job at the Kurdish Community of America and is busy publicizing and selling his book. He adds, "I also do want to run for office; It's hard as the underdog. I ran in 2013 but I do want to run again."
Brifki says that is you are interested in collaborating on a project, purchasing his book or having him come to your group for a public speaking engagement or book signing, contact him through social media, such as Twitter, Youtube and Facebook. The book is also available via Amazon and on Next Century Publishing's web site.
In the book's epilogue, Brifki writes: "Leaving my homeland and everything I knew in starting a life in a whole new world was not easy, but it was a journey to remember."
He describes it as a journey of "seeing new faces, a new culture, a new language and way of life" that was "not only a cultural shock but a very hard situation to be in."
But Brifki's book is full of promise and life lessons, as he advises: "For those of us who have been blessed with everything that God has given us, we should be thankful. Do not get ahead of yourself by having a big ego because that will only kill you. Be confident but always hungry to learn more about others, about yourself, and about the world."
IF YOU GO
Reading and book signing, Newzad Brifki's MyJourney to America
Wednesday, June 28, 7pm
Fargo Public Library, 102 3rd St N, Fargo