Let's Talk: North Dakota's Anti-Discrimination Bill
by Faye Seidler | .(JavaScript must be enabled to view this email address) | Culture | February 15th, 2017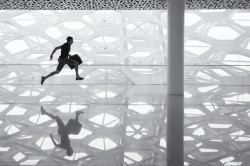 On February 10th, a majority of House Republicans rejected the Anti-Discrimination Bill that would make it illegal to discriminate on basis of sexuality or gender identity. Their reasons for rejection were very similar to the reasons they rejected similar bills in 2009, 2013, and 2015. They perceived this bill as something that would impede religious freedoms and put undue pressure on religious individuals.
In the years prior, they also maintained that discrimination did not occur in our state, making this law unneeded. Interestingly, this year they conceded that discrimination does occur, but maintained that this law wasn't needed, since individuals can file complaints with the Equal Employment Opportunity Commission.
Unsurprisingly, this session saw a greater amount of fear-mongering along the theme that laws like these would allow men into women's restrooms. It's a tactic that was adopted, popularized, and refined in Texas and is now being peddled all across the country for its effectiveness in undermining anti-discrimination efforts.
In reality, that claim is an unfounded red herring, as evidenced by the fact that Minnesota has had inclusive laws on the books for over twenty years without incident. Furthermore, anti-discrimination laws offer no special protection to someone who is violating any other law.
The overarching theme of these legislative sessions was the perception that this issue is somehow a zero-sum game between religious practitioners and LGBTQ+ individuals. Or even worse that it's a zero sum game between the safety of women and children and the rights of LGBTQ+ individuals, as Mark Jorritsma, president of Family Policy Alliance of North Dakota, implies. "This legislation would have put women and girls at risk"
Mark went on to say that most of our state didn't want this legislation, "From the number of people contacting their lawmakers, asking them to oppose HB 1386, we can clearly see that North Dakotans don't want this legislation."
That statement drastically conflicts with Andrea Denault, legislative coordinator with the North Dakota Human Rights Coalition (NDHRC), who reported that 73% of North Dakotans supported the kind of legal protections HB 1386 provides.
Within that group who is supporting this bill, we see people of every age, race, income bracket, political affiliation, and religious affiliation standing up for the moral necessity of this protection.
Even our Governor, Doug Burgum, supported this bill with the statement "All North Dakotans deserve to be treated equally and live free of discrimination, as we compete with other states to fill the thousands of open jobs in North Dakota, we must be a place where everyone feels welcome."
According to Joshua Boschee, the bill's primary sponsor, in a statement to the Bismarck Tribune, "Since day one, we've been ready and willing to work in a bipartisan fashion to pass this bill. We cannot let perfect be the enemy of good when it comes to providing basic protections that are so important to so many of our citizens. Passing a bill that provides these protections — even if it doesn't include every single provision we want — is better than not passing any bill at all."
This bill wasn't put forth as a rigid piece of legislation that demanded every conceivable right for LGBTQ+ individuals. The goal was to compromise and gain some protections for the citizens of this state that would bring us as a state more in line with the rest of the nation, and it was up to the Republican majority in the House to draw the line in the sand for what they could accept. For example, the Republican Party could've entirely taken out the gender identity protections in the bill as their condition for passing the rest of it.
The Republicans certainly had complaints about the bill, but they offered nothing in the way of solutions.
This unwillingness to compromise on anything made many people feel like they weren't being heard, that their voice didn't matter, and that they didn't have a future here or reason to stay in this state. We heard stories this session of our youth going to colleges in other states and saying they'd never come back here.
The fact is, North Dakota will continue to lose young people to more inclusive states. We're going to continue to spend a great deal of time and taxpayer money bringing up these issues until they're adequately addressed.
It will keep happening, because these issues directly affect LGBTQ+ lives. They affect their ability to have housing, their ability to maintain a job and, from that income, their ability to seek services in our state. This is important not only to LGBTQ+ individuals, but also to their families and all of the people in their lives.
Listen, these bills aren't about making anyone accept LGBTQ+ people, they don't have to like us even if they vote for a bill like this. These bills wouldn't stop someone from being able to go to church, own a Bible, and talk about their religion. It certainly doesn't grant protections for predators to harass people in restrooms.
What it does is it ensures that a person has the right to live in a home they can afford, the right to maintain a job they're capable of doing, and the right to use the bathroom that makes sense. If that previous sentence didn't have the context "for LGBTQ+ people," I'm sure everyone would easily agree that people deserve those rights.
I get that people are uncomfortable with LGBTQ+ individuals. I get that there are many people who have never met a trans person; that we have years to go before culture starts to catch up and that maybe these laws are happening faster than people are ready for.
But LGBTQ+ individuals come from all walks of life, hold jobs in every profession, and are part of any and every religion and political affiliation. We're at a tipping point culturally and we are only going to become more visible as time goes on.
We need to have actual discussions about this and craft laws that everyone can live with: not another session of stonewalling another anti-discrimination bill, not more time spent pretending we can avoid this for another two years.
My email is always open and I'm more than happy to talk to people about their concerns and ways we can all find happiness as we go through our lives.
__________
[ Editor's note: Faye Seidler is North Dakota Safe Zone Project Spokeswoman]