​New Year's Eve Guide
by HPR Staff | .(JavaScript must be enabled to view this email address) | Culture | December 27th, 2017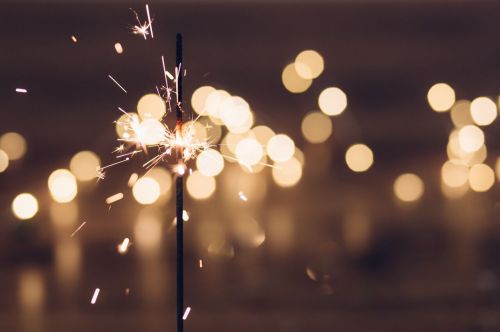 Saturday, December 30
It's a good idea to get warmed up for New Year's, and why not start a day ahead of time, at The Aquarium, 226 Broadway upstairs, at 7:30pm, to see Radio Free Fargo And Dan Ellenson Present: F-M Songwriters Circle. We've been waiting for this one, Radio Free Fargo's Holiday benefit jamboree: a showcase of some of FM's best singer-songwriters! Featuring Channing Minnema, Jason Stachowski, Scott Heidinger, Ethan Rooney, Landon Barta, Bobby Peterson, Lacey Guck and Kwaician Traylor. Doors at 7pm, Show at 7:30. $5.00! Come hang out and listen.
Later in the evening, another fascinating event, musicians who don't have to try to keep it weird. Never heard of Seagrave Studio? It's in the basement of the Red Raven, 916 Main Ave, Fargo, and it's hosting the Year's End MEGA Noise Show, December 30 at 10pm-1:30am. Bands: Fall Damage, their first show ever; a dark ambient project from Sam of Dolmen; Geyserbrain communicates with extra dimensional beings; dark, industrial Salmari from Philadelphia; headliner Manchester Bulge's Tara is back! $5 suggested donation, benefits the Seagrave Studio shared artists' space.
You can spend three late nights December 29, 30 and 31 at Rick's with live music by The late night. Though we recommend the December 31 that's when they break out the games, prizes and most importantly the bubbly.
The Front Fenders will present the Downtown VFW with a double whammy of dance tunes on December 29 and 30. Thunder Ridge will be ringing in the New Year with even more live music.
Junkyard Brewing Company will have a Beatles night on December 29. The handsome and talented Dan Miller will be performing a two hour Beatles cover set. The duo Hot Lunch will be playing December 30 with their unique blend of jazz, swing and folk. Junkyard's ultimate NYE tradition is their annual keg drop--but before that be sure to check out the best of the worst music videos.
But don't stay up too late! There's more than enough to do on the last day of the year.
Despiértate! Apúrate! Wiki wiki! Time to start the 31st.
In the morning, you need a good start before all the New Year's celebrations and parties, and at Crossfit IceHouse, 1620 1st Ave N, Fargo, on the 31st, from 11am to 2pm, start with yoga, brunch, and kick-ass crafts. Arrive in your yoga pants and after their mimosa bar and coffee, enjoy a 50-minute round of flux yoga (for all levels and yes, you can handle it). Pre-registration required, 612-834-9598.
Are you ready now? We've got some walking to do.
We know Crossfit Icehouse is in cahoots, at least occasionally, with Drekker Brewing, Valkyries of the Valley are performing for a benefit for Holly Handful, with other activities and attractions. Hee Han knows more about it than we do. See her article in this issue! $10 General - $15 VIP (includes a Drekker Brew!)Silent Auction runs 3:00 pm - 12:00 am at Drekker, Doors open at 9pm for Holly New Year! Burlesque Show begins at 10:30pm, Go Go Dance Party ($5 cover) until 1:30 am!
By late afternoon, we'll be heading for the 5th Annual Mini Powwow and Round Dance at the Fargo Civic Center, 207 4th St N, December 31, 5:30pm-midnight, starting with a blessing and potluck feast at 6pm, mini-powwow at 7, potato sack races, potato dance, the beautiful round dance, and a hand drum contest. The event is free and open to the public, drug- and alcohol-free. For more information, please contact Willard Yellow Bird, 701-476-4116, and Jered Pigeon, 701-306-4100.
You can chill at the Holiday Inn and enjoy a dinner buffet, a midnight toast and dancing to the sounds of October Road. Individual tickets start at $50.
From 6-12:30 at the Delta Marriott Hotel Fargo - Danny Elvis and The Legends will be performing. The show will be paying tribute to a few of the greats. Elvis Presley, Johnny Cash, and Marilyn Monroe. $50/ticket including dinner.
At the Sidestreet Bar & Grille's show, it's San Haven Chuckle with the Knotties, or maybe the other way around, some people say Chuckle is opening and the Knotties are later, never mind, just get there and mission f*cking accomplished, 404 4th Ave N. The Sidestreet, by the way, in its beautiful new home in a refurbished building, has great bar food and a huge selection of beers. Show starts at 10pm.
Yow again! Regional author John Showalter knows more about Chuckle and Sidestreet than we do! See his article in this issue.
For the last show before midnight, we recommend Dempsey's Irish Pub, 226 Broadway. The show starts at 9, but you can drop in anytime, New Year's countdown with complimentary champagne and party favors. Entertainment by Helena Handbasket. If you go upstairs, it's a bash, led by DJ Yanni.
We like to stay up all night on New Year's, but the weather forecast is for 21 below and a ten mile per hour wind from the direction of Winnipeg, and staying up doesn't look like a good idea.
On the morning of January 1, take a ride across town in the morning light, if there is any.
Your last stop should be the Fargo Brewing Company for the Brunch Buster Release with Luna Fargo, at 10am New Years Day, 610 University Dr N, across the street from the Family Fare supermarket parking lot. We're helping you with directions because by this time, you might get lost. We hope you get there: a delicious breakfast includes egg bake for carnivores or veggies, bacon, hash browns, cinnamon rolls, fruit and yogurt, and FBC's annual release of Brunch Buster Espresso-infused Vanilla Porter! $15.
Happy New Year! Be sure to ring in the year safely with a designated driver or be sure to call a cab, Uber or Lyft...oh yeah--be sure to wear your seat belt!