Positive Vibrations: The Edge Interview with Jurema Silva
by HPR Staff | .(JavaScript must be enabled to view this email address) | Culture | April 18th, 2018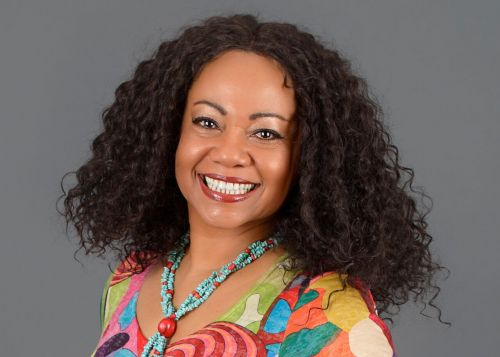 By Tim Miejan
t.miejan.25@gmail.com
As a young girl growing up in São Paulo in southern Brazil, Jurema Silva was exposed to an eclectic blend of spirituality that went beyond the borders of her family's Catholic Church parish. Yes, on Sunday millions of Brazilians attended mass, but during the week, on Wednesday nights and Friday nights, centers focused on spiritualism and African religions helped the locals explore their gifts of intuition and mediumship.
The openness of her society to myriad forms of spirituality allowed Jurema to feel comfortable connecting with her family lineage of mediums, even though it wasn't spoken about or advertised. As a young teenager, Jurema's mom pulled her out of Bible School and supported her personal research into the supernatural. Jurema's older sister introduced her to books that assisted her personal exploration.
That curious young girl matured into the Jurema Silva that we now know as a naturally gifted psychic/medium, spiritual counselor, inspirational speaker and guided energy healer practitioner, who supports the personal growth of Minnesotans and people throughout the world. We spoke with Jurema to learn more about this hidden treasure within our midst.
HPR: If somebody wants to find their purpose, but they don't have a clue where to begin, what do you recommend?
Jurema Silva: That's a very good question. It's the question that most of my clients really wanted to know, even if they don't ask me. Everyone, from very young children to my clients in their eighties and nineties, ask, "What's my purpose here?" The purpose of your life here is to learn and to give, to share your wisdom, really.
It doesn't matter if you are sharing your knowledge and wisdom within the family by helping and educating your children, or if your purpose is to excel in your job or become a healer. I consider a healer to be a doctor, a nurse, a caregiver, a caretaker, social worker, a psychologist, a professor, a teacher, a writer, a painter, an artist, a musician, a dancer. All those people came to enhance and transform other people's lives. That's the purpose. I ask my clients and students, "What are you doing to help others, to enhance others with your own knowledge, with your capability, with your empathy? What are you doing to help others in need?" That's the purpose, really, of us being here.
HPR: What were you like as a child? Did you have a lot of intuitive insights?
JS: My first experience, when I was probably 4 or 5 years of age, was seeing this image in front of me of a very bony, skinny man with a very warm, nice smile. He was always around the house or in my bedroom, especially at night, communicating with me through my mind. I shared that experience with my mother. I told her twice, three, four times, I don't know, probably ten times, and she was wondering, wait a minute, she is seeing this image very often.
So she asked me to describe this man. I described to her the very skinny, bony man with a big brown robe, and he had a cord around his robe, and he wore leather sandals. My mother actually thought at first that it was Jesus, because she is still very Catholic. When I mentioned the birds flying around, animals that were lying blissfully around him, and some birds on his shoulders, she realized that I was seeing St. Francis of Assisi. She told me who he was, but I had no idea who the saint was. But her reaction to that was to buy a huge statue of St. Francis of Assisi and have it at home. She still has it. She is 86 years old, and she lights a candle every Tuesday for him because she believes that he protects me, I guess.
That was my first experience. I wasn't sharing that experience with others, and my mother didn't share it so much with the family, because events like that within the family were very common in Brazil, but at that time you didn't advertise so much. It wasn't a big deal, especially on my mother's family side, because there are some mediums there. It runs in the family. So, my mother didn't have to advertise. It was something special that she appreciated, but it was not like, "Oh, my God! My daughter has a problem!" No. It wasn't like that at all. It actually was very smooth.
HPR: She actually knew that you were continuing the lineage in your family, right?
JS: Yes. I was born and raised Catholic and my parents were very strict Catholic parents, so they didn't talk much about that, but they knew that there are other members of the family with a special gift like what I had.
HPR: When did you have your first experience with seeing somebody from the other side?
JS: Oh, I was probably 10 or 11, maybe before, but I don't remember the exact time when I received messages from a person to give to a friend in school. That was my first time. I remember that clearly, it was her grandmother who passed away. I would say it was not even a year since she passed, and she came with a message to give to my little friend.
HPR: How did your friend respond?
JS: She started crying, because the message was correct. I described this old lady standing next to me on my right. That was my first experience seeing, meeting, giving a message to somebody.
HPR: Psychics and mediums I have interviewed have said that at some point in school you become ridiculed for being different. Did you withhold some of your intuitive abilities as you were growing up?
JS: I had to because of society. At the same time, I was blessed to grow up in a country where Christianity was, what's the word, synchronized with African and spiritual religions, so I was not judged so much for having my gifts. Of course, I did not advertise and I didn't use it all the time in public or with strangers or even friends and family. But I was blessed to be born in a country that is a lot more open society than the United States of America. In Brazil, at least when I was growing up there, people were going to a Catholic church for a mass every Sunday morning, but on Wednesday nights, Friday nights, they were in a temple or a spiritual center.
So, growing up in Brazil involved a great mix of feelings. You grew up Catholic, but you have a gift of intuition and what do you do with it? That's what is still happening, I believe, for a lot of Brazilians. What do you do with your gift?
[Editor's note: This piece was originally published in The Edge magazine]
www.edgemagazine.net but has been edited due to space limitations]
IF YOU GO:
2018 Fargo Holistic Expo
Saturday, April 21 10am-6pm
Sunday, April 22, 10am-5pm
Fargo Civic Center, 207 4th St N,Fargo