Real talk: the Fargo-Moorhead Pride Center
by Faye Seidler | .(JavaScript must be enabled to view this email address) | Culture | July 26th, 2017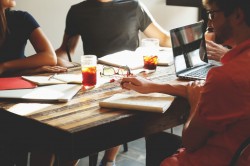 A few weeks ago an individual posed a question on social media asking people how they felt about the local Pride Center. This question ignited a fierce discussion between community members, including responses from the Pride Center's President, Ken Story.
Ultimately, this discussion resulted in creating an event for community members to engage with Pride Board members on Sunday Sept. 10th, from 3 to 5pm. The function of the event is to listen to community concerns, needs, and ideas.
Now, who has heard this before? Because I have.
Just two years ago we had similar community engagement when Ken Story took over the position of Pride Board President from Lindsey Warner, as a means to connect with community members who had been disenfranchised by previous board members over the years. Fewer than twenty people showed for it and they were the usual suspects for these events.
Here's the thing, the Pride Center has seventeen years of baggage to contend with. I don't know the minutiae of that or the history before 2014, but as a community leader right now, I understand that there is a tremendous amount of frustration and burnout with the Pride Center that isn't really acknowledged or addressed in a public way. Instead it festers between friends over beers and becomes a toxic attitude toward the organization that is nearly impossible for new board members to overcome.
There have been times I've been unhappy with the Pride Center. There are times I've had to step back for a few months. However, the Pride Center is the reason I am who I am today. If not for walking through their door one day, pushed into it by a coworker who was inspired by my bravery, I wouldn't have met my friend and teacher, Jared Kellerman.
If the Pride Center didn't have the space to allow me to mentor, or the people to guide me as I stepped into activism, I wouldn't be writing this right now.
I've had my share of negative experiences, but I also never stopped encouraging people to use the resources that do exist, because I believe they offer an opportunity for people that nothing else in the area does right now.
I've had criticisms about them along the way, but my philosophy is that I'd rather not air my objections unless I'm willing to step up and volunteer my time each month to fix them.
Being on the Pride board is a hard position, one that most members resign from before their term is up, and part of what makes it hard is facing the constant criticism inherent in attempting to represent an entire alphabet's worth of diverse interests and needs while keeping the doors open.
That's not to say they deserve a free pass. There are years worth of tensions stored up and nothing is going to easily change that.
What I'm saying is that these issues and this community deserve better all around. We need engaged community discussions to become the norm. We need ways to step back, ways to step up, ways to constructively disagree, and ways to engage in conflict that don't derail the whole process. But before anything can happen, we need people to come back to the table.
And why would anyone want to make up and place nice?
Everyone on the Pride Board is new and they're putting themselves out there. There is no better opportunity or more pressing need to unite our community than at this moment.
We live in a conservative area and during the Trump presidency. We can be fired or evicted for how we are born. We live in a state that's indifferent or hostile to us, where our youth don't feel safe, where most of us move away as soon as we can, and where we have a series of cliques but no real community.
I think it says something that even I, as a community leader and queer woman, only really feel truly safe and connected at CoreCon, a non-LGBTQ+ focused event for nerdy stuff.
There's a tremendous amount of work to be done and it won't be easy with seventeen years of baggage, but North Dakota needs better than it has right now.
We need to allow allies to make mistakes, we need have some tough conversation and understand that there will be disagreements, and we need to allow our leaders to grow through both support and advice.
The Pride Center could become a great place, a spiritual beacon to the marginalized in our state, but it'll only ever be as good as the investment our community puts into it.
[Editor's note: Faye Seidler is the North Dakota Safe Zone Project Spokeswoman]