Real talk: what it means to be an activist
by Faye Seidler | .(JavaScript must be enabled to view this email address) | Culture | November 29th, 2017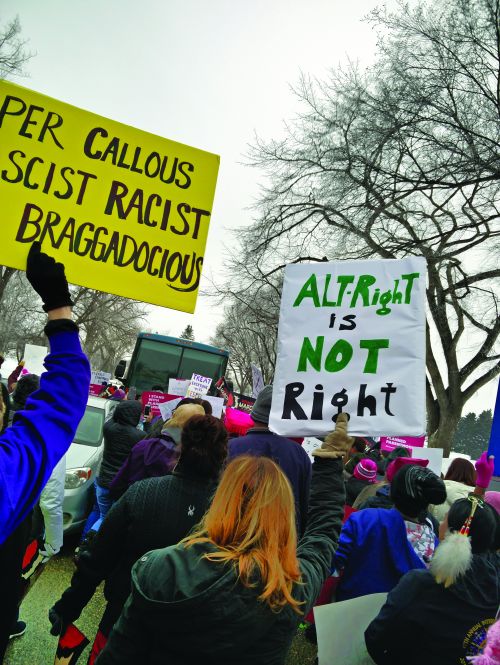 The very first thing to understand is that most activists work like hell and don't get the appreciation they deserve. There typically isn't glory or even thanks at the end of the day. Depending on what you're doing the people you're helping might even come to resent you.
There typically isn't any employment or job opportunities that result from being an activist, and activism can actually have repercussions on your current job. At the utmost being an activist means risking your life, with a recent example being the water protectors at Standing Rock.
So, why would anyone ever want to pursue activism?
Personally, I'm compelled by a sense of justice. I don't mean that in a noble or praiseworthy way, I just somehow cannot abide inequality. I cannot sit down in a world where people are violently targeted or discriminated against because of the way they were born.
I also cannot allow other people to go through the agony of growing up transgender in North Dakota without a mentor or resources. My activism is compelled by deep personal values and while it can put me through the grindstone physically and mentally at times, it is who I am. I would do this work without thanks, because I personally care about and value what I'm contributing.
Unfortunately, it isn't very useful to share my kind of activism, because if you're like me then you're also compelled toward activism regardless. So, let's talk about the other things people get from it!
The biggest positive effect of activism would be a sense of personal fulfillment. There are few things the create the same warm sensation as selflessly giving your time and energy for someone else and knowing that your actions have had a positive impact on someone's life. If you think about it, activism isn't isn't unlike being a parent in all its pros and cons.
Aside from personal fulfillment, we can also experience the warm fuzzies that come from community involvement. There is a reason Maslow's hierarchy of need puts the need to belong just above stable food and shelter. There is something deeply fulfilling about getting involved and being part of a community. Activism can make individuals part of a team of other passionate people who also care about something more than themselves. There is nothing like geeking out with people who share your passion!
Those aren't the only positive things to expect from activism, but they're major examples of how it can be rewarding. The common thread is that they're all positives that come from the work and not the reward. That's the thing: in activism, the work has to be thanks enough or you're going to burn out.
Wow Faye, that's pretty harsh, don't you want more activists?
What I want is people who will keep coming to the table year after year. We don't need people jumping hard and fast into activism, who then burn out in a year because change wasn't happening fast enough. I don't want people who are going to quit after three months, because nobody was appreciating them enough.
I want people who know exactly what they want out of activism, who contribute what they can and become a reliable, trusted resources in their community.
That said, nobody is perfect and nobody starts out knowing their limits. We discover that as we grow and it is part of the reason activists burn out, because we don't know how much we can handle until it's too much. So, let's look at some strategies to manage stress as an activist and avoid burning out.
Consider how much time you can devote to your cause on a weekly or monthly basis. Activism can be as little as spending an hour a month at a homeless shelter or as much as spending countless nights working on grants. If you're burning out or overwhelmed, you need to reduce your commitment as to how many hours you put in during a month. Again, no amount of work you do in one day can match the value you'll have from coming to the table ten years from now.
Find times when you can disconnect from your activism, because a candle that's always lit will quickly melt. This could also mean disconnecting from Facebook or the internet altogether. It could mean shutting your phone off every Sunday. It could mean not responding to emails on the weekends. It can be a thousand things, but what is important is that you get a break from your work, so you can relax and refresh.
Always assess the organization and individuals you're working with. Good organizations and activists will show respect and gratitude to each other. There shouldn't be any drama, disrespect, manipulation, or any other toxic behavior, because nothing makes people burn out more than having to deal with that crap while trying to contribute towards a positive change. In short, try to work with people who you can draw energy and support from, while dropping out of toxic situations.
As a final thought, understand that you don't owe anyone anything. Definitely keep any commitment or promise you've made, but how you spend your life and what direction you take it in is up to you.
You don't have to be an activist and it doesn't say anything bad about you if you walk away. We only have one life to do right by ourselves and nobody has the right to make us feel guilty about that. I just hope when the time comes, a person can leave activism because it is the best choice for them and not because they burned out.
-----------------------------------------------------------------------------------
[Faye Seidler is North Dakota Safe Zone Project Spokeswoman]