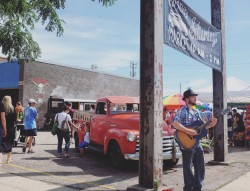 A variety of freshly produced food is coming back to Fargo. It is not just food but locally produced food. The Red River Market annually gathers up vendors and encourages them to offer our community members the experience of our local food and food products.
The Red River Market was founded in 2015 by a group of five volunteers who felt that a farmers' market and community gathering place was missing in our area. For the first season, the Red River Market had about a dozen vendors, but its numbers have increased to 35 vendors per week and 50,000 total visitors last year.
Typically, first thing that comes to mind would be vegetables, but there are more than vegetables. The market has a wide variety of vendors within a 200 mile radius, with a rotating selection of ready-to-eat food and beverages; bakery, pantry, and household goods, and local artists' products.
There will be educational programs for visitors and members. Every Saturday, the Boys and Girls Club will set up the Imagination Playground with its life-sized foam blocks. Simone Wai, Red River Market board member, explained that this program has been a huge hit with families in previous seasons, encouraging creative outdoor play.
A rotating nonprofit organization is also providing educational activities for children and adults every week. These organizations include The Arts Partnership, Creative Plains, Buzz Lab, Cass County 4-H, Great Rides Bikeshare, Ugly Food of the North and others.
Throughout the season, the Red River Market also features cooking demonstrations by Sanford Family Wellness and animal visits from Red River Zoo and the alpacas from Ten Seven Acres.
The market is every Saturday from July 8 to October 28. Free street parking is available throughout downtown. Additionally, Wai suggested parking in the Roberts Commons parking ramp with the entrance on Roberts Street and 2nd Ave N which is free on Saturdays and two short blocks from the market.
"We think it is important that the community knows that the Red River Market is more than just a farmers' market. We hope that visitors shop for their groceries, grab lunch and a beer, listen to live music, and enjoy their day in Downtown Fargo," Wai said, "We hope that you patronize our homegrown vendors because farmer's markets build a healthy and vibrant community, boost our local businesses and economy, and make the Fargo-Moorhead area a great place to live."
YOU SHOULD KNOW
The Red River Market
Saturdays from July 8 to October 28
Broadway & 4th Ave N, Fargo
redriver.market.com
facebook.com/redrivermarket/