​The Dahms Prairie skyscraper
by John Showalter | .(JavaScript must be enabled to view this email address) | Culture | June 23rd, 2017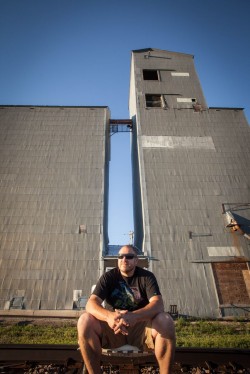 Local architect constructing new out of old in Baker

Many people start a passion project after a certain turning point in their life. It could be something they've thought about for years but never acted on, or come on a whim. Likewise, they can be grand in size or relatively small.
In this humble reporter's opinion, Scott Dahms' newest project certainly leans toward the former. This currently Fargo-based architect and contractor, owner of Dahm's Design, is seeking to transform an abandoned grain elevator into a new home, office, and artistic space.
Grain elevators are quite the ubiquitous structure in the American Midwest. In part, that's what drew Dahms toward using an abandoned grain elevator outside of Baker, Minnesota as the launch pad for his new project.
"They're so iconic, yet utilitarian," he said, leading me on a tour through the structure that carried a nostalgic scent of freshly-cut wood and the smell of gravel road wafting through the air.
Unfortunately, with so much farm work being consolidated under the large corporations that seem to have crept in on the farming business over the decades, you're just as likely to see a decrepit or foreclosed rural grain elevator as a thriving, active one.
Dahms ruminated that perhaps that is what led the longtime rural residents of Baker, Minnesota to accept him and his new project with open arms. Me being someone who who grew up in a small rural town, he told me about a phenomenon I knew all too well, how what may seem like an inconspicuous building to a city person (say, a grain elevator), will become a social hub for a rural community, especially if there is (or was) a lot of work done there.
Though the building may not have been used to store grain for years, the longtime residents of Baker still attached a strong sense of nostalgia to the place, something he hopes to respect with a "history wall."
"I'm not doing this on a selfish level, but there is a certain level of romanticism tied with it," Dahms said, recounting the joy on the faces of the frequent visitors to his new project as they reminisced about their experiences with the building, and how at one point this small Minnesota town even had a train depot and a dance hall.
This project was a way to prevent the building from collapsing into decrepitude, and the people of Baker were thankful for it.
Dahms had already been working in the field of construction, contracting, and architecture for years before this project came up. Fargo residents might recognize the name Dahms Design, his contracting and architecture business.
After a lackluster performance (according to Dahms) in high school, Dahms ventured out to the Colorado Institute of Art for a short period. When he realized that wasn't where his future lay, he spent a few years working in construction and partying in Lake Tahoe. After fortunately surviving a plane crash in 1998 and receiving a settlement, he moved back to Fargo to study architecture at North Dakota State University.
It wasn't until after his recent divorce that he began his project in Baker, Minnesota, but perhaps it can be seen as a culmination of his passion for construction and architecture.
Dahms discovered the building for sale on Craig's List of all places, after it had changed hands at least five times in the last ten years. After coming out to look at the building in December, he decided the aging grain elevator would be the perfect place to combine home and business.
"In construction and contracting time is money," said Dahms. His new combined home and office would give him an excellent way to efficiently manage time both as the owner of a demanding business and a single father of two young boys.
When he took me on a tour of this familiar sort of structure, he pointed out where he would eventually have his apartment, his shop -- his apartment at the culmination of what he called 'Phase One' of his project.
Though he admittedly hasn't put too much thought into the time and money aspects of his new home and office, he says he plans to have 'Phase One' complete by the end of July and has at least three workers out there constantly in order to get the project done.
Surprisingly enough, especially given his experience in urban construction, Dahms said there hasn't been too much commotion about licensing, regulation, or codes so far, something he contributes to this being out in a small rural community.
Dahms hopes to make future additions to the place after 'Phase One,' of course. He also pointed out where he would like to convert part of the grain elevator into a multi-level art space for aspiring artists, whose struggle he said he identified with, especially considering how expensive some art spaces can be.
He also hopes to be able to recycle the "gray water" from the structure (from sinks, etc. as opposed to the "black" waste water from the toilet that would end up in a septic tank) for irrigation in the future.
In the meantime, he still commutes to the current location of his business in Fargo whilst living out of a camper trailer on site in Baker where he oversees his project.
"I don't expect to be rich," he said. "I'm just doing what I enjoy. This is my Mecca. I feel good when I'm out here. This morning I woke up to the sound of nature." The loud, wild cry of a bird pealed through the open air above us as we sat on a makeshift patio. "See, that. You don't get that in a city."
"Everyone's been so helpful," he added. With that help and Dahms' can-do spirit and passion, what may have ended up a pile of rubble that succumbed to the wear and tear of nature will experience new life, and provide a breath of fresh air for this small farming community.