Transgender-affirming therapist in Fargo
by Faye Seidler | .(JavaScript must be enabled to view this email address) | Culture | September 27th, 2017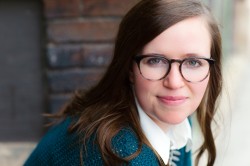 North Dakota State University's Family Therapy Center (FTC) was recently closed due to a variety of factors, ranging from budget cuts to restructuring. It will be closed for the duration of this school year.
This was a place that offered therapy on a sliding fee scale for everyone in our community. It'll be a resource that many people in Fargo -- and myself -- will sorely miss.
While the FTC served a plethora of clients and needs, they also functioned as the biggest provider of transgender therapy in this area. They were the organization that wrote letters of referral for trans clients to pursue medically necessary hormone treatments. With this resource gone, there has been a lot of anxiety in our general community, especially the trans community, who have been depending on therapy from the FTC.
I'm currently doing research to find out what other resources we have in the community for my next article, but this week I wanted to showcase a therapist who has been helping out trans clients for years. She is a person who has my full trust, who writes letters of referral, and who has helped a large number of trans people.
Her name is Naomi Tabassum and she's at New Story Counseling Services, a wheelchair-accessible building, with a private lobby, at 1321 23rd St S, Suite N, in Fargo. She can be reached by phone at 701-526-4898 or by email at naomi.tabassum@newstoryfargo.com.
She accepts Blue Cross Blue Shield of North Dakota and Minnesota, as well as Sanford Health Plan. Sessions are billed at $100 for individuals and $120 for couples, but fee adjustments may apply for self-pay clients.
High Plains Reader: How did you decide to become a therapist?
Naomi Tabassum: Life is hard. Adulting is hard. Counseling offers support for all types of people who need a little extra help along the way. I have never been good at small talk, but I do like to go deeper and talk about things that matter.
I had people in my life who helped me grow, learn, and get through difficult times. I wanted to do the same. I've always had an interest in multicultural issues, social stigmatization, and how our culture can impact us in a helpful or hurtful way.
I have found counseling is a great avenue to explore these topics with people, in order to gain insight and live your life in a more insightful and intentional way.
HPR: Could you describe your style of therapy?
NT: I studied mental health counseling at NDSU's Counselor Education program. I was taught a variety of therapeutic approaches in order to offer a diverse, eclectic approach to clientele.
I have found that to be extremely useful as each client is unique and presents needs that require different tools or approaches to treat. Boiled down, my approach is friendly, open, and inquisitive.
I emphasize client strengths, and help clients find ways to solve problems based on their own values and ideas. I am always interested in empowering clients to be self-determined and to self-advocate.
I will tailor my approach to the needs of the client, which sometimes means processing daily stressors, or exploring tools for treating specific problems, such as anxiety, negative self-talk, or low motivation.
HPR: What is your experience working with transgender clients?
NT: Roughly half of my practice is working with clients who fall under the transgender umbrella. This includes but is not limited to MTF, FTM, non-binary, intersex, agender, and gender queer.
Specifically for clients undergoing gender transition, I collaborate with medical services to refer trans clients for hormone replacement, surgeries, etc. I also provide other referral letters as needed, i.e. gender change, name change.
In addition to collaborating with other trans services for care referrals, I work with clients who may be exploring their gender identity, how socialized gender has affected them, how to come out to friends, family, employers, how to find and utilize community supports, and any other life stressors that may be relevant to the counseling process.
Generally, being transgender is not the problem addressed in counseling. The problem is social/cultural discrimination and limitations, barriers to being one's authentic self, and the same old life stressors that impact everyone—such as relationships, self-worth, and learning to be happy.
HPR: Many times people, especially trans people, can be nervous about scheduling their first appointment. What words do you have for them?
NT: I am here to help, not to turn away. You may have experienced rejection from others, people invalidating your gender, or feeling forced to explain and defend yourself.
I am here to listen, advocate on your behalf, and support you doing you. I work with lots of clients who may be exploring or questioning their gender, sexual orientation, or lack thereof. My counseling office is a safe space where you can explore all of the above without judgment.
If you aren't comfortable talking on the phone, feel free to email me questions. I am happy to answer questions, even if you decide the counseling process isn't for you.
Is there anything else you'd like to add?
While one of my main interests is gender work, I also focus on the following areas:
Self-Worth/Self-Compassion/Self-Care, Body image, Depression, Suicidal Thoughts , Anxiety, Relationships, Trauma, Grief/Loss , and Life Role/Life Changes
[Editor's note: Faye Seidler is the North Dakota Safe Zone Project Spokeswoman]