TransNodak: a transgender photography series
by Faye Seidler | .(JavaScript must be enabled to view this email address) | Culture | August 2nd, 2017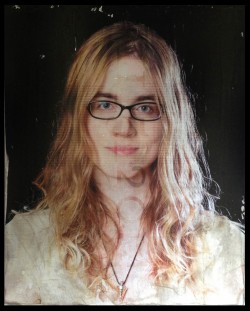 TransNodak is a Transgender Photograph Series put together by Beverly Poppe and features 12 transgender individuals from North Dakota. The exhibit has free admission and can be viewed from August 6, 1:30 to 3:30pm, at The Rourke Art Museum, on 521 Main Avenue, in Moorhead Minnesota.
I don't personally have an eye for art but I am featured in this project, and will vouch for it being empowering, rather than exploitative. Our state rarely allows trans individuals to tell their own stories without condensing it into a convenient, often partisan political narrative. The value in this piece is in standing proud and saying we exist, even in North Dakota, and no legislation is going to change that. But let's ask the artist herself!
HPR: What inspired the TransNodak Project?
Beverly Poppe: I saw that trans people were potentially losing their civil liberties and rights as U.S. citizens, either from things like North Carolina's HB2 legislation or President Trump's proposed trans military ban.
I saw that other artists were fighting for equal rights for trans people through creative expression and I wanted to do the same. I was inspired by works like Amos Mac's photography series "#KindComments," and Zackary Drucker, "Collaboration," and "Original Plumbing."
I made my project about North Dakota, the place I live now, because this is a hard state for transgender people to live in. Many trans people here don't have a voice, so I wanted to meet with them and allow their stories to be told through my creative process.
HPR: What was your call to photography?
BP: I always felt a very strong connection to photography, but it started to really blossom when I got a disposable camera from my parents when I was ten. I found that I loved photographing everything from friends, family members, and nature, to random inanimate objects around the house. I got my friends and sisters to help me stylize photo shoots and I'd never go to a social gathering without my camera.
In high school I was on the yearbook committee and was head photographer for the school newspaper. In 2001 I moved to California to go to a photography school where I received my BFA in commercial/advertising photography. In college I found I loved the entire process, post- and pre-production, B&W film printing and processing, digital photography. I have always felt fortunate that I knew at a young age what I wanted to do and today I am still doing it.
HPR: What are some of the things you've learned while undertaking this project?
BP: The biggest is that trans people just want to be treated and respected like everyone else in the world. They just want to be equal and not have to live in fear because of their gender.
When I first sent emails out to meet with several individuals many concepts for this project were going through my mind. After speaking with my participants, I quickly learned that each person wanted to be photographed "as is." No props, hair stylists, makeup, or retouching. This all seemed so natural and true to me, something I was not used to in the commercial photography world.
At each photo shoot I immediately could tell how powerful the images were on their own. I didn't need all that extra post and pre production.
HPR: Could you tell us a little about the process used for TransNodak?
BP: As an artist, process is probably my favorite part of what I do. TransNodak is a mix of several types of mediums: photography, graphic design, text, metals, and printmaking.
A simple photograph can be extremely powerful but I wanted this series to have more of an impact and tell each individual's story. I decided to incorporate text to highlight the importance of transgender issues, because words are powerful. To me, a big part of what makes this series strong is the text used in the artwork.
Each piece consists of the participant's photograph. Down the center of the image is digitally composited text displaying the date of when each individual started to "live their truth," and placed over each face is the pronoun that each individual identifies with. The pronoun text is very small type and you have to look very close to see it.
Once the composition was complete I printed the image on a color negative transparency, which was then transferred onto an aged tin plate. I loved the idea of mixing new photography techniques with an old process called tintypes. I believe the combinations of all these steps really makes each piece individually unique.
HPR: What do you hope people will take away from this project?
BP: My hope is to spread awareness and visibility, and to give trans people a platform to express themselves. Many transgender individuals live in fear and experience harassment as part of their daily lives. I hope this project helps to inspire change and contributes to ending the fear trans people currently live in.
I also hope each individual in this series sees in themselves the unbelievable strength, courage, and beauty that I saw while photographing this series. Often in life being true to oneself is the hardest thing to do.
IF YOU GO
Public opening, artist reception
Beverly Poppe, 'The TransNoDak Project'
Sunday, August 6, 1:30-3:30
The Rourke Museum, 521 Main Ave, Moorhead
218-236-8861; www.therourke.org