What's cooler than cool?
by Sabrina Hornung | .(JavaScript must be enabled to view this email address) | Culture | January 26th, 2017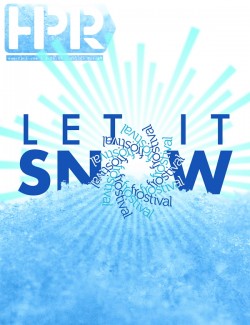 It's that time of the year, the mean winter blues are starting to sink in, and one of the last things on your mind might be the thought that winter can be fun.
Frostival is a celebration and series of events highlighting the lighter side of winter and was the brainchild of Fargo-Moorhead Convention & Visitors Bureau CEO Charley Johnson. The idea was to embrace winter, get people outside, and be active.
We had a chance to catch up with Nicole Holden, the Director of Marketing from the Fargo-Moorhead Convention & Visitors Bureau, to get the who, what, and why of the big event.
HPR: How has Frostival evolved since its inception?
NH: We are only in year two of planning so we are still growing this event at a community level. As the community supports the event more and more every year, that allows us to market the event to visitors. Ideally it becomes a major event and reason to visit this area at a time of year when the FM area may not be at the top of people's lists.
HPR: What has attendance been like in previous years?
NH: Last year we had wonderful numbers for events. Kickball had a wait list for teams, the weather was nice and warm (almost too warm), and the opening kick-off was so well attended we ran out of beer twice.
HPR: What have the most popular events been?
NH: This year we are expecting our largest turn out for competitions to be volleyball. Snowga is a free event but registration is recommended. I think we are going to see that event grow every year. New this year is activating the former Goodyear Tire building for the opening kick-off on Friday and all day Saturday. While Friday night events are all ages, Saturday will be 21+ with a bean bag tournament, Log, the mobile sauna, and beer gardens during the day and a concert at night. The concert will be Cold Hard Cash, a Johnny Cash Tribute band from Montana. Tickets are $10 and 21+
HPR: What do you think the most highly anticipated events will be this year?
NH: Snow Volleyball at the Gastro Pub is a new event. Registration numbers are looking good and I think that event is going to be fun for those competing and those watching, with food and drinks available. Kickball is always fun and the organizer encourages people and teams to come out and tailgate during the event.
We will see teams bring out grills, lawn chairs and beverages to enjoy the day. It's a lot of fun! I'm also really looking forward to END NORSE (Extreme North Dakota – North of Routine Snow Experience) Race. This will feature a 5k run, firewood toss and a weighted sled pull. People are encouraged to dress in wacky outfits and this event is a great addition to Frostival.
HPR: Who comes to Frostival?
NH: There really are events for people of all ages. The competitions are geared more towards adults but the opening kick-off is all ages and new this year is the Kid's Winter Boot Camp at the Rustad Recreation Center in West Fargo. This will be a great place to bring the kids during the day with events taking place inside and outdoors.
HPR: What can Frostival participants expect at the kickoff party?
NH: There will be live music by Trip Wire, free horse-drawn carriages rides, fire pits with supplies to make s'mores, and a cocoa cook-off which is all free. There will also be some food vendors and a beer garden, so come hungry (and thirsty).
HPR: How many vendors will be in attendance and what kind of products will be sold?
NH: We will be selling Frostival merchandise at the opening kick-off along with a few food vendors and four local breweries. These vendors will also be at the same location all day Saturday for Base Camp. The breweries are Fargo Brew, Drekker, Junkyard and Flatland.
HPR: I saw there was a Snowga event--are snoga pants a cross between yoga and snow pants?
NH: So far, I am unaware of any snowga pants but I think there could be a market for that. For now, yogis are encouraged to wear whatever keeps them warm and comfortable for their practice as it will be taking place outside.