​Wilkommen to Hjemkomst's German Kulturfest!
by John Showalter | .(JavaScript must be enabled to view this email address) | Culture | September 13th, 2017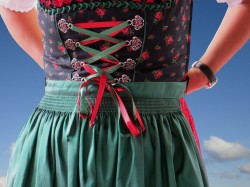 It's pretty easy to tell that Fargo is proud of its Norse heritage. After all, North Dakota is one of the most Norwegian places in the Midwest. Reminders are everywhere, like Stabo in the West Acres Mall or the Sons of Norway. However, another large group of immigrants that settled in Fargo back in the day we don't hear about nearly as much are the German ones.
That, among other reasons, is why the Hjemkomst Center in Moorhead is holding the "German Kulturfest" on Saturday, September 16th. Despite their focus on Norwegian culture and history, apparent in everything from the name of the center to the ship in their building, Hjemkomst is interested in educating people about all the cultural heritages that make up the Fargo/Moorhead area. After all, they are the same place that holds the "Pangaea" event annually to celebrate our increasingly diverse population.
"Germans are actually the biggest immigrant group in Minnesota and North Dakota," Markus Krueger, programming director of the Historical and Cultural Society of Clay County, said. So why is it that outside of the odd Oktoberfest event at a local bar we don't hear much about it? Krueger suggested that perhaps it was because for a span of American history admitting you were German was not a popular thing to do.
After all, the United States fought not just one but two world wars against Germany during the 20th century. However, with the last one almost seventy-five years ago, he said it's time we should give the history and heritage of German immigrants and their ancestors in the United States a fair shake. After all there is so much more to German history and culture, when you consider their contributions to the arts and sciences. That's what the event is about.
"This is not just a Bavarian Oktoberfest," Krueger said. "We don't to be just polka and beer… but they are awesome," he chuckled. The poster for the event itself even describes it as "a celebration of German history and heritage". It is a family-friendly event, but there will be beer available, so be sure to bring proper ID if you are interested in that aspect of Germany. After all, it's hard to separate German culture and beer.
This is not just any beer, either, but authentic German beer that has been curated for the event, as well as beer made using German methods from local vendors. Also available will be an assortment of German wine (which we never seem to hear about as much as their beer, though Krueger tells me that's an unfortunate mistake) and cheese, curated by wine expert Sam Wai.
And let's not forget the food, another thing that Germany is highly famous for. Obviously there will be the universally recognized staples at the event, such as bratwurst, sauerkraut, and spaetzle, but there will also be some more esoteric delicacies as well, such as pickled pig's feet and beef tongue. You can even learn to make your own homemade sauerkraut (it's easier than you think!).
When you're not quenching your thirst or filling your belly with German beer and food, there will be plenty of other Teutonic diversions. Kids might be interested in the German science lab set up about InspireLab at the event, which will teach them about German contributions to the sciences and even help them conduct some experiments of their own. The MSUM Film Club will be showcasing selections from Germany's rich cinematic history. In the early 20th century, Germany was truly the center of cinematic achievement instead of Hollywood, which was still in its infancy. There will also be craft demonstrations, from German feather trees to wood carving. Our very own editor Sabrina Hornung will even be showcasing the German papercutting art known as 'scherenschnitte'.
And of course, no celebration of German heritage would be complete without music. The sound of accordions and polka music will fill the air with performances from Dale Dahmen & The Beats, Kris Keltgen & The Riverbend Dutchmen, and Aimee Klein, who you may have seen displaying her skill on the accordion downtown from time to time. There won't be just polka however; remember, this is the land of Bach, Beethoven, and Wagner. FM Opera will also be present to perform some classic selections from Germany's impressive operatic repertoire.
Though they're not necessary, patrons should feel encouraged to wear any lederhosen, dirndls, or other German clothing they might have. The admission will not only let you attend the event, but visit the museum as well, which has its own share of fascinating exhibits, including one about the history of Prohibition in Clay County (by the way, did you know that nativist groups like the KKK actually supported prohibition because of anti-German sentiment? They're not the only unexpected supporters of it).
Whether you decide to come because your family immigrated from Germany back in the day or you're just interested in sausage and beer, the Hjemkomst Center bids a hearty Wilkommen to any visitors next Saturday, or any day for that matter.
IF YOU GO:
German Kulturfest
Saturday, September 16, 10-5pm
Hjemkomst Center, 202 1st Ave. N, Moorhead