​Your holiday wine gift guide
by HPR Contributor | .(JavaScript must be enabled to view this email address) | Culture | December 20th, 2017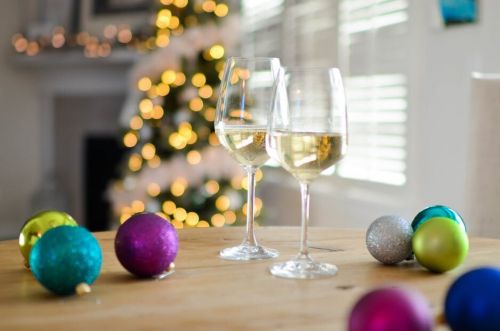 Megan Bartholomay
megan.bartholomay@gmail.com
On the first day of Christmas my true love gave to me, a Grand Cru Burgundy. I wish! But unless you've been REAL good all year, you're probably more likely to get a stocking full of coal.
Wine is always a great gift idea, especially during the holidays. Often people are flummoxed by what to purchase, so I get asked all the time, "What's a good wine?"
And that's a hard question. As a seller and lover of wine, I really try to get an idea of what the person on the receiving end of that bottle would appreciate as well as keeping within the comfort level of the gift giver.
Santa's making a list, so you should too. Here are some things to consider when wine buying as a gift:
Establish how much you want to spend
Trust me, there are plenty of wines I can recommend, but if you want a $15 wine and I show you a highly allocated cabernet from Napa for $250, we're both going to feel stupid.
Decide the purpose of the wine
Ultimately, once you give the wine you have no control over whether it gets opened that night or in five years, but if you're bringing it to pair with some food situation, make sure you have an idea (or ask someone) what goes well with what. And when you present the host with the gift, tell them something like, "I knew you were making duck and this Beaujolais is supposed to pair beautifully with it." By the way, duck + gamay is actually delish.
Think about what they drink
Are they total Francophiles and only drink from the Old World? Are they obsessed with sweet wines and drink nothing but? Do they appreciate wine ratings and care that James Suckling gave it 99 points? Consider the person's tastes. If you've only ever seen them slugging down one brand of New Zealand Sauvignon Blanc, DON'T get them another bottle of it. They know what it tastes like and obviously have no problem buying it on their own. Perhaps introduce them to another white wine from that same region or even just another Sauvignon Blanc. Most people get stuck in a wine rut only because they don't want to be disappointed with something new.
Once you've figured those things out, head to your favorite bottle shop and start looking around. Bottle shops are either organized by grape (Cabernet, Merlot, Chardonnay, etc.), by price or by region. And sometimes all three. If you're looking for something from France, ask them where the import section is, but if you also know it's a Pinot Noir you want, you might consider looking there as well. Don't be afraid to ask questions. Bottle shop employees are there to help and chances are if they don't know the answer to something, they'll find someone who does. If they provide little help, you might need to find a new store to shop at.
Still not sure what to buy? Okay, here are some timeless suggestions that will work with any budget or occasion.
Cabernet
I know. Eyeroll. But it is one of the most widely planted grapes on the planet, and with good reason: it appeals to a wide array of people and it's produced nearly everywhere, so you're sure to find a price point you're comfortable with. Plus, the holiday season is rife with rich meats and other foods, so it's a pairing dream. And it's delicious.
Budget
Smoking Loon Cabernet - This wine is based in California, but the fruit is actually from Chile. Lots of smoky, chocolatey dark characteristics. Easy drinking and budget-friendly.
Mid-range
Aviary Napa Valley Cabernet - This 100% Napa cabernet opens with rich notes of ripe cassis and black cherry, with softer tones of sweet oak and almond. It is silky smooth on the palate and balanced beautifully, with a lively acidity.
Pricey
2012 Knights Bridge To Kalon Cabernet - The To Kalon vineyard is one of the most famous in Napa and is owned jointly (albeit litigiously) by the Beckstoffer and Mondavi families. The Mondavi family keeps their side of the vineyard while the Beckstoffer family leases out theirs, but only to a handful of Napa's most prestigious vintners like Knights Bridge. To Kalon (pronounced tow kuh-lohn) means "the place of highest beauty" in Greek. Interested in impressing the holy ghost out of someone? Snag them a bottle of this.
Pinot Noir
I started this column months ago with reference to the film "Sideways," and I like to circle back to it as often as I can. What's the deal with Pinot? Ask any sommelier or wine profesh and they'll give you a laundry list of reasons, but Miles's speech in "Sideways" sums it up, "It's a hard grape to grow, as you know. It's thin-skinned, temperamental. It's not a survivor like Cabernet that can grow anywhere and thrive even when neglected. Pinot needs constant care and attention, you know? And in fact it can only grow in these really specific, little, tucked-away corners of the world. And, and only the most patient and nurturing of growers can do it, really. Only somebody who really takes the time…to understand Pinot's potential…can then coax it into its fullest expression." Sexy, right? But because pinot is hard to grow, it's usually pretty expensive unless you dump a whole bunch of other grapes in with it. But then, it doesn't really taste so much like pinot anymore. It might be yummy, but it ain't pinot. So steer clear of those and pick up some of these:
Budget
Simple Life Pinot Noir - You'll be hard pressed to find a 100% Pinot Noir on a budget, but you can get pretty close with Simple Life Pinot Noir from California. It's 97.5% Pinot and offers aromas of black currant, black cherry and sweet rose petal. On the palate, ripe red fruit flavors are followed by elegantly balanced acidity and soft, velvety tannins. A versatile wine which pairs perfectly with weeknight dinners, pasta, pizza or burgers.
Mid-range
Kate Arnold Willamette Valley Pinot Noir - This is a fairly new wine to the North Dakota market and is a stunning display of Pinot. This 100% pinot noir from Oregon's Willamette Valley has blackberry and plum, with hints of violets on the nose and flavors of plum, rose water, star anise, cardamom and vanilla.
Pricey
Kokomo Gopher Hill Block - This is an amazing display of uber delicious, California Pinot Noir. Erik Miller, the owner and winemaker at Kokomo, named this part of Peter's Vineyard after the naughty little gophers who try to make their home here. Floral and delicate, showing the feminine side of the varietal, this wine shows beautiful rose petals with a red apple-skin character. The wine continues to open up in the glass, with aromas becoming more complex. Plus, the acidity makes it a beautiful food wine.
Something Sparkling
Let's be real: everyone loves something sparkling. It pairs well with lots of holiday foods and it makes for a very fun gift. People think you open a bottle of bubbly on a special occasion, but I think opening the bottle IS the special occasion. Here are some ideas that will help steer you into the right sparkling direction.
Budget
Baci Dolci Red - Okay, it's not exactly sparkling. It's more "frizzante," which means slightly fizzy in Italian. The term Baci Dolci also means "sweet kiss" in Italian, and this wine is exactly that. It's a semi-sweet, frizzante wine from Italy that is meant to be served chilled. It's delicious, fun and pairs with almost everything.
Mid-range
Blanquette de Limoux Brut Reserve - If you have Champagne taste but a beer budget, you might consider this gem. It's made the same way Champagne is made (méthode champenoise), but using different grapes and and it's made in the Languedoc-Roussillion region of France instead of Champagne. If you're curious about what legit Champagne tastes like, but aren't willing to shell out the bucks, this is the wine for you. Plus, it looks very French, so whomever you're giving it to will be impressed.
Pricey
M. Hostomme Champagne - Currently, you can find the rosé and traditional brut in Fargo stores. This is a very small Champagne house that produces exquisite sparkling wines. If you're new to Champagne, this is a very fun one to try and is very classically French.
Have fun with your holiday picks and remember, it's a gift, so giving it will be the best part. Cheers!