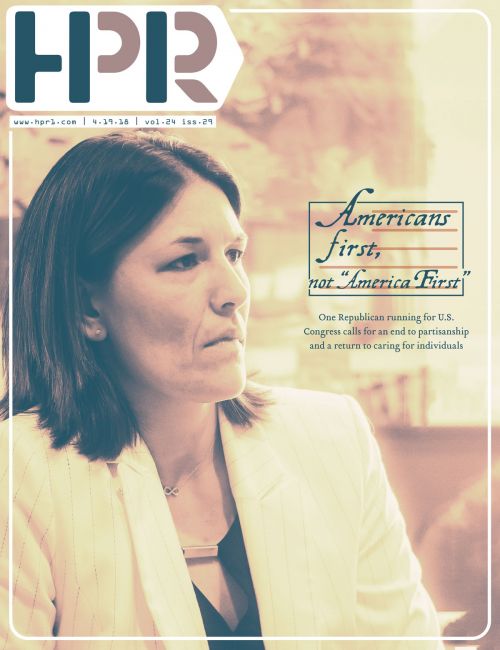 FARGO – The day Tiffany Abentroth stood up before a thousand and more Trump-loving Republicans, she knew the GOP blessing was not within reach. She wasn't even nervous about it. Still a Marine Corps staff sergeant, she squared her shoulders, and delivered the message with a confidence few others shared that day.
Halfway through her speech, ridicule came in loud whispers from within the delegate rows. Many others, however, came up to her afterward, and thanked her for breaking the rhetoric, delivering a speech that spoke of healing, and not of division. It was during a 20-month deployment to Afghanistan – watching American politics from afar – that she discovered she had enough, and decided to come home early to run for the state's only Congressional seat.
"I wanted to continue my service and attempt to bridge this partisan divide that we have going on here," Abentroth said. "And that's effectively why I came back here – to run for political office."
Any other time period, her speech may have been met with cheers. In today's political world torn by fierce partisanship, fueled by hard-pushing lobbyists with intolerance to the other side, her timing was perfect, but she was not endorsed. Her message came as a simple reprimand, which she offers to both sides of the political aisle.
"Whether you're Republican or Democrat, we are Americans first," Abentroth said. "When you focus more on the party over the people that's when you really have to evaluate why you're in this office. It is about the people, and yes, we respect the party we belong to because that is the foundation, but people should always come before the party."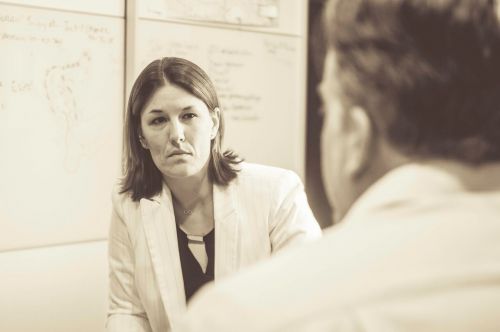 Her message is more important than party politics, she said, even after being asked by the state's GOP to bow out of the race for the U.S. House of Representatives. Initially, she faced current Congressman Kevin Cramer, who flip-flopped between a run at the U.S. Senate or as an incumbent, for the Republican backing. Now, she continues her campaign as a Republican, and plans to win the primaries against North Dakota GOP endorsed state Senator Kelly Armstrong, heir to oil exploits who promises to fight free speech through protest.
Her opponent across the aisle is attorney and former representative, Mac Schneider.
"This divide is truly hurting us," Abentroth said. "So it became a point of are we going to keep talking about it? Or are we going to do something about it? Now, it's so far right and so far left, and we have so many moderates who are giving up. They're leaving, and it's getting harder to see the moderates."
She dreams of an older Republican Party, one from the days of "Honest Abe" Lincoln and Teddy Roosevelt's "Bull Moose" Party, two of her heroes. From afar, while surviving terrorist attacks in Iraq and Afghanistan, she saw Congress becoming less and less transparent. Honesty in government became endangered.
"People need to hear the truth," Abentroth said. "My whole platform is based on transparency, really telling people what is going on. Keeping people in the dark is really what is causing all of these issues anyway. Just be honest with them.
"You can still be a Republican and not agree with all of the issues."
Too many people on both sides of the aisle turn on their blinders and listen only to what they want to hear, she said, which serves only to widen the divide.
"You put a Marine in a room full of Republicans and I can honestly say that the Marine will be the one that walks out with integrity on their shoulders," Abentroth said.
Military
Dressed in a crisp, white blazer and slacks, sipping an Atomic coffee, Abentroth has left her Marine Corps Combat Utility Uniform behind, part time. She's still a staff sergeant in the Reserves, and undergoes training classes to keep her current. If she's elected to represent North Dakota in Washington D.C., she will have choices to make on whether she continues her military career.
Although Abentroth has never been involved in election politics, she's familiar with military politics, which isn't much different, she said.
"Military politics are different, but when you're truly looking at it, they're almost the same too," Abentroth said. "You go ahead and submit problems, policies, procedures, and everything you do all goes through a review process, just like everything else. Just like a bill when introduced, you have to have your facts lined up. To me, it's just a different form of politics."
Naturally, Abentroth is a fierce advocate for veterans affairs, recognizing those affected by Agent Orange, the Camp Lejeune water crisis of the middle to late 20th century, soldiers affected by the Gulf War Syndrome, and those like herself on the Burn Pit Registry, who were affected by smoke inhalation from pits filled with burning refuse while in Iraq, and the untold thousands of those suffering from PTSD.
"No matter what happens, our veterans must be taken care of," Abentroth said. "We, our families, sacrificed for our country. We served our country and the effects of what happened to us are not our fault. Each case is unique, each case is different, some need more care than others, but the funding needs to be there, and they need to be looking at and taking this seriously."
"What we're seeing now in Congress, in the House and the Senate, is there are not a lot of veterans. That's the reality, and if you don't have more veterans in political office who are really trying to fight this, we're not going to see resolutions."
"They need help. Let's help them."
Abentroth worked as an intelligence analyst in Japan, Iraq, and the United States. Later, she served as a Marine Security Guard in Poland, Panama, and Armenia. She entered the Marine Corps Reserves in 2008, and while in Afghanistan also worked for a contracting firm under the Department of Defense as an intelligence analyst.
With more than five years of active duty, she's the recipient of the Military Outstanding Volunteer Service Medal, and has received commendation from the Diplomatic Security Services, from the Army, and from the Marine Corps for her work as a government contractor.
She's also volunteered her time coaching basketball in Warsaw, mentored future Marines in Minnesota, and is a member of the Women Marines Association, Veterans of Foreign Wars, and the American Legion.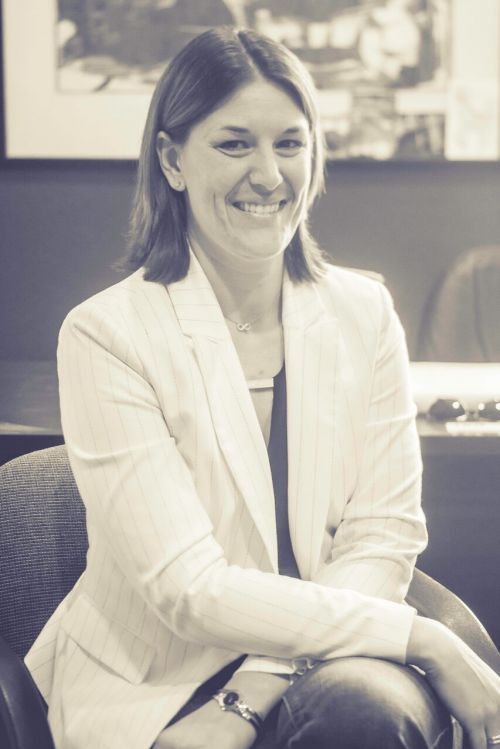 Agriculture
A fifth-generation farmer's daughter from Cummings, North Dakota, Abentroth said she knows about agricultural issues affecting the state.
"Cause and effect" is a phrase Abentroth speaks often. President Donald Trump threatening tariffs against China for unfair trade practices will affect farmers with a possible trade war that will hurt the soybean industry, the hog farms, and potentially other crops.
"Just like farmers trying to purchase new equipment, with the tariffs, salesmen will come right up and tell you, because of the tariffs, its gone up X amount of dollars," Abentroth said. "It's a sales tax on Americans is effectively what it is. I don't think a lot of farmers are going to be looking to purchase a lot of equipment this year."
Far too many farm auctions are also occurring this year, she said.
"You just can't keep gambling and hoping you are going to get out ahead. We're losing more and more farmers and farming operations, and it comes down to volume. A lot of the farmers are still trying to decide on how many acres of soybeans they want to plant, and it's going to be a tough call, that and securing the funding to pay for it all.
"The last thing we need is a trade war," Abentroth said. "There are a lot of ways that we can make the point without having to involve tariffs, because ultimately it hurts us."
If a trade war ensues, China may turn its attention to South American farmers; they're cheaper, and eager for trade.
Sanity returns
If Abentroth wins the primary, some say she will shift politics for the entire state, perhaps even the importance of having party conventions altogether.
She's ready and willing to work with anyone across any aisle, to do what she believes is best for North Dakota, even U.S. Senator Heidi Heitkamp.
"It's the moderate perspective that more people in Washington need to see, as opposed to again, those really strict, hard-right ideologies," Abentroth said.
Is American political divide too far gone for reconciliation?
"I tell you what, you've obviously seen the wave of women, there are over 300 women running for political office and House seats," Abentroth said. "This could be the shift people are waiting for. This could be the year where sanity returns. The House seats are really going to be a big shift."
In many ways, Abentroth doesn't fit the current Republican persona, but she's not a Democrat, either. She believes in limited government, separation of church and state, freedom of choice, and the Constitution.
"Decisions when they're based on the religious aspect, if you're truly looking at the Constitution, it's not my job or the federal government's job to restrict your freedoms, and tell you how to live," Abentroth said.
"Let people live their lives. You don't have to agree with it, but it goes into the respect for privacy."
She supports public schooling, and sees recent rural trends as troublesome in the state.
"We need our public schools, and funding for our teachers," Abentroth said. "It's getting harder to get our teachers out to our rural schools. It's getting harder for these schools to stay open."
She's also not one for government handouts, but stated the government has an obligation to protect the elderly and those that fall under Social Security.
"Quit taking money out of social security," Abentroth said. "And if the multi-payer pension fund collapses, it is going to affect other multi-payer pension funds, which will have a crippling effect on the economy. You've paid into it your entire life, and now you're saying it's not going to be there, or we're sorry you're going to have to take a 50 percent cut for something you've paid on your entire life.
"But I don't believe in getting something for nothing. I believe in that hardworking North Dakota principle, that's something to be very proud of, and going back to the old Abraham Lincoln days of what it means to be a Republican.
"The ideas of preservation, the beauty of a country… going back to those days that is what it meant to be a Republican. That's what we need to build upon. It's that pride, when we say conservatism we mean limited government, the preservation of individual freedoms, I believe in that whole heartedly, and I believe in following the Constitution as the foundation, and that's why I fall under the Republican umbrella."
She criticized the latest Republican tax bill, which is increasing the deficit due to the lack of a revenue stream coming into the United States.
"Again, cause and effect," Abentroth said. "What they didn't tax was the amount of outsourcing that companies actually have in foreign countries. We could have put an additional tax on that, and closed those loopholes. It's those corporate loopholes that are still there."
A president's power also needs to be curtailed on issues such as war, and strategic attacks, Abentroth said.
"Should Congress be more involved in say the War Powers Act? How long we've been over in Iraq and Afghanistan? Should it be something that should also be brought to Congress? Yes."
Abentroth couldn't comment on the current chemical weapons incident in Syria other than to say she found it difficult to believe that the current president, Bashar al-Assad, would use chemical weapons when he is close to victory against rebels during the years-long civil war.
"When it comes to the intelligence community, I know we're working diligently to find out who was behind the attacks. Right now, we don't know all the facts. It's an iffy situation why Assad would choose to use chemical weapons when we're looking at withdrawing. It could be a long game from the Russians. We just don't know.
"We also have our partnered nations too, our NATO counterparts, and I'm sure they're looking into it just as much as we are."
Abentroth is working a grassroots campaign. Her advertisements and doorknockers will be visible soon. Last week while in Valley City, she took heart from the reception she received.
"I like to hear that more people are hearing what I have to say and not seeing red vs. blue, that's not what it's all about," Abentroth said. "Rational and moderate thought will bring the two sides closer together.
"Word is spreading."