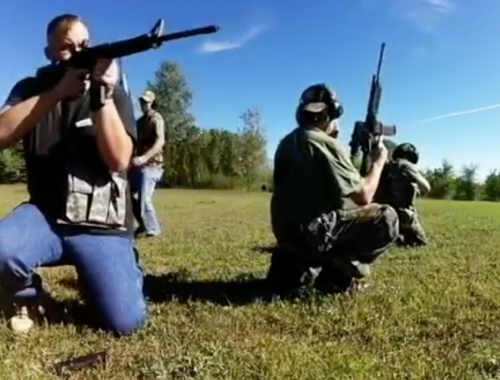 FARGO – A civil liberties and advocacy organization is asking state and federal agencies to investigate the North Dakota Security Force III% after the anti-government group posted an anti-Muslim video on YouTube.
In the video, four men – one of whom was identified as working in Fargo – carrying assault-style weapons practice quasi-military formation while target practicing on a replica of a mosque.
Pictures of bacon and bacon-flavored crackers are shown at the beginning of the video with the North Dakota Security Force III% patch.
The Minnesota chapter of the Council on American-Islamic Relations, or CAIR-Minnesota, said the people involved in the video need to be taken seriously. The video was reported to CAIR-Minnesota before it was taken down from the Internet on Wednesday for violating hate speech policies.
"This video, posted on YouTube in 2016 and recently sent to CAIR, shows a package of bacon – which is often used by bigots to intentionally insult Muslims – and then shows members of the group shooting at and exploding the replica mosque," CAIR-Minnesota Executive Director Jaylani Hussein said in a press release.
The Three Percenters are called a nationwide anti-government group by hate crime watchdog Southern Poverty Law Center, and they believe no more than three percent of Americans fought against the British during the Revolutionary War, according to the group's own description. The III% Security Force's Facebook page has 142,977 subscribers, and the Three Percenters – original – North Dakota's Facebook page has 89 followers.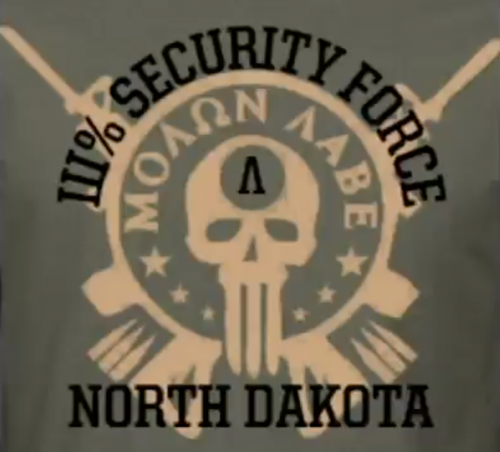 The North Dakota page was created to: "Help further III%er's cause, which will allow us to learn of other patriots in our state, and organize meet and greets on a local setting to discuss matters at hand." Whether the North Dakota Security Force III% belongs to the national III% Security Force is not clear.
A former Marine in Georgia named Chris Hill, who ascribes to the Patriot movement, leads the national coalition of the III% Security Force. The III% organization is know for Muslim bashing, and frequently attends rallies armed. In demonstrations across the country, followers are seen wearing shirts saying "Islam is of the Devil," and have protested the construction of mosques near Atlanta, according to the Southern Poverty Law Center. Such groups, including the more organized Oath Keepers, are also known for being anti-refugee, for patrolling Muslim neighborhoods, and working as security during marches organized by the so-called "Alt-right."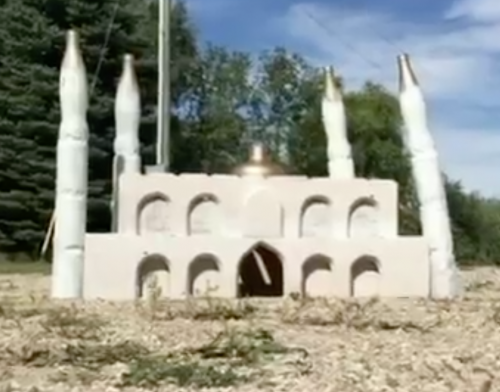 "This disturbing display of violent bigotry targeting an American religious minority should be investigated by state and federal law enforcement authorities, and must be repudiated by public officials and religious leaders of all faiths," Hussein said in a press release.
"It's disturbing to know that our fellow neighbors feels that our faith is a threat to them and they have to use pork products to destroy mosque," Hukun Abdullahi said. Abdullahi is the executive director and a founder of the Afro American Development Association. "This is serious issue and it needs to be investigated. This video should be investigated both the federal and the state level."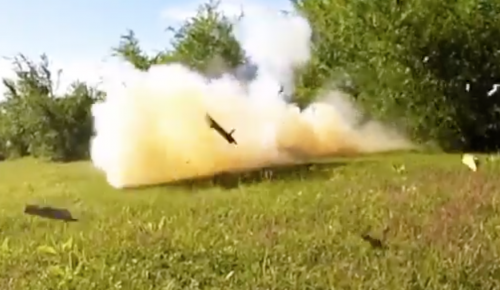 "It is so ugly on so many levels and it does warrant an investigation," Barry Nelson, of the North Dakota Human Rights Coalition, said. "It looks like a bunch of guys playing army."
The big question, Nelson said, is what agency is responsible for investigating such issues.
The Federal Bureau of Investigation has been alerted, and agents have taken down information, including names of those involved in the video, Hussein said. Although freedom of speech is an American right, the video can be interpreted as a threat against Muslims, he said.
CAIR-Minnesota also reported the organization has witnessed an unprecedented spike in bigotry targeting American Muslims and other minority groups since Donald Trump became president. Anyone concerned are being asked to report any incidents of bias or hate crimes to police and to CAIR's Civil Rights Department at (202) 742-6420 or download and file the online report from https://www.cair.com/app/.
A description on the North Dakota III% Facebook page reported that being a Three Percenter is a way of life, and has no membership fees. All members must take the "Oathkeeper pledge," which include ten stipulations such as they will not obey orders to disarm Americans, will not obey orders to conduct warrant-less searches, will not assist foreign troops on U.S. soil against Americans, and will not obey orders to confiscate property of American citizens.
A deputy sheriff for Bowman County Sheriff's Office, Frank Eberle, is listed as a moderator of the North Dakota III% Originals Facebook page. Other page administrators are from North Dakota, Missouri, Mississippi, and Arizona, among other places. The Three Percenters Originals Facebook group is also listed as an administrator for the North Dakota page.
"Remember, we do not seek after violence, but if violence is ever called for we are the III% of the population that will stand and fight against a tyranny," the description stated.
The banner for the national III% group states that they promise to oppose all who are corrupt, and are "America's insurance policy," the banner said.
"We will not see our Republic fall. We are everywhere. We are the three percent."
A day after this story was reported, a person identifying himself as an attorney for Frank Eberle, Andrew Weiss, of Sadowsky & Wild Law Office in Bowman, asked for a distinction to be made between III% Originals and III% Security Force groups.
"Frank is a member of III% Originals, which is completely separate organization with its own bylaws, rules, and standards. I've learned that the national chapter of III% Originals will be denouncing III% Security Force because of the confusion between the two," Weis said in an email.
Correction: On Thursday, HPR reported Frank Eberle was a moderator for the North Dakota III% Security Force, but is a moderator and a member of III% Originals. According to an attorney Andrew Weiss, III% Originals and III% Security Force groups are different and not affiliated.