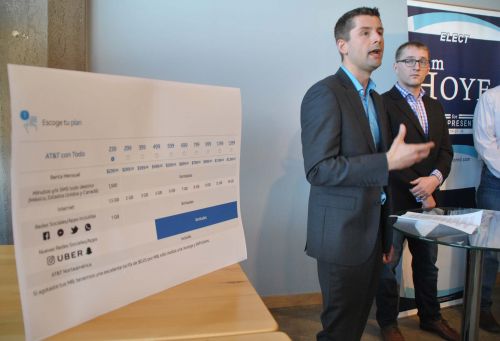 FARGO– A legislator, hopeful politicians, and business owners appealed to the governor's office Monday morning with hopes of an executive order to fight the Federal Communications Commission's repeal of Net Neutrality.
The Republican-led FCC voted last December to repeal Net Neutrality rules, which took effect on Monday.
"The FCC has repealed net neutrality, which has taken place today," Brendan Medenwald, owner of Simply Made Apps, a computer programming company, said. Medenwald is also running as a Democrat for the state House or Representatives against Representative Al Carlson in Fargo's District 41. "I stand for freedom of internet, without censorship, where winners and losers are determined not by internet providers, but by those who have the best ideas."
Basic principles of Net Neutrality are the same as a free market, Medenwald said.
"It didn't matter that our customers were located in different areas. It didn't matter that we were located in Fargo, North Dakota. All that mattered was that we could innovate and enter the market with very few barriers.
"In the new world that starts today, if AT&T wanted to disallow our app from downloading data, then they could do so… and we'd be out of business. That's the direction we're heading in. This won't happen overnight, just like a frog slowly boiling in water, we will notice this ship over time, and that's because of the rules we've lost today."
As an example, Medenwald pointed to Mexico, a country that has never had Net Neutrality laws. For a nominal fee a customer can receive 1GB of data, but their access will stop on social media once they've reached the limit. Additionally, anyone who uses Uber services in Mexico must have a data plan exceeding 4GB.
The argument that Net Neutrality isn't needed as internet service provider's weren't restricted before President Barack Obama initiated Net Neutrality in 2015, is "crazy on its face," Medenwald said.
Today's ISPs are no longer simple broadband companies, they are large multi-media networks, owning many of the services utilized on a daily basis. AT&T owns DirecTV, Comcast owns NBC Universal, and Verizon owns Yahoo, Medenwald said.
State governors from Montana, New York, New Jersey, and Vermont, have already issued executive orders forcing all internet service contracts in their states to continue with ISPs that subscribe to the basic tenants of Net Neutrality, no throttling, no blocking, and no paid prioritization. Additionally, twenty-two states and Washington D.C.'s attorney's general are suing the FCC in order to prevent total repeal of Net Neutrality.
"The takeaway is that an executive order in our state from Governor Burgum would be beneficial for us joining these other states and protecting Net Neutrality in our statewide contracts. North Dakotans from every political persuasion should stand together."
Representative Karla Rose Hanson of District 44 also asked the governor for help.
"As a legislator I call for Governor Doug Burgum to issue an executive order requiring the state of North Dakota to only contract with broadband providers that adhere to the principles of Net Neutrality," Hanson said. "If Internet providers want to do business with our state government, they should treat all websites equally. The state should set the expectation and set the standard."
Additionally, she urged action on internet privacy protection issues, saying that at a time of Russian election interference, Facebook and Cambridge Analytica data sharing and selling, companies should not be allowed to sell personal data to advertisers, or anyone.
"Because of a federal repeal, ISPs can collect and sell consumer data for use in targeted advertising, this includes what people search for, watch, read, and download off the internet," Hanson said.
Her amendment would have given North Dakotans more control over their personal data, and force companies to obtain consent from users and not charge for the service, but her amendment was rejected.
"House Majority Leader Al Carlson even blocked a proposal to study internet privacy issues," Hanson said.
"If you think Facebook has a lot of data on you, let me tell you about what ISPs have," Medenwald said. ISP companies potentially could have every website URL a user opened for sale, and not only to advertising companies, he said.
Nick Horob, of Harvest Profit, an employee-owned farm management software company, said the internet has been a key enabler for his company.
"Governor Burgum as part of his mainstream initiative often mentions the need for a skill workforce and smart efficient infrastructure for our state to prosper, and I completely agree, but all those initiatives are highly dependent on an open internet," Horob said.
"Due to our dependence on the open internet, I and our company urge the governor to sign an executive order that would mandate all state agency contracts with internet service providers only be granted to those who abide by Net Neutrality principles."
Clint Howitz, CEO of Dog IDs, said 95 percent of his company's business is done online. Lately, he's seen an online shift from organic traffic to paid advertising, a crisis he says will only be exacerbated with no Net Neutrality regulations.
"Organic traffic is going to get hit the hardest, in my eyes," Howitz said. "It will really hurt us tremendously. It's going to be very difficult for us to grow if we're strictly focused on paid advertising to obtain customers."
Tim Hoye, owner of Tim Hoye Consulting, who is running as a Democrat for representative for District 45.
"I am here to call upon Governor Burgum to do an executive order for North Dakota for Net Neutrality, following the other four states that currently have executive orders from their governors," Hoye said. "North Dakota needs Net Neutrality, and we need to protect every citizen, every business in North Dakota."
Lack of Net Neutrality laws will affect everyone in North Dakota, Hoye said, from possibly ordering groceries or posting on social media.
Only one more vote is needed to overturn the FCC's repeal of Net Neutrality. Currently, Senator Heidi Heitkamp is one of the nation's 50 senators who voted to bring back Net Neutrality; Senator John Hoeven is not.
"Open use of the internet is essential for education, small business development, and even health care, especially for folks in rural America," Heitkamp said in a press release. "But today the wrongheaded rollback of Net Neutrality rules officially takes place, which means North Dakota consumers, schools, and businesses will lose out."
"Net Neutrality is an issue of fundamental fairness, and it's about guaranteeing everyone's freedom to access the internet. Without Net Neutrality, there can be slow lanes and fast lanes on the internet. And if you're stuck in a traffic jam, only those who pay more may be able to get out of it."
Heitkamp has heard from more than 5,500 North Dakotans on the issue, and all but 10 support strong Net Neutrality rules, she said.
"That's why I'm pushing to pass a Senate resolution to restore Net Neutrality and level the playing field for North Dakota internet users. We only need one more senator to join our effort, and then we'll have the votes needed to reverse the FCC's misguided decision and continue to protect basic fairness on and equal access to the internet."
Congressman Kevin Cramer, who is running this year against Heitkamp for her Senate seat, voted against Net Neutrality rules last year, and is listed as one of the nation's top financial recipients from the telecom industry's campaign contributions with more than $70,000, according to the Federal Election Commission.
Governor Burgum's Communications Director Mike Nowatski said the governor is not considering issuing an executive order.
"Reliable high-speed internet is the critical infrastructure of the 21st century," Burgum stated in an email. "The internet thrived, grew and survived from its inception until 2015 when the Obama administration attempted to apply Depression-era regulations to fix something that wasn't broken. Internet service providers in North Dakota have reaffirmed their commitment to continue providing fair and unfettered access, as they always have. We need policies that support investment and encourage innovation, not regulation."