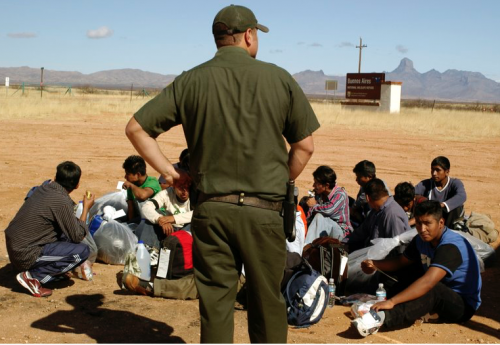 WASHINGTON, D.C. – Policy, not law, has torn more than 2,300 children from their parents along the U.S.-Mexico border. Although immigration reform has been a heated topic for decades, the policy of zero tolerance began with a Department of Justice memo to "supersede any existing policies."
The memo, signed by U.S. Attorney General Jeff Sessions on April 6, has resulted in the illegal incarceration of migrant children, according to a Senate hearing targeting Lee Francis Cissna, the director of U.S. Citizenship and Immigration Services, on Tuesday morning.
The Senate hearing dissected how the policy of taking children away from their parents came to pass, showing that the law presents a choice on whether to treat such cases in a civil or criminal manner. President Donald Trump's Administration, however, has consciously chosen to prosecute all migrants illegally entering the United States along the southern border as criminal cases.
"We're hearing that the Bible made me do it, and that was Attorney General Sessions," Senator Sheldon Whitehouse of Rhode Island said during the hearing. "We're hearing the devil made me do it, and that was President Trump. This just looks bad, it's a mess, the image of children behind chained fences under Mylar blankets, and if this administration doesn't recognize how bad this looks for our country, I don't have much hope for this administration."
Detaining children in such cases is illegal, and has been since the Flores Settlement, which began in 1985 after a class action lawsuit was filed on behalf of detained immigrant children. The eventual settlement set nationwide policy for the detention, release, and treatment of minors detained by Immigration and Naturalization Service, now known as U.S. Citizenship and Immigration Services.
After many years of legal battles, changes were implemented in 2003 stipulating that the government is required to release children from immigration detention without delay to parents or adult relatives. If placement isn't immediately available, the government is obligated to place children in the "least restrictive" setting, and care for the children's treatment.
"The Trump administration policy of separating children from their parents at our border is a national disgrace, Senator Bernie Sanders of Vermont said in a press release. "It is a moral abomination. And it can be stopped."
"The country would be well served if the President made a phone call and stopped this policy, put it on pause," Senator Richard Blumenthal of Connecticut, said. "We're destroying our image around the world and the lives of these children."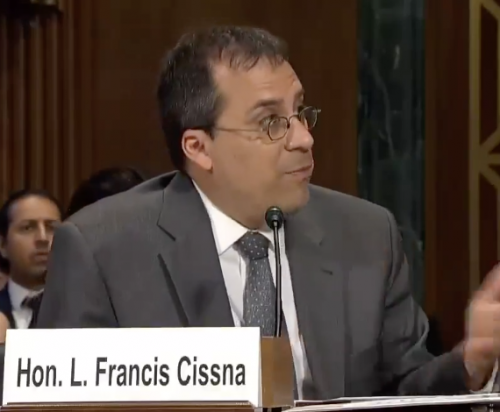 Blumenthal then became personal with Cissna during the Senate hearing.
"Are you not shaken by these voices and faces of these children taken from their families?"
"Of course I am, but I am just as shaken by the process that got them there in the first place," Cissna said.
"You agree that family separation is a deterrent," Blumenthal said.
"What I believe is there should be consequences along the border," Cissna said. "There needs to be consequence for that violation."
"So your position of tearing families apart is a necessary consequence for people coming to the border escaping gang violence… and the destructive effects is worth that price?"
"This happens every single day," Cissna said, referring to incidents that land people in jail across America. "Families are torn apart when families go to jail; it's the same across the border."
"We have a moral obligation, not just a legal duty to do better," Blumenthal said. "There is nothing in the law that required this profoundly immoral, cruel, inhuman approach. At some point in your core, you are troubled by it. I hope so."
While Senators grilled the director of U.S. Citizenship and Immigration Services Tuesday morning, some North Dakota politicians played the blame game.
Current Congressman Kevin Cramer backed the administration's zero tolerance policy against migrants, saying "there's a lot of over dramatization if you want to know the truth, but I would say this: North Dakotans are most concerned about safety and security at our borders," according to the Washington News Bureau.
Cramer received a backlash of criticism from his constituents on social media.
"Unfortunately, Democrats continue to politicize this issue instead of working with Republicans to pass comprehensive border security reform," Cramer said in a Facebook post.
"The best thing we can do for these kids and their families is remove the incentives to enter the United States illegally."
Later, on Twitter, Cramer backed off slightly in his support for separating families at the border, but continued to blame Democrats for a broken immigration system.
"By endorsing the President's cruel family separation policy, Kevin Cramer has revealed himself as the heartless politician that he is – throwing family values to the wind to rubber-stamp the administration's policies," Scott McNeil, executive director of the North Dakota Democratic-NPL, said.
"Cramer's ability to ignore rising calls from the likes of former First Lady Laura Bush, faith leaders and Republican members of Congress who have spoken out about this policy is perhaps the most stunning example to-date of Cramer's ruthless political nature. Children do not need to be separated from their families to secure our borders. But as usual, instead of working toward solutions, Cramer shrugs his shoulders and lays blame at someone else's feet. Cramer is playing partisan politics with children's lives and it needs to stop immediately."
The issue, however, no matter how many times President Donald Trump or current Congressman Kevin Cramer shove the blame, is not a Democrat issue, according to laws signed by former presidents Harry Truman in 1952 and George W. Bush in 2002. Migrants asking for asylum who attempt to cross at places other than points of entry can be treated as misdemeanor civil cases, according to Senator Mazie Hirono of Hawaii.
"But this administration has chosen the criminal route, and that is why children are being separated from their parents," Hirono said. "There are two ways that 1325 violations can proceed, either as a civil matter like under the Obama Administration, or the criminal route."
Code 1325 violations pertain to those who attempt to enter the United States at non-designated places of entry.
"And that is the rationalization as to why children have to be separated at the border," Hirono said. "From your testimony you sound really proud that this administration has a zero tolerance policy that is resulting in children being separated from their parents."
"It's the law," Cissna said.
Since Attorney General Jeff Sessions' April memo, all cases are referred for criminal prosecution, Cissna said.
"It was a conscious decision by this administration to criminalize those presenting themselves at the border, starting with this zero tolerance policy of April 1, which led to these children being removed from their parents who came to the border, correct?" Senator Dick Durbin of Illinois said.
"If a person came to this border seeking asylum is that person, per say, a criminal?"
"If they cross illegally, yes," Cissna said. "If they present themselves at a point of entry, no."
"The point is you have now taken this to a criminal level and children are being removed from their parents, 2,300," Durbin said. "The administration has said that this is a policy created by the Democrats, long ago."
Some media are reporting that all migrants appearing along the southern border, either at points of entry or elsewhere, are being detained, and their children are being taken away.
Recently, pediatricians, preachers, priests, politicians, the U.S. Chamber of Commerce, the United Nations, and citizens have expressed anger across the United States about the policy change, speaking out and writing more than 138,000 emails to state representatives last Friday alone.
In order for change to occur, Cissna said loopholes in immigration law must be fixed. He cited the EB 5 Program, passed in 1992, which allows participants to qualify for immigration if they make investments within the United States. Companies inside the United States are fraudulently soliciting investment funds from migrants for crossing the border legally and illegally. The issue was also addressed during the Senate hearing with the U.S. Citizenship and Immigration Services.
Some media outlets are reporting that at least two private companies, MVM Inc., a government contractor out of Virginia, and General Dynamics, an international aerospace and defense contractor, are coordinating the children concentration camps along the southern border.
The director of Homeland Security & Public Safety Division for MVM Inc., Joe Arabit, responded to questions directed toward MVM Inc, saying the company was one of several organizations awarded a contract to provide emergency support services to the Office of Refugee Resettlement prior to the initiation of the zero tolerance policy.
"MVM has not pursued any new contracts associated with undocumented families and children since the implementation of the current policy," Arabit said. "In recent days, there's been a misperception of the role MVM is playing on the issue of unaccompanied immigrant children."
MVM Inc. currently transports undocumented families and unaccompanied children to the Department of Health and Human Services designated facilities, and are not operating shelters, or concentration camps, Arabit said.
The MVM Inc. statement appears to be misleading as the company posted a recruitment advertisement five days ago for an Emergency Influx Shelter for unaccompanied children, according to employment service Workday. Less than a month ago MVM Inc. also posted a job advertisement for youth care worker relief in anticipation of a contract award on Indeed.com.
"MVM, Inc. is looking for highly-motivated Youth Care Workers (YCW) to be part of a highly capable team to run a shelter and all surrounding operations for the temporary care and transport of unaccompanied children," the advertisement said.
For MVM, Inc., business couldn't be better. According to the Department of Homeland Security United States Immigration and Customs Enforcement procurement bid, MVM, Inc. won a $42.9 million contract with the federal government to transport unaccompanied "alien children" between September 2017 and September 2018.
General Dynamics, a tank, jet, submarine, and bullet manufacturer, has been working for the Department of Health and Human Services Office of Refugee Resettlement since 2000, and have also been posting advertisements for processing child prisoners on Indeed.com.
"The Office of Refugee Resettlement transfers unaccompanied children from the Department of Homeland Security into the care and custody of a safe sponsor," one advertisement stated. "By doing this, we are able to help children in need become integrated members of American society."
General Dynamics was looking for bilingual Spanish speakers, data entry and case coordinators, and program assistants.
Senator Heidi Heitkamp is cosponsoring the Keeping Families Together Act because "how we treat our children says so much about who we are as a country," she wrote in a Facebook post.
The Keeping Families Together Act is a Senate bill proposed by Senator Dianne Feinstein of California that prohibits an agent or contractor of the Department of Homeland Security, the Department of Justice, or the Department of Health and Human Services from separating a child with no permanent immigration status from a parent or legal guardian with 100 miles of the U.S. border.
"As a mother, I can't imagine being forcibly separated from my children," Heitkamp stated. "And my heart aches when I think about the trauma kids experience when they go to bed at night without the warmth and comfort of a parent's hug.
"There's no question we need to strengthen our borders, but separating kids from their families is cruel, unnecessary, and inhumane. I'm cosponsoring the Keep Families Together Act because separating any children from their parents must stop. The administration can and must change this cruel and harmful policy."
Democratic candidate for US Congress, Mac Schneider, condemned the current administration's tactics.
"I am for strong borders and fixing our broken immigration system," Schneider said. "Separating parents from their children does not advance either of these issues. It is inhumane and inconsistent with American values. As a father of two young girls, the cruelty of this policy is unacceptable to me."
The zero tolerance policy has prompted the American Civil liberties Union to file a national class action federal lawsuit after a 7-year-old girl fleeing violence from the Democratic Republic of Congo was forcibly taken away from her parents.
Late Tuesday afternoon, the US pulled out of the United Nations Human Rights Council after the country was criticized heavily by the 47-member panel for its zero tolerance policy and separating children from their parents.