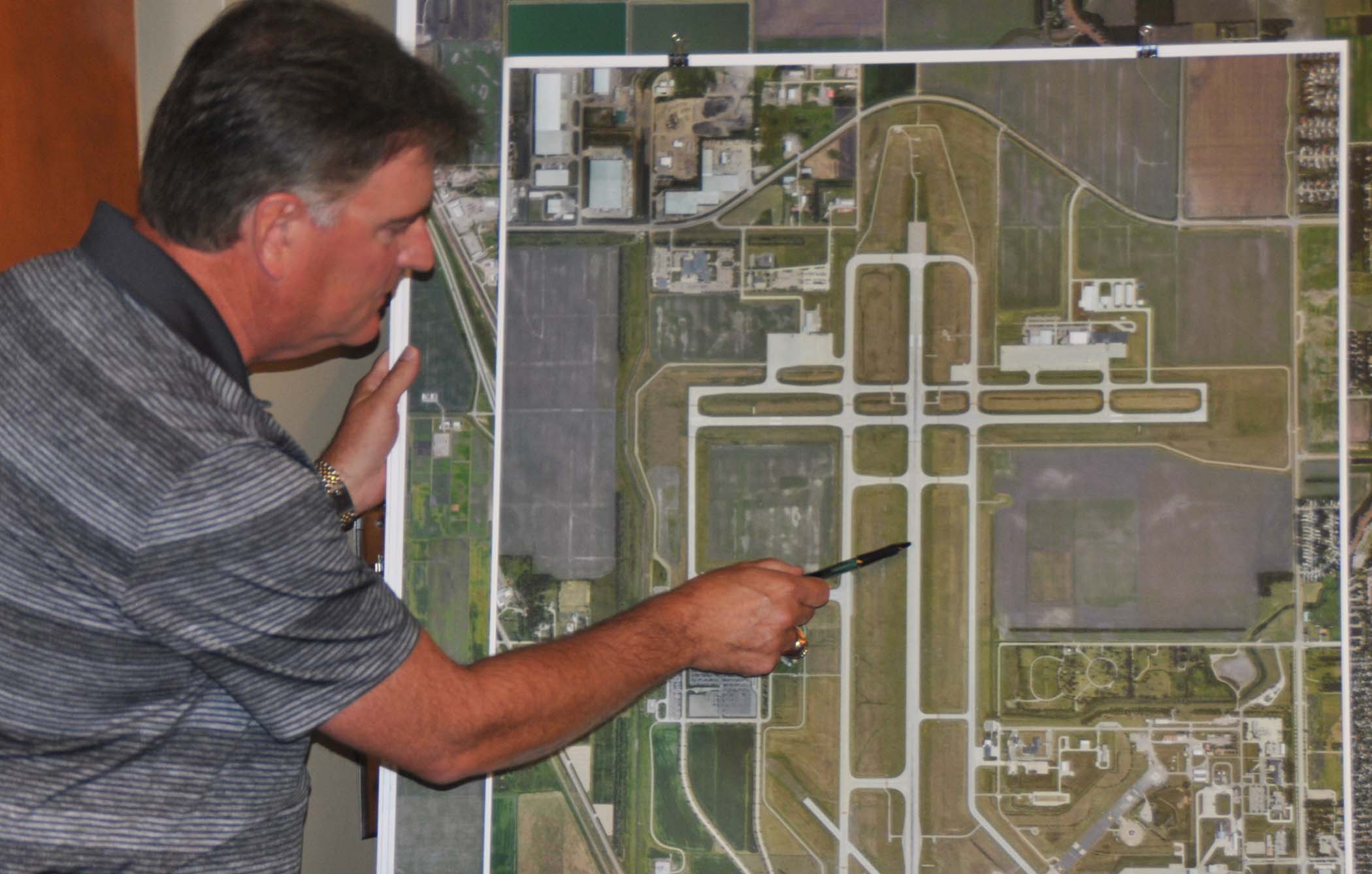 FARGO - A contractor employee at Hector Airport was killed early Monday morning after being struck by an Airport Authority vehicle while re-striping the main runway.
"Vehicles collided," Municipal Airport Authority Executive Director Shawn Dobberstein said. "An employee of the airport struck the person on the painting machine."
Shortly after midnight, the Airport Authority Chevrolet Traverse struck a striping vehicle — described as looking like a riding lawnmower — on the airport's primary runway 1836, about a half mile away from the main terminal, Fargo Police Deputy Chief Joseph Anderson and Dobberstein said.
The Airport Authority employee, Darren Anderson, an assistant director, called 911 at 12:40 a.m., and was reported to be at home Monday morning.
"Mr. Anderson was assisting with the coordination of the runway maintenance project," a news release from the Municipal Airport Authority stated. Anderson has been an employee of the airport since 1997.
The victim, Darry Arveson Jr., 48, from Glen Ullin, was pronounced dead on the scene, Anderson said.
Both vehicles were traveling in the same direction at the time of the incident, Anderson said.
Although the airport has two construction projects currently underway, the victim, who is also unnamed at this time, was performing regular airport work removing and repainting markings, Dobberstein said.
"We do that every year, we have to keep these markings up to compliance with federal standards," Doberstein said. Runway lights were turned off at the time, but standard procedure is for those working on the runways to wear reflective clothing and to use vehicle lights.
"It's a dark situation but certainly one that we've dealt with in the past," Dobberstein said.
The Airport Authority is currently working with the Fargo Police Department, air traffic control, and expects federal investigations, including OSHA, to follow, Dobberstein said.
Dobberstein didn't know if proper lights or reflective gear was used at the time of the incident, which is subject to an ongoing investigation.
"The victim's family is currently being notified," Anderson said. "Once the case is done, we will send it to Cass County State's Attorney for review. All depends on the totality. Was there adequate lighting? Was there lighting on the vehicle? Was the employee's vehicle lit up? What caused the crash, or are there any charges that may be recommended?"
So far, the Airport Authority employee has been cooperating with police, Anderson said.
Hector Airport is back to normal operations, and no flights were disrupted, Dobberstein said.
"It's unfortunate, our sympathies go out to the employee and his family and obviously to our employee and his family as well," Dobberstein said. "Our thoughts and prayers are with each of the families involved in this tragic accident."
Police do not monitor the runways for speed, and the Airport Authority also does not have speed limits on the runways.
Federal Aviation Administration guidelines stipulate that only vehicles necessary for airport operations are authorized to enter a movement area, and states that vehicle operators must remain vigilant of their surroundings during nighttime and poor weather driving conditions.
Additionally, if a vehicular accident occurs, all those involved must stop and remain at the scene of the accident, render reasonable assistance, report the accident immediately to the airport operator before leaving the scene, and surrender the name, address, airport identification card, state driver's licenses, and any other information needed to complete a motor vehicle accident report, according to FAA regulations.
No vehicles are allowed to operate on the airside unless properly registered and marked, and all such vehicles must be approved by the airport operator. Carts or equipment being towed or carried also must have side and rear reflector lights.
The FAA also does not stipulate maximum speeds of vehicles on runways, saying only that speed limits should be less than those specified by the manufacturer. Vehicular speeds for conducting surveys are listed at 40 to 60 mph, according to the FAA Advisory Circular.