​Heidi: human to human connections that change the world
by C.S. Hagen | .(JavaScript must be enabled to view this email address) | News | January 31st, 2018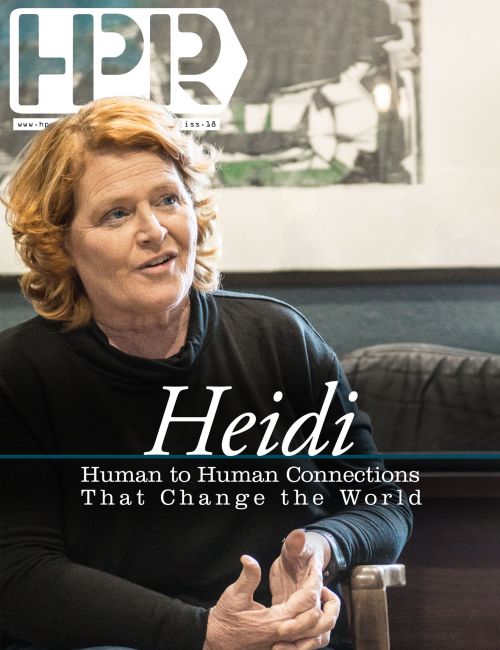 FARGO – Beneath Heidi Heitkamp's political savvy is a creative activist, one who never takes no for an answer. She once lined the state capitol with tiny shoes to raise awareness of child abuse, and cut her political teeth on the Equal Rights Amendment.
It's not the state's first elected female U.S. senator's job to follow her party line, but to represent the predominantly red state in Washington D.C.
She is, at her core, an arbitrator, a political referee in a divided nation, because she wants results.
"I think we have lost the art of principled compromise," Heitkamp, a Democrat, said. "I have probably frustrated a lot of people on the liberal side of issues, because I say: 'Look, if you want somebody who is only going to resist, I'm not your person.' I want results. I want to get things done."
HPR asked: "When can moral values no longer be swayed by compromise?"
"That's one of the great challenges that I have; if you want results, you better learn to compromise. There's principled compromise, we're built on principled compromise. Think about the Constitution, why do we have a Senate that has two senators for every state? That's the great compromise."
On a cold January morning, wearing snowshoe boots and a knee brace to help soften arthritis bite, Field Representative Justin Hanson offered his arm to help her up stairs marbled with ice. Jovial, warm smiles when she reached the top. Not afraid to criticize herself and certain ailments that inevitably come with aging, she's also health conscious, won't eat doughnuts.
"Do you know what Crisco is like?" Heitkamp said. "When I look at them I picture a big glob of Crisco."
Heitkamp, fourth child among seven, is from humble beginnings. She grew up in rural North Dakota surrounded by swaying cornfields and soybeans as far as the eye could see. The small southeastern town she grew up in, Mantador, established around the Soo Line Railroad depot in 1886, has a VFW Club as the area's only bar, a tiny post office, and a few scattered houses. Her father once transported bulk fuel and later was a seasonal construction worker. Her mother was the school cook and janitor for the Mantador Grade School. She knows what hard times feel like, started working at 13 as a waitress, a babysitter, and in construction.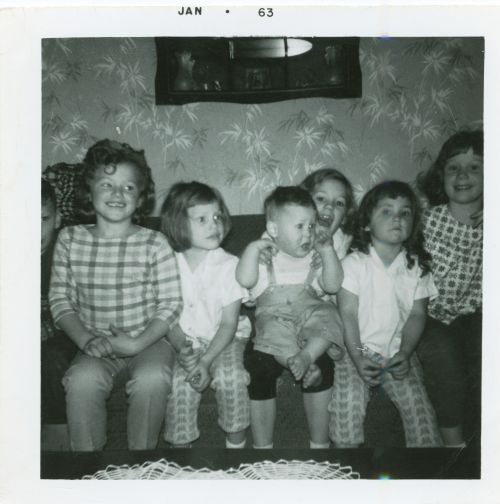 "It wasn't like we were afraid of hard work, if there's one Heitkamp value, that's it," Heitkamp said. "But I will tell you that the Student Loan Program made it possible for us to go to college, and we paid them back. It made us recipients of the American Dream. That little bit of help we got I like to think was a pretty good investment into our future."
Her heroes are her parents, Raymond Bernard and Doreen LaVonne, and America's first president, George Washington. People in history who take risks and don't always choose the easy road also make her list.
"The single act of serving two terms and then saying, 'I'm done,'" Heitkamp said of Washington. "It was his act of basically refusing to run after two terms that perfected our Constitution. It made us a Republic. Think of how novel and how incredibly unheard of it was to have a Republic, this great experiment. He made it possible for that experiment to succeed."

Turmoil
Politics found her in the eighth grade. She remembers the assassinations of John F. Kennedy, Martin Luther King Jr., and her candidate of choice, Bobby Kennedy, adding that it was political turmoil of the 1960s and '70s that ignited her interest.
"People talk about turmoil and where we are right now," Heitkamp said. "In my early experience with the assassination of John Kennedy, I mean think about that, the assassination of John F. Kennedy, the assassination of Martin Luther King, the assassination of Bobby Kennedy, these are traumatic national events. So we tend to see the world today through a temporary lens, but if you go back, you realize that there were people marching in the street, protesting the Vietnam War. We had serious threats of terrorism. We had challenges in race relationships that still haven't gone away. This was a time of turmoil, and I think it was that turmoil that led to my interest."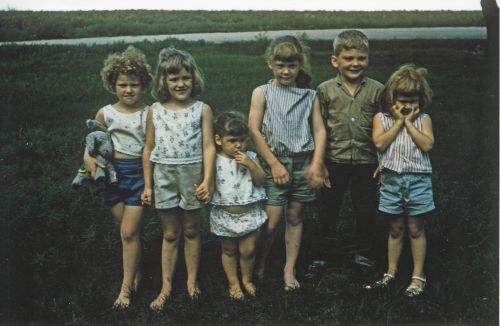 Working through the turbulent 1960s, however, led to accomplishments in Medicaid, civil rights, voting rights, and environmental statutes she stands behind.
"Big things got done. In terms of the actual functioning of government, and government getting things done, it seemed that that was a time when you could still manage to do the people's business. We've always had these changes historically, in the changing nature of American society, the cultural revolutions of the 1960s and 70s, morphing into marriage equality issues today. Some of these things have never been resolved, whether race relations, whether it is equal rights for women, they continue to be challenged, and we are just going to have to work through them.
"But we can't just look at them like, this all happened since Donald Trump became president. That's crazy."
Heitkamp found fascination with public policy after internships in Congress in 1976 and in the state legislature in 1977. Former Senator Kent Conrad then hired her, and she worked with him and the Equal Rights Amendment in Washington D.C., until he asked her to run for office.
"I never thought I would run for political office," Heitkamp said. "Kent Conrad made me. I got drafted, and I wanted to see more women on the ballot, and so I said, 'Fine, I can't convince anyone else to do it.'"
She ran for state auditor in 1984, but lost, then ran for state tax commissioner two years later and won 66 percent of the vote.
Heitkamp climbed her next rung on the political ladder in 1992, when she was elected to become North Dakota's Attorney General, and again in 1996. During her tenure as Attorney General, she battled drug dealers, became active against domestic abuse and protections for children, and helped broker an agreement between 46 states against the tobacco industry, which resulted in the Tobacco Master Settlement Agreement.
In 2000, she ran against current Senator John Hoeven for governor, and lost, but received 45 percent of the popular vote. During the race she was diagnosed with breast cancer, now in remission.
From 2001 until 2011, Heitkamp served as the director of Dakota Gasification Company's Great Plains Synfuels Plant, and won her first race for the Senate in 2012.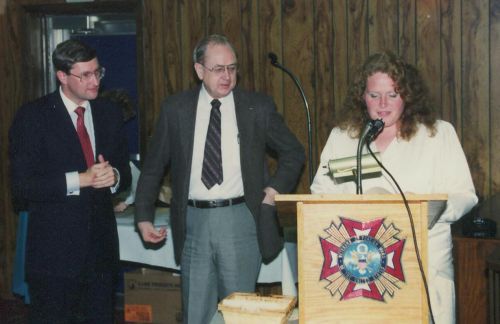 The senator
Now running a second time for a senate seat, presumably against Tom Campbell, a Republican, Heitkamp has held 593 public events in North Dakota, with more than 3,000 meetings. Her office has responded to 168,000 emails and letters, and has helped 15,474 North Dakotans with support through a federal agency, her office reported.
The farming community in North Dakota is one of her top priorities. She has introduced bills that support crop insurance, and is looking to the 2018 Farm Bill, after a two-day tour in western North Dakota.
"I think for me, I come from a town of 80 people, probably less than 50 now, I grew up in farm country," Heitkamp said. "I grew up in a community where we all had to learn to get along."
Being a woman of a "blue" mind in a red state predominantly led by men, is not how she sees herself.
"A lot of how I look at myself is not through that lens," Heitkamp said. "I'm from rural America, and I understand, because I've seen it, the worry and the trauma that comes with no rain, or too much rain, not getting a crop, not having that economic security.
"I don't look at my leadership as blue or female, I look at my leadership as: 'I'm from North Dakota, I want to die in North Dakota, and this is the place I understand and I understand what the needs are.' When you focus on the needs of the people you're representing, you're going to be successful."
Heitkamp speaks with a slight North Dakotan accent. She's confident, doesn't mince words, and carries none of the patrician hauteur expected from some national leaders.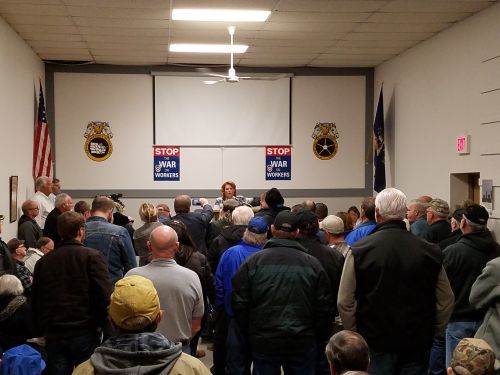 She's a North Dakotan to the bone, and has been influential in bills pertaining to retirement security and retaining pensions, and the Family Act, which would create a federal paid family and medical leave policy. She introduced the Violence Against Women Act, an extension to her work as Attorney General to combat domestic violence. She's advocated for federal support for the current opioid crisis, raised awareness and passed legislation to combat human trafficking, and was essential in negotiating a deal to lift the ban on exporting oil, a task many told her could not be accomplished.
"I said I think we can get it done in 2015," Heitkamp said of lifting the oil export ban. "And people said, 'No way, you can't, maybe five years.' And I thought, 'Well, I've got great support – from lobbyists, military,' and within a year we lifted the ban which people said we couldn't get done.
"So when people say you can't, ask them, 'Is that because you're not willing to try, or because it is truly an impossibility?'"
She's for net neutrality, marriage equality. There's no room for compromise with issues pertaining to abused children. She's in the process of passing a bill, which has 70 sponsors so far, that would amend the Communications Decency Act, a 1996 attempt by the United States Congress to regulate pornographic material on the Internet.
#MeToo
Heitkamp has also been prominently featured by news outlets around the nation during the #MeToo campaign.
"Listen here, men will always beat their wives and you can't stop them," the retired law enforcement officer put his finger in her face and said.
"At the time, we tend to judge things by how we think today, but back in 1993, right after I was elected Attorney General, that wasn't an unusual thing to say," Heitkamp said. "These were tough cases, not a lot of arrests, there were a lot of people who believed that things weren't going to change how people treated people in their families. But the proof is that we did. We dramatically reduced the amount of domestic violence. I'm not saying it's still not a horrible problem, but we reduced the amount of domestic violence by applying a process where we help families, help women leave when they need to leave, provide that support and transitional work, and arrest people who abuse people in their homes.
"When people say we can't do it, and that was his message, you can't change this, or you can't change when people smoke, I say, 'You know, working together in an evidence-based system, not the government alone, but the right kinds of community effort, we can.'
"My answer to him was, 'You might be right.' But let's not live in a world where we don't try. If that's wrong, let's try and fix it, because you will never know whether you can or can't if you don't try."
Heitkamp is also the author of Savanna's Act, a bill that hopes to help combat the murdered and missing Native women and girls epidemic by building bipartisan support to streamline law enforcement reactions to abductions and create an amber alert system for Indian country. Savanna's Act was a bill written in response to Savanna LaFontaine Greywind's murder and abduction of her then unborn child in August 2017 in Fargo. Greywind was a member of the Spirit Lake Nation.
After launching a social media campaign using #NotInvisible to raise awareness, her proposal was heard by the U.S. Senate less than one month after it was written. The bill is now in a holding pattern, but her office expects movement quickly. She has also been a long-time advocate for making sure the federal government lives up to its responsibilities by creating a Commission on Native Children, and creating legislation surrounding the issues behind trauma of young children and Native Americans.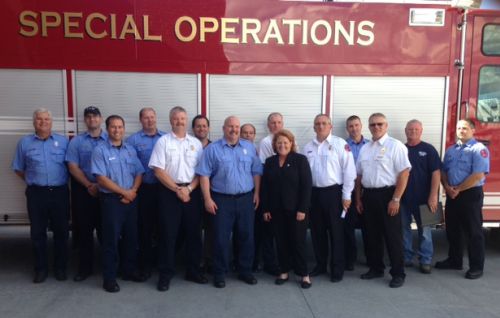 Good soldiers
North Dakota is also an important state for national defense in transitional times, Heitkamp stated, today more so than before with projected possible threats from North Korea, Russia, and China.
"The deterrent capability has never been more important, and so North Dakota is playing a very significant role," Heitkamp said.
"Rural communities like North Dakota actually enlist at higher numbers; we're good soldiers. We've got to give shout-outs, and this is true, everywhere the North Dakota National Guard goes, and I talk to commanders, they say they wish every guard in the country were as capable as North Dakota Guard. We have a great reputation nationally."
Minot and Grand Forks air bases will play even more important roles in the future. The U.S. military is also becoming more reliant on guard units, the nation's nuclear responses, and B-52 bombers, Heitkamp said.
"Changing climate is opening up faster than we thought, which is driving a lot of challenges in the Arctic region, mostly commercial at this point."
DACA and walls
Approximately 1.1 million people who call America home are enrolled in the Deferred Action for Childhood Arrivals program, according to the Pew Research Center. DACA recipients, or Dreamers, are the children of illegal immigrants who were offered protection under President Barack Obama's Administration.
"The issue now for us is the number of young people who actually signed up for DACA, right?" Heitkamp said. "So they actually have the protections of DACA, they're not everybody who was eligible, a number of the kids, 50 percent more did not trust the government and did not want to give their information, so one of the questions that I think the president in his plan is to include all kids, all kids who came here with their parents as minors."
HPR asked: "Isn't that contingent on his wall?"
"The problem with the wall, honestly, is that it's definitional, which is he wants to say 'I got the wall.' But when you sit down and actually talk to customs and border protection and you look at what their plans are for border security it's completely reasonable, and so they're not building a wall, they're building structures where they need structures and barriers, and putting in technology where technology will work.
"It's one of those things that is so frustrating with Washington, which is everybody has talking points, but sit down and talk about the facts because then we can come up with a real answer. It's incredibly frustrating."
Parts of the current wall, called Normandy fences, need replacing, she said, and existing landing mats, built in the 1980s when a wall first went up, are riddled with holes for trucks hauling marijuana.
She's seen the drug trade across the Texan border; she has friends who live there. Most couriers go back and forth, hauling backpacks filled primarily with marijuana. They don't carry guns, and when caught, they drop their packs and run back to Mexico.
"If Trump would just talk about their plan, opposed to saying he needs a wall, that will take a lot of politics out of it."
Heitkamp is also concerned with the northern border, where many refugees believe a safer asylum can be found in Canada.
"There were deaths trying to do this, it's not just here, it's also in Minnesota and New York. Trudeau, when this happened, said 'You're welcome here,' and that didn't make a lot of Canadians happy."
Refugees vs. born in North Dakota
In a state of changing demographics, communities across America need to practice more empathy, and become involved with cultures different than their own, Heitkamp said.
"We need to examine the opportunities. We need a better understanding of where people come from.
"Part of this is that we haven't necessarily done the things we need to do to bring people together, and to help refugee communities adapt to what is a culturally different place. Instead of pointing fingers, I think we need to continue to have a dialogue, so that the connection isn't refugees vs. born in North Dakota, the connection is human to human, and when you can make human-to-human connections, that changes the world.
"You can't do it in isolation."
While hate speech and immigration issues are reaching a boiling point in Fargo and elsewhere in the state, Heitkamp took pride in the fact that approximately 600 people showed up to a Fargo mosque to learn about Islam.
"You say this is happening, but then I see a story about what Chief Dave Todd did, about bringing the women together over the Walmart parking lot incident. He says, 'I believe we can do this human to human, what an amazing story.' Don't think that Fargo can't work through it.
"Were there 600 people at a City Commission meeting, clamoring for…?" Heitkamp shook her head. "No, but there were 600 people at a mosque. I think that's pretty good.
"Chief Todd is the embodiment of what I'm saying, and it takes leadership that believes that these issues are not impossible to resolve."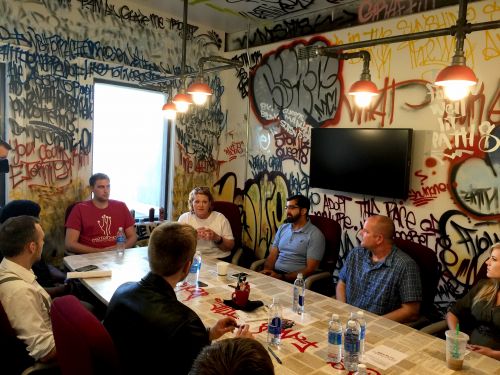 The race
Heitkamp has raised nearly $3 million for her upcoming campaign for the Senate. Her largest contributor is Votesane PAC with a donation of $76,000, according to Open Secrets.org Center for Responsive Politics. The Votesane PAC donates primarily to Republicans, but Heitkamp is the nation's eleventh top recipient.
Motley Rice LLC, a law firm involved in civil litigation, asbestos litigation, and the Tobacco Master Settlement Agreement, is her second largest contributor with a donation of $62,050. Goldman Sachs is third with $54,800, and General Electric fourth with $51,950.
Unlike Republican candidates, big oil companies fall to BP at seventh place, ConocoPhillips at eighth place, and the Hess Corp, with a donation of $25,625 as Heitkamp's fourteenth largest donator. Other companies involved in Heitkamp's re-election include Sanford Health, UnitedHealth Group of Minnesota, Blue Cross/Blue Shield, Texas-based Pioneer Natural Resources, Berkshire Hathaway, and Centaurus Energy Management.
She is also supported by Citigroup Inc, Wells Fargo, Morgan Stanley, Delta Air Lines, Microsoft Corp., Boeing Co., Coca-Cola Co., among other insurance companies and financial institutions.
For Heitkamp, lobbyists aren't to be demonized.
"Number one, they are part of a process," Heitkamp said. "I'm not someone who bashes up on lobbyists, because if I want to know how things will affect, say, farmers in North Dakota, they provide that kind of advice. We use them as a way to find out what that group of constituents needs and wants in North Dakota.
"It's not about lobbyists as much as it is about campaign finance reform, we desperately need to do it. At the same time it's virtually impossible to unilaterally disarm. So you're in the mix, but I don't see lobbyists as good or bad. We have a whole group of people who are lobbying us on DACA. Does that make us bad if we help them out?"
At the end of the day, she and every other elected official have but one job to do: listen to their constituents.
"The chasing money issue has to be fixed, but I don't think there is a legislator worth their salt who should ever do something simply because it means a campaign contribution."
One type of contribution, called 501(c)(4)s, are problematic, Heitkamp said. According to the Internal Revenue Service, 501(c)(4)s are nonprofit organizations designated to promote social welfare causes. Such groups are allowed to participate in politics, as long as they spend less than 50 percent of their finances on politics.
"C4s have a real corrupting effect, because it's not transparent," Heitkamp said. "We'll reach out to lobbyists, it's not just one way. I think there's nothing nefarious about that, as long as it's transparent. We do need more transparency. Congress needs to make things transparent, and we haven't done that, and there's no reason not to do that."
Herky-jerky
An hour with a U.S. Senator passes quickly. She didn't belittle President Donald Trump, in fact, came to his defense several times. When Michael Wolff's new book, "Fire and Fury: Inside the Trump White House" came up, she called the author an "idiot."
"I'm not going to buy his book," Heitkamp said.
When asked about issues surrounding hate speech, she condemned those who stand with the so-called "Alt-right," but added they too, have a right to speak their minds.
"Somebody put on a uniform in World War II to fight the Nazis to guarantee a right to political beliefs. I just don't share them, and I don't think anyone in North Dakota shares them."
HPR asked: "What point is free speech no longer free?"
"It is their right. They are what they are, and these rights are guaranteed to us through the Constitution. Go test it."
There is a difference between free speech and speech aimed to hurt.
"You have to let people express their views, even if you don't agree with them. And that means the "Alt-right," and that means whomever on any level of the spectrum. And that has to be respected, and when we stop doing that, because we don't like what we are hearing, we fail.
"But violence can never be part of that. You don't have the right to beat someone up guaranteed in the First Amendment. You have the right to protest, but maybe not on the sidewalk. You have the right to say what you want to say no matter how reprehensible it is, no matter how horrible it is, but you don't have the right to threaten people with words that are violent."
"Hate speech, cyber bullying, is that a free speech issue or can words ever be violent? And that is where we have to be really, really careful, because sticks and stones may break my bones, but words will never hurt me. But words do hurt. And we got to figure this out, but you're never going to control it, until you change the culture."
Those that align themselves with racist agendas may be protected by the Constitution, but social consequences do exist, Heitkamp said.
"I think what's interesting is a lot of people who have bought into this philosophy, then all of a sudden their picture goes on social media and their boss brings them in and says, or their fraternity looks at them and says: 'Really?' You don't do this in a vacuum. There may not be legal consequences, but there are consequences to aligning yourselves with these groups."
As Heitkamp rose to leave, she favored her left knee. "Are you okay, Senator?" Justin Hanson, her field representative, asked.
"Yeah, it's just when I start out it's a little herky-jerky," Heitkamp said.
And then filled the room with laughter.