In the shadow of Walmart
by C.S. Hagen | .(JavaScript must be enabled to view this email address) | News | February 7th, 2018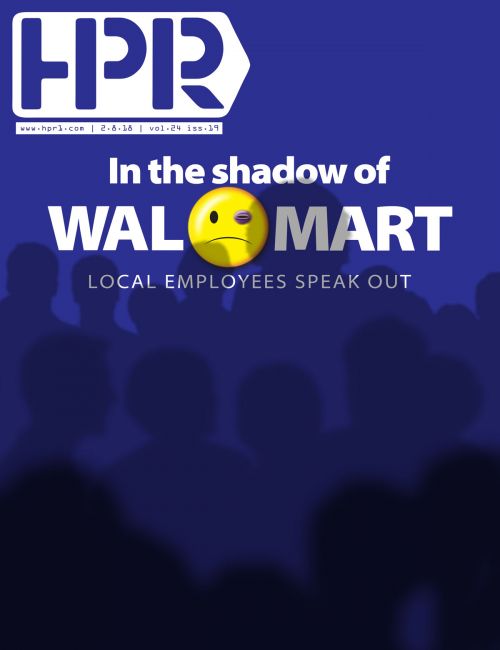 FARGO – Twenty Walmart employees blame concentrated racist and prejudicial managerial practices for their sudden firings or dwindling losses in hours and pay.
Those who say they're affected, most originally from Somalia or Kenya, say there are more former refugees and immigrants afraid to speak out for fear of losing their jobs in the Fargo area, who are being discriminated against because of the color of their skin, or because they wear hijabs. A hijab is the traditional head covering with the face exposed, not the entire full-length dress or robe.
They're not being shown respect. Their hours have been docked. Managers refuse to listen to complaints and then order a coaching session. And they're told not to talk about working conditions with each other, according to the complainants. Many have tried to lodge complaints with Walmart's human resources department, but have been unsuccessful or their pleas are ignored, they say.
Nawaal Sheikh Jawab, originally from Somalia, has been working at Fargo's 13th Avenue Walmart for five years. In August last year her sister, who is in Norway, fell ill, and she applied for vacation time to visit her. She has an Alesund Hospital Department of Internal Medicine report to prove her sister had been admitted.
"They have an issue with immigrants," Jawab said. "You can go on vacation, but you can't come back to work at Walmart."
Before she left, she tried Walmart's central office for permission, whose answer was because she worked part time she needed to arrange a vacation with local management, who she said told her the job would be waiting for her when she got back.
"I wanted to keep my job," Jawab said. "But I went there for one month, and when I came back there was no job. I tried to talk to [the manager], but he would not listen. It's common. Any person who talks like us, who dresses like us, is treated differently than the other workers."
"Even if you feel sick, you still have to work to keep your job," Anab Mohamed Osoble, originally from Somalia, said.
She too wears a hijab, and said she was fired from the same Walmart after two family members died. First, her mother-in-law, then her uncle, in short succession, and she needed bereavement time to attend the funerals.
"I informed the office, who told me I could not use the bereavement, but could use my own points," to take time off, Osoble said through a translator. "The day I came back the store manager approached me to come to his office and I was told I used up all my points and bereavement and lost my job."
When she grew upset, an argument ensued, she said. The store manager locked her in a room, and told her to take off her Walmart shirt.
"He shut the door, covered the window in the door with his hand and said, 'We're not playing games here.'"I felt threatened," Osoble said. "And I took off my Walmart shirt."
She wore her own clothing, including the hijab, under the store's shirt.
"He then called me a criminal, and when I asked why are you firing me, the store manager called me names and threatened that I would never get another job in America."
Halima Abubakar has lived for 12 years in Fargo, and has worked in different Walmart departments for five years, she said. Her English is better than Osoble and Jawab, who also speak English, but for clarity purposes asked for a translator to help.
"Anyone who is Somali, to be more specific, it's like you're thrown into a cage and they're pushing you to the side," Abubakar said.
Like her coworkers, she's had no issues with previous managers, but since the new store manager arrived more than a year ago she's undergone oppressive supervision, has been repeatedly followed into the bathroom, or watched while on a scheduled break, she said. When Abubakar tries to talk to managers about the situation, she, and others, are brushed aside.
"It's not necessary," is the typical response Abubakar hears. "It's a trend. When you try to talk, they just walk away."
Abubakar still works at Walmart, but her hours have shrunk in recent months. Her husband is gone, she's a single mother, and she can no longer afford to pay for $600 rent when she makes $400 every two weeks.
Habsa Yusuf is a new mother, and said her experiences finding help from management have resembled ping-pong, bounced from one manager to the next.
"Now we have no one to go to," Yusuf said. "Most of us are already leaving, and they're trying to quietly force us out."
When a non-black customer comes in, no questions are raised, Yusuf said, but if someone with dark skin arrives and she tries to help, she is followed around the store and receives a "coaching" for not working.
Khadra Mahamud's eyes fill with tears as she talks about her multiple "coaching" sessions. A coaching session is a managerial attempt to get an employee back on the right track, but according to former Walmart workers, when an employee receives a second coaching, that employee is "frozen," meaning no promotion, they are not allowed to transfer stores, they cannot switch jobs, and they are not allowed access to the "coaching" records for one year. Once the year has passed, the coaching record is erased.
Since 2015, Mohamed worked predominantly full-time hours as a part-time employee, but now she's working at most four hours a day, and when she asks for more hours, she too receives a run-around, she said. When she is at work, she's frequently followed around the store, even into the restrooms, or watched while taking breaks.
"If you say anything they say they will give you a coaching," Mohamed said. "I was doing my job, and if they tell me anything I have to do this, I did."
Other times, their message is simpler: "Don't talk to me. I said, 'You have the power, I can't do anything,'" Mohamed said.
Many of the employees who have signed a grievance list or who are speaking out have tried to call Walmart's "Associate Support" hotline, but either get confused, or see no action on their behalf, Yusuf said.
"You call them and tell them, but nothing is ever done," Yusuf said.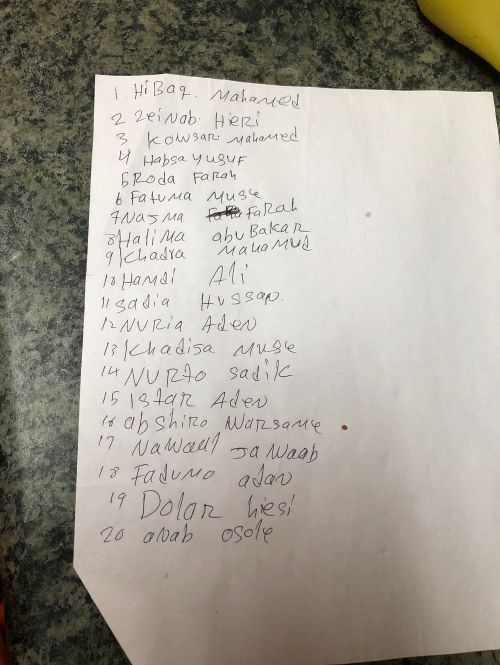 Walmart reports the company has "unexpected tragedy" help for their employees, involving thethe Associates in Critical Need Trust, a public charity created in 2001, which provides grants to employees experiencing economic hardship due to a crisis. Walmart's website also contains a comment section to file a complaint against a store or an employee.
North Dakota used to have a local chapter of the NAACP called the Grand Forks Northern Lights Branch, led by Pastor Ronald Cooper of New Beginnings Christian Center. The North Dakota branch is no longer in existence. CAIR-Minnesota, or the Council on American-Islamic Relations, said they were currently interviewing people involved and plan to begin an investigation next week by setting up an office in Moorhead.
"Our Minnesota office has received a number of reports, and we're not fully on top of all of the complaints, but I did speak to a few of them, and plan to visit the area," Jaylani Hussein, executive director of CAIR-Minnesota, said.
Hussein said his organization is also looking into the possibility of opening an office in North Dakota. He has seen similar discrimination cases, and it's his organization's job to investigate, arrange lawyers, and initiate talks with employers. Rarely do cases lead to the courtroom, but he's preparing for that possibility.
"Walmart has historically been very difficult to deal with in general, not only with the Muslim community, but with other groups as well," Hussein said. "We're going to investigate and we will work with these employees and use all possible tools to get their rights."
Usually in discrimination cases, his organization discovers a low-level supervisor responsible for discrimination and that upper management is unaware of such actions. With anti-Muslim sentiment seeking a platform with President Donald Trump's racist comments and executive orders, he has also seen a rise in employee-on-employee hostility, Hussein said.
Walmart central was contacted for comment, and said that they were looking into the issue.
"At this point these claims are unsubstantiated," Tara Aston, a Walmart spokesperson, said. "We will have our ethics team look into it. For sure we don't tolerate it, we don't tolerate discrimination at all and take these claims very seriously."
Corporate Walmart personnel have not contacted local management yet, Aston said.
"Whenever someone is accused of something like this we look into it without them knowing," Aston said.
So far, Walmart's internal investigation has shown that a total of ten people included in the list are not shown as "associates," Aston said, which could mean their names were not registered correctly. Walmart's investigation is ongoing.
Labor Commissioner Michell Kommer and Kathy Kulesa, human rights director for the North Dakota Department of Labor and Human Rights, were also contacted for comment. Kulesa said her department has received no open charges of discrimination against Walmart in Fargo.
"Something of this degree and nature certainly requires due diligence on all our parts," Barry Nelson of the North Dakota Human Rights Coalition said.
Nelson is also with the Fargo Human Relations Commission and said he would welcome anyone claiming discrimination at Walmart to come and speak at the commission's next meeting on February 15, at noon, at the city commission chambers.
Shortly after the incident involving the white Mapleton woman yelling obscenities and issuing death threats against three Muslim women in the Walmart parking lot August last year, Matt Knight, listed as the store manager, donated monies on behalf of Walmart to Global Youth United in September 2017 and the Fargo Police Department in November 2017, according to Walmart's Facebook page.
Walmart is the nation's largest employer with approximately 1.3 million workers, and has a net income exceeding $11 billion. The company also declares itself the world's largest retailer. On average, the company deals with 17 new lawsuits per working day, according to Forbes, many of which pertain to maltreatment of their workers.
Employees do not sign contracts with Walmart, and can be fired at any time.
Walmart in the USA is anti-union. In China, Walmart unions have been created and include approximately 30,000 workers. Some workers in America have had success forming non-union groups in an attempt to improve working conditions and have clear channels for airing grievances against the company. A few of those groups are called the Walmart Workers Association, and Wake Up Walmart, which created the Walmart Workers of America group.
The International Labor Rights Fund filed a class-action lawsuit against Walmart for violating workers' rights in foreign countries, alleging that managers denied minimum wage, required overtime, punished union activity, and in some cases, beat their employees, according to The Washington Post. Walmart has also come under scrutiny for ignoring child labor laws.
Discrimination cases are difficult to prove in court, especially against wealthy corporations like Walmart, according to lawyers familiar with labor laws. Evidence of wrongdoing is usually required in writing, or an obvious pattern of behavior must be established.
The North Dakota Century Code's anti-discrimination statute, or the North Dakota Human Rights Act, declares that: "Discrimination on the basis of sex, race, color, religion, national origin, age, physical or mental handicap, or status with respect to marriage or public assistance is prohibited."
Anyone who is the victim of an act of discrimination must file a claim with district court pertaining to the involving employer's discriminatory practice within three years of the alleged act, or to the Department of Labor within 300 days of the alleged discriminatory act. If an employer is determined by district court to have committed a discriminatory practice, the court may order relief in the form of a temporary or permanent injunction, equitable relief, or back pay.
The Fifth and 14th Amendments of the United States Constitution also limit discrimination by federal and state governments with an explicit requirement not to deprive anyone of "life, liberty, or property," without due process of law. All people are guaranteed equal protection under the laws. The private sector is not directly constrained by the Constitution, but has become subject to a "growing body of federal and state statutes" including the Equal Pay Act, Civil Rights Act of 1964, among others.
In North Dakota, a discriminatory practice is to: "Fail or refuse to hire a person, to discharge an employee, or to accord adverse or unequal treatment to a person or employee with respect to application, hiring, training, apprenticeship, tenure, promotion, upgrading, compensation, layoff, or a term, privilege, or condition of employment, because of race, color, religion, sex, national origin, age, physical or mental disability, status with respect to marriage or public assistance…
"It is a discriminatory practice for an employer to fail or refuse to make reasonable accommodations for an otherwise qualified person with a physical or mental disability or because of that person's religion."
Other names on the list include: Hibaq Mahamed, Zeinab Heri, Kowsar Mahamed, Roda Farah, Fatuma Muse, Nasma Farah, Hailma Abukar, Hamdi Ali, Sadia Hassan, Nuria Aden, Khadiso Muse, Nurto Sadik, Istar Aden, Abshiro Warsame, Nawaal Jawaab, Fatumo Adan, and Dolar Hirsi.