​Nation, city, misleading public on refugee costs
by C.S. Hagen | .(JavaScript must be enabled to view this email address) | News | September 27th, 2017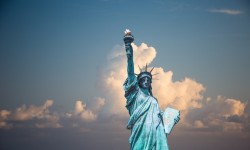 Refugees cost taxpayers money, but the buck doesn't stop there
FARGO – All fingers point to refugees being cost positive for cities, states, and the nation, and yet pressure from the Trump Administration on local city leaders to curb the influx of "huddled masses" persists.
In Washington D.C., Trump Administration officials are refusing to recognize a recent study performed by the Department of Health and Human Services, or H.H.S., that reported refugees brought in $63 billion more in government revenue over the past decade than they cost, according to the Washington Post and New York Times.
A different study, also ignored, came from Wilson Sheehan Lab for Economic Opportunities, or LEO, a research department at the University of Notre Dame. The March 2017 study stated refugee resettlement is cost-beneficial to the United States, especially with resettled children.
Over a 20-year period, refugees who entered the United States between 18 and 45 years of age, paid taxes in excess of support received by $21,200.
The White House defended its rejection of the study by saying H.H.S.'s conclusions were illegitimate and politically motivated, according to the New York Times. And yet right-wing media outlets, such as Breitbart, refuse to report on such numbers, reporting instead that taxpayers will spend $4.1 billion in 2017 to support 519,018 refugees resettled in the United States since 2009. Little to no mention is made of refugee benefits in the article.
In Fargo, a similar pattern has emerged. Despite the lack of hard, cold, statistical data, reports and testimonies from business leaders, entrepreneurs, police, human rights organizations, and new Americans echo national findings, saying refugees are beneficial for Fargo and the state.
"Unfortunately, the refugee and immigrant controversy is no longer about fact-finding," Hukun Abdullahi, member of the Moorhead Human Rights Commission and North Dakota United Against Hate, said.
Originally from Somalia, Abdullahi has taken a stand against recent immigration issues and increasing hate crimes in Fargo. Washington D.C.'s anti-refugee agenda has spread like a virus, infecting local governments and encouraging bigots to target New Americans and trump up political agendas.
"This issue is more about Making America Great Again or in other words, Making America White again," Abdullahi said. "Historically, immigrants and refugees have been blessed to obtain bipartisan support. Maybe that was because most immigrants and refugees were white and Christian at the time. They were able to blend in more easily and were perceived more 'American' per se. With growing numbers of immigrants who are no longer white or Christian, this has really made people think about what America has become, and thus want their country back."
The country, the state, and even Fargo's demographics have changed, and xenophobia lies at the root of such opposition, Abdullahi said.
"There is nothing wrong to that about having an opinion," Abdullahi said. "What is wrong, however, is there are still groups of people who never want immigrants and refugees to be seen as equal to them."
Within President Donald Trump's first week of taking office, the refugee issue came under fierce debate when Trump signed an executive order stating "Secretary of State shall, within one year of the date of this order, provide a report on the estimated long-term costs of USRAP (United States Refugee Admissions Program) at the federal, state, and local levels."
In Fargo, the fire was lit during a Fargo City Commissioners meeting on October 24, 2016, by Dave Piepkorn, who also serves as deputy mayor, when he attacked Lutheran Social Services of North Dakota, a nonprofit group responsible for handling refugees in the state.
Piepkorn wants to know the costs of refugees, an obscure price tag as few agencies distinguish refugees from other racial types. Piepkorn sees refugee resettlement as an unfunded mandate, and that the state should have the right to decide on the numbers of refugees it allows. He's also stated that refugees are depressing wages locally, and receiving benefits other residents are not receiving.
Trump's chief policy adviser, Stephen Miller, is using identical tactics form public opinion. Miller is concerned only with costs, not fiscal benefits, when determining the annual refugee cap, which he is attempting to slice by more than half, or less than 50,000 for the nation. On Wednesday, Trump's Administration announced it capped the amount of refugees the nation would accept at 45,000 US, which means with 19,000 from Africa, 17,500 for the Near East and South Asia, 5,000 for East Asia, 2,000 for Europe and Central Asia, and 1,500 for Latin America and the Caribbean.
So far, Piepkorn has expressed similar if not identical considerations, despite the repeated attempts of city officials, Lutheran Social Services, and leaders from the Fargo Human Relations Commission, to discuss the issues.
Instead of agreeing to sit-downs with local leaders, Piepkorn has made his views known on right-wing radio stations such as AM 1100 The Flag Need to Know Morning Show, where Piepkorn took partial credit for influencing the former Trump special adviser Steve Bannon's platform against immigrants.
Piepkorn has been repeatedly contacted for comment, but so far refuses to answer telephone calls or call back.
"Let's have a conversation," Barry Nelson, of the North Dakota Human Rights Coalition and the Fargo Human Relations Commission, said. "Dave Piepkorn has never reached out to any one of us who did this at his request. He's never wanted to talk about it, and again he didn't show up for the report."
Although Piepkorn has led the charge against the displaced in Fargo, he failed to appear at one of the most important meetings pertaining to the issue.
"To me, it is a lack of leadership to not only deny the facts and figures that do not agree with that so-called leader's ideology or opinions, but it is inhumane and immoral to target a group of residents and citizens to advance one's agenda," Nelson said.
To combat rising hate crimes, the Human Relations Commission passed a resolution originally proposed by the American Federation of Labor and Congress of Industrial Organizations, or AFL-CIO, establishing Fargo as a hate-free community. The resolution was passed on to the Fargo City Commission this week to be voted on next month, and was passed unanimously by the Moorhead City Commission on Monday.
"It puts the city on record as saying that these crimes keep occurring and allowing city leaders to make a statement that this city won't tolerate hate crimes," Nelson said.
Despite the national upheaval on immigration issues, those that are behind such political agendas and racist reforms are numerically inferior, Abdullahi said.
"Fortunately for us, this group of people is very small," Abdullahi said. "The denial of facts from the US Government is an example how such a small group of people in influential positions could still disrupt lives of many and diminish the value of what immigrants and refugees are contributing in their new society."
Some numbers Piepkorn has been searching for have been discovered, such as financial costs provided by the Fargo Police Department, nursing and interpreter costs from Cass County Public Health. Most agencies, however, do not track refugees.
Since January 2002, 3,677 refugees have been settled in Fargo, according to a Lutheran Social Services of North Dakota report. New Americans are employers, taxpayers, and field workers, choosing occupations few local citizens are willing to apply for.
Statistically, what is known at the local level is that refugees contributed $542.8 million to the city's GDP in 2014, and have a spending power of $149.4 million, according to the Refugee Resettlement in Fargo report, a study commissioned to the Fargo Human Relations Commission to perform and released in April.
First-generation immigrants are cost-positive in North Dakota by approximately $3,250, and long-term benefits are incalculable, according to the study and the City of Fargo's Community Development Department. First-generation households are cost-positive by $4,900, making North Dakota the second most cost-positive state in the nation.
Between 2011 and 2013, immigrants in North Dakota paid $133.9 million in taxes and spent $425.7 million, according to the Fargo Human Relations Commission's first report, released in February 2017.
Nationally, since 2011, the U.S. Refugee Admission Program has received approximately 655,000 applications, with more than 75 percent of the applicants fleeing from Iraq, Myanmar, Syria, Somalia, the Democratic Republic of Congo, and Bhutan, according to the United States Government Accountability Office, or GAO.
In 2016, the United States admitted 85,000 refugees, the largest yearly number in more than 15 years, according to GAO.
"This is not cost overruns on a bridge or road construction. This is not a debate about whether or not to construct a city hall or a dam," Nelson said. "This is putting a target squarely on the backs of men, women and children who ask only that they have a chance, just like most of our ancestors, to begin a new life in safety and security.
"This is putting human beings in harm's way. Is that the moral leadership we want and expect in our community, in our country? I truly hope that the moral leadership and citizenry of our community will look at the true facts of refugee resettlement and see this kind of discounting and targeting for the basest and cruelest of human instincts that it is."
Historically, the refugee debate is nothing new. In the 1840s, Americans turned their hatred on the Irish fleeing famine when potato blight struck. At that time, newspapers reported the Irish were disease-ridden, they threatened American jobs and welfare budgets, they practiced an alien religion, they were rapists and criminals -- charges remarkably similar to accusations made in Fargo in 2016 by Valley News Live -- and more recently by Commissioner Piepkorn -- against the area's refugees and new Americans.
In 1882, Congress passed the Chinese Exclusion Act, the first significant law restricting immigration into the United States. Chinese, at that time, were escaping persecution and civil wars, and because of their distinct culture, their Qing-styled queues, they became easily-identifiable targets for racial "purists," who accused them of depriving jobs, unionizing the mining industry, and forcing the lowering of wages. The blatantly racist policy was not abandoned until 1943, when China became an ally with the United States against Japan.
The list goes on: French-speaking Catholic Acadians in 1755, Germans in 1848, Jewish refugees in 1848 and 1939, Vietnamese refugees in 1975, seven Middle Eastern countries in 2017.
Ironically, while Americans favored keeping the world's downtrodden from its shores, one of the nation's foremost and secret goals after World War II was to hunt for military and scientific booty, which sometimes came in the form of Nazi scientists, in covert actions such as the Joint Intelligence Objectives Agency's "Operation Paperclip."
Historically, crackdowns on refugees have led to little more than demonization, breeding division and fear. Since 1882, U.S. presidents have gone through cycles of banning or restricting ethnic groups, only to apologize years later for inflicting harm, according to professor Erika Lee, a historian at the University of Minnesota.
Lee helped start the website Immigration Syllabus, which shies away from political debate and focuses on immigration facts.
"When we close the gates, we look back on those periods with shame," Lee said in the Star Tribune. "And I do feel that we are on the verge of repeating some of those past mistakes."
"Refugees entering the U.S. as adults tend to have poor economic outcomes when they first enter, but they improve significantly over time," the Wilson Sheehan Lab for Economic Opportunities report stated. "Use of Medicaid, welfare, and SNAP decrease over time, while employment and income increase."
After 20 years in the United States, approximately 11 percent still rely on SNAP, or the Supplemental Nutrition Assistance Program, also known as Food Stamps, and incomes increase exponentially.
Currently, the present cost of relocating a refugee is $14,384, and over time the refugee receives $86,863 in social insurance costs, but pays taxes of $122,422, which leaves a cost positive net payment by the refugee of $21,195, according to the Wilson Sheehan Lab for Economic Opportunities.
"By their tenth year in the U.S., refugees are cost-neutral," the report stated.
The report also noted that refugees who enter the United States before turning 16 graduate college at similar or higher rates than their US-born peers. Two factors help explain poorer results for refugees 15 and older, the first being limited English, and the second that older child refugees are more likely to be unaccompanied by parents or an adult.
While opponents of refugee resettlement twist the narrative to say refugees take jobs away in Fargo, nothing could be further from the truth, James Gartin, president of the Greater Fargo-Moorhead Economic Development Corp., said.
A Regional Workforce Study reported Fargo had 6,500 unfilled jobs in 2005, a number that will grow to 30,000 by 2020.
"This inability to fill jobs has been a major contributor to the slowdown in our local economy, and the refugee resettlement program has an important part to play in addressing this workforce shortage," Gartin said. "Cutting back on the refugee resettlement program will not benefit the Fargo-Moorhead economy. It will do the opposite."
For those who feel refugees are prone to become criminals, think again, the Fargo Human Relations Commission reported in January 2017. Immigrants are 1.7 times less likely to become involved in crime than native-born people, according to information from the U.S. Census Bureau and reported on by the American Community Survey.
"Many are threatened by the mere fact that many of us own our homes, businesses, and drive new cars," Abdullahi said. "It's possible because we work hard, harder than many imagine. This haunts such people because they have always thought of us as less deserving. If it were up to them, they would not hesitate to throw us in cotton fields and strip away our rights.
"We are a minority and it will remain that way for a long period of time. I strongly believe one day, this negativity is going to go away once people start realizing we are a part of this community, just like they are. I urge former refugees and immigrants to be patient, but speak up when you see acts of racism and discrimination.
"There is nothing to be concerned about at this time, because we are legal residents and citizens and have rights, and rights to be united with our family members, as allowed by the U.S. Constitution."