​Net neutrality on the ropes
by C.S. Hagen | .(JavaScript must be enabled to view this email address) | News | December 5th, 2017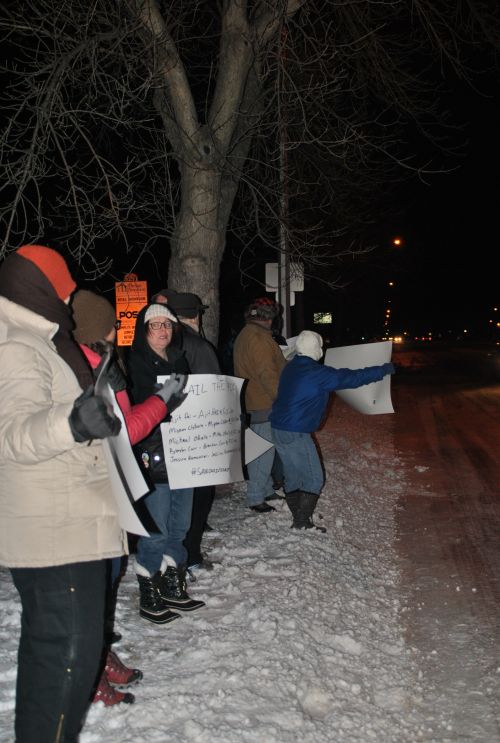 FARGO – With one hand, Brandon Medenwald pulled his thin wool jacket closer against the biting cold; with the other, he held up a sign protesting the Federal Communication Commission's plan to dismantle net neutrality.
"If I was a broadband provider it would be a great business," Medenwald said. "Charge more for customers' tears."
Nearly 20 others stood with Medenwald Tuesday evening in front of Congressman Kevin Cramer's office on Fiechtner Drive. Cramer has made his views known since President Barack Obama helped drive home a free and open Internet in 2015. Coming close to citing conspiracy theories that current net neutrality laws are the government's attempt at controlling the world, Cramer supports the FCC's intended change, which would alter the principle that all Internet traffic should be treated equally.
The protest, led by Tim Hoye, of Tim Hoye Consulting, a social media management and website customization company, was short, but their message was clear.
"Net neutrality," a leader said.
"Paws off," the protesters responded.
Hoye is also running for House of Representatives District 45 as a Democrat, and chose to hold the protest in front of Cramer's office to let the state's only congressman know he disagrees with his stance. Net neutrality preserves the right to communicate freely online, Hoye said.
Since net neutrality has been implemented, telecom companies have filed multiple lawsuits against the FCC, and now FCC Chairman Ajit Pai agrees with the telecom companies, calling net neutrality a failure. In a statement released on November 20, Pai, who was appointed by President Donald Trump, said previous FCC regulators bowed to pressure from Obama.
"It's depressed investment in building and expanding broadband networks and deterred innovation," Pai said.
Net neutrality laws have done more than create a free market economy on the Internet. The regulations have strengthened social movements to fight back against economic and systemic discrimination, have helped startup entrepreneurs and business people alike, and are a perfect example of how a free enterprise system should work.
Lydia Tackett is a researcher, and depends on fast-paced Internet access to a range of websites. She braved the cold winter air Tuesday evening to let Cramer know that she too, disagrees.
"If you love the free market, net neutrality is important," Tackett said. "We believe net neutrality protects free market economy."
Tackett is worried that telecom companies will begin charging premiums to access websites. Losing net neutrality would put power into the hands of companies such as AT&T, Comcast, and Verizon, who would then decide who gets heard and who doesn't.
Without net neutrality, cable and phone companies could repave the Internet into fast and slow lanes. An internet service provider (ISP} could slow down its competitor's content or block political opinions it finds disagreeable. ISPs could also charge extra monies to affluent companies to pay for preferential treatment.
On November 21, Cramer issued a statement. "The partisan politics around the inappropriately named 'net neutrality' rules need to stop," Cramer said. "There's nothing 'neutral' about an unelected federal agency unilaterally taking authority over an entire industry. On the contrary, this anti-freedom, government-knows-best rule was another Washington power grab that stifled investment of our internet industry and punished internet providers, both small and large, for doing nothing wrong."
When asked why he thought Cramer would support disbanding net neutrality laws, Hoye said it's because Cramer has long been supported and is a supporter of the industrial complex.
"Honestly, he's a Republican and big businesses will benefit from this," Hoye said. "I don't know why they want to change this other than having big businesses have a faster track on the Internet. How is this fair when it benefits big business and the little guy won't be able to compete?"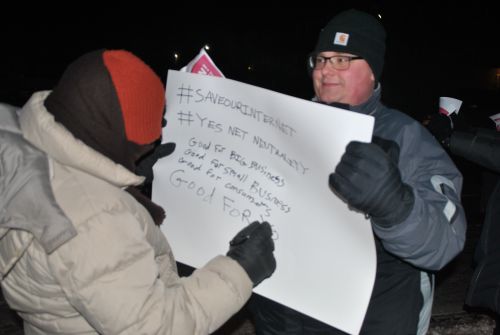 Medenwald, a web developer and co-founder of Simply Made Apps in Fargo, said if the FCC dismantles net neutrality, all small businesses and startups could find running their companies increasingly more difficult and incrementally more expensive.
"Let's dispense with the insinuation that those of us fighting for a level Internet playing field are 'friends' of Democrats with a secret mission to defeat Republicans," Medenwald said in a letter. "I'm a big supporter of net neutrality, as are the majority of Americans polled. This isn't about partisan politics."
Cramer currently ranks number 11 of 435 members of the House of Representatives for support from telecommunications companies. Oil and gas, namely Energy Transfer Partners, the parent company behind the Dakota Access Pipeline, is Cramer's top donor for the upcoming year.
Telecom services are currently listed as Cramer's fourth top supporter, with total donations of $22,500 for 2018, according to Open Secrets, Center for Responsive Politics. In 2016, telecom services donated $54,500 to Cramer's campaign, with Charter Communications, a utility company, and AT&T Inc. being two of his top donors.