​Seeking shelter: homelessness in the winter
by Dima Vitanova | .(JavaScript must be enabled to view this email address) | News | December 20th, 2017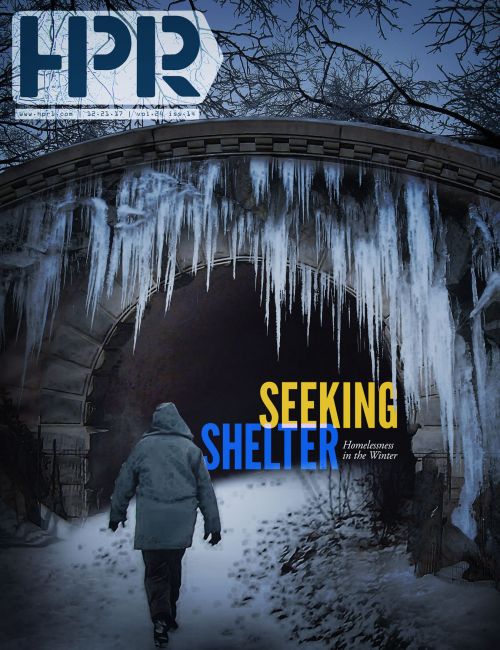 The chill crawls up your body until it claims it. Naturally, your muscles begin to shiver in an attempt to keep warm. Your blood slowly retreats from your extremities toward your vital organs. As the minutes pass, your breathing might slow down and your speech – if you have someone to talk to – may slur. Perhaps, you have nothing to occupy your mind with except that it is frigid, very cold.
The cold is what Gregory Osiecki recalls from the couple of nights he had to sleep outside before he found shelter at the Dorothy Day House in Moorhead.
"This is the first time for me [being homeless]," Osiecki said. "I was all lost, not sure what to do. I knew about this place, because in 1997 I was leaving here to go to St. Cloud, Minnesota, and I didn't have a vehicle and I was hitchhiking. I was cold, cold, cold, and they put me up for the night. So, I knew this place existed. It is nice but I do not want to get too comfortable here because other people need the bed."
According to a point-in-time count by the North Dakota Continuum of Care, there are 331 homeless and unsheltered individuals in the state. As a tally of homelessness done to secure grants from the U.S. Department of Housing and Urban Development (HUD), the number is only a snapshot captured in a single night in January, and often distorted by such factors as weather conditions; yet the count in 2017 surpassed last year's by nearly 35 percent, but it remained far below the record of 2013, when there were close to 1,400 unsheltered homeless in North Dakota.
"There is a perception that we do not have a lot of homeless in North Dakota," said April Fairfield, executive director of North Dakota Coalition for Homeless People. There is that idea that we are too cold to have any. We do have homeless people in North Dakota. And, yes, they are out there when it is -20 degrees in January."
At the start of the decade, the oil boom fueled the surge in homelessness, when thousands of jobseekers flocked to western North Dakota, prompting severe housing shortages. Osiecki, however, was not one of them.
Native of St. Paul, Minnesota, he used to work at a YMCA center in Cheyenne, Wyoming. When his aging body couldn't keep up with the duties anymore, he decided to make his way to Fargo-Moorhead, where his kids resided. By the time he arrived, though, they had moved – to Wisconsin, someone told him.
Now, he is looking for them. And for a job and a small apartment. The Dorothy Day House is helping him, while also preparing for winter.
"Obviously, it becomes very critical at this time of the year," said Sonja Ellner, executive director of Dorothy Day. "The temperatures in Minnesota and North Dakota become dangerously low. So we work closely with other shelters to make sure no one is sleeping outside."
The smallest shelter in the Fargo-Moorhead area with a mere 13 beds, Dorothy Day utilizes three couches as additional space to rest at night. In the recent years, churches in the area have helped absorb some of the demand. This winter, however, in a time when the Legislature slashed the funding for homeless services and the sole emergency shelter in Bismarck was recently shuttered, vacancies in Fargo-Moorhead could fast vanish in what is already a strained supply of beds.
"I think one of the challenges in this area is still winter housing," said Deb Anklam, social services director at the Salvation Army. "We get a lot of phone calls from clients and they would say, 'X and X shelters are full. Where can I go? Can you put me somewhere?'"
While the Salvation Army provides no lodging on its own, it collaborates with shelters, and, if no beds are available, pays for hotel stays. It also maintains an arrangement with local police departments that enables officers to take homeless off the streets at its expense.
The Gladys Ray Shelter in Fargo often takes in the homeless the city's law enforcement refers. Its 35 beds are reserved for those who cannot get into the other shelters for various reasons – from mental issues to substance dependency. In winter, when the shelter reaches its capacity, it opens its community rooms where individuals can rest, huddled away from the elements.
"People need a safe place to stay at night," said Gladys Ray's Executive Director Jan Eliassen. "If they are in here, they are less vulnerable and the community is better off, because we do not have to worry about what happens in that person's life. Everybody wins. Not everybody sees it that way, but we do."
And yet some prefer to stay outside, shunning the hubbub that often arises in crowded shelters, but risking frostbite and violence. Shelter life is hard, Eliassen said, with barely any privacy.
Bad memories also swing individual choices. Those who have stayed in unsafe shelters in other cities avoid these in Fargo-Moorhead, even if they are much better than in other communities, she said.
Despite the importance of emergency housing in winter, "the goal is to get from the streets to a home," said Jillian Gould, homeless outreach specialist with Gladys Ray.
Numerous studies have shown that rehousing conserves taxpayers' money, as it deflates the costs of homeless services – from probation to medical care to incarceration - two to three times on average.
Affordable housing, however, as in many locales across the country, is hard to come by.
"There is a large amount of housing available, affordable is the key word," said Major Elaine Medlock, Fargo corps officer with the Salvation Army. "There is plenty of housing – they built tons of apartments and they rent higher than $650. They are more like $850 to a $1,000. I think the concept was that if they built newer and nicer apartments with underground parking, that the people would move from the middle-income to the higher-income apartments and that would open up more apartments. I do not think that has happened."
Currently Churches United for the Homeless, whose shelter welcomes up to 75 people a night, is raising a 43-unit permanent housing complex in north Moorhead. With the exterior already standing and work underway inside, Brady McClaflin, community center outreach coordinator with Churches United, pegs the completion date at late February 2018.
While the project will provide a respite, it is not to erase the dearth of cheap residences. Homelessness in central Fargo is perhaps to persist, as revamps transform the neighborhood from what it used to be only years ago. "Downtown was where there was a concentrated number of affordable housing units," said Kim Seeb, director of the Homeless Health Clinic under Family HealthCare. "They were low standard, not places where most people would like to live, but they were affordable. And then all of a sudden, they come in and they remodel the HoDo, which was one of those places where people could afford to rent rooms.
"They remodeled that and couldn't understand why the homeless people were there. Well, you just made a handful of people homeless in their neighborhood. It was their neighborhood before you came here. So, as you continue to build downtown and take over buildings that had housing, you are displacing more people."
Exacerbating the scarcity of affordable apartments are wages that fail to cover rent costs. "If you have a minimum wage job, you probably needed to have more than one job just to be able to afford an apartment in the area," said Ellner of Dorothy Day.
Osiecki, the homeless man staying at Dorothy Day, has not yet found a job. He wants to secure a part-time gig to supplement his social security checks and veteran disability pay, which he only recently found out he qualifies for. He hopes to settle in a condo before his 67th birthday on December 20, before the winter plunges into its depth.