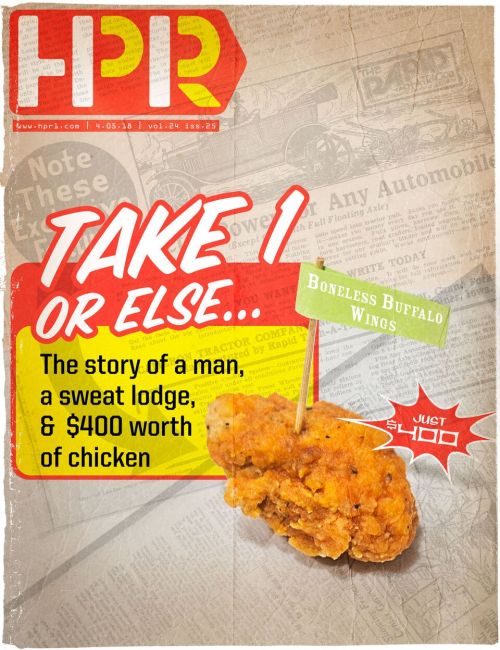 FARGO – So far, an extra sample boneless Buffalo Wing at Cashwise Foods has cost Zebadiah Gartner $400 in fines and court fees, a $54 ticket to Montana, and two nights at the Cass County Jail, courtesy of the taxpayers.
Gartner, 21, an Anishinaabe, doesn't remember any signs limiting how many sample pieces he could eat at Cashwise Foods, located at 1401 33rd Street South, in January 2017. He does, however, remember an undercover shopper following him around the store.
"Yeah he was following," Gartner said. He believes he was profiled. "I honestly laughed when I got stopped because I was like, 'Are you serious?' I remember seeing him in a different aisle and was wondering why he kept being in the same aisle as he had absolutely random stuff in his basket.
"I have a eye for that stuff."
He watches because that's what Native people are accustomed to, he said.
"This happens to my people for years and with me it comes to the light," Gartner said. "I wonder how I can help the people further to stop it, not just for me. I have a lot of mental confusion on why I'm in this position."
Many customers partake of sample foods at grocery stores; it's a prime method for companies to self promote sales, few, if any, however are arrested for taking an extra sample. Some customers say they go back for seconds or thirds. Others say they sometimes save money on the grocery bill and store hop to escape spending money on dinner.
Gartner worked with family over the weekend to raise money for the original $500 fine and court fees. Family and community pitched in; proceeds from an Indian Taco event helped Gartner raise the needed $500.
On Monday morning, April 2, however, expecting Mayor Tim Mahoney's weekend plea for leniency in his case to have some effect, Gartner was hoping for a lower fine. Fargo's Municipal Court Judge Stephen Dawson did throw out the $100 bench warrant fee, and Gartner paid the additional $400 to stave a possible 10-day jail sentence.
After being warned of one piece per customer, Gartner threw away the extra piece of chicken, he said. He never thought that the store would file a complaint against him.
In all, the situation has cost Gartner $400 in fines, the cost of a trip to Montana for an Indigenous ceremony, and the possible trauma of spending two nights in jail.
"Thankfully I have support from the community," Gartner said in court. "That's the only reason that I have any kind of cash right now."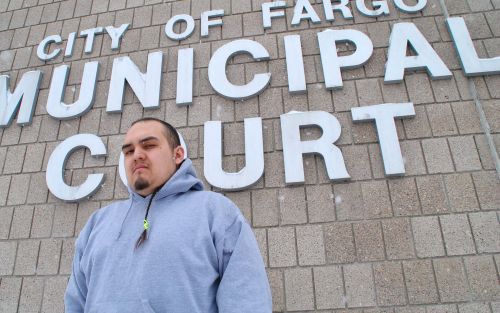 Police Report from Cashwise
A police report of the January 24, 2017 incident stated that Steve Christensen, the loss prevention officer at Cashwise Foods, saw "two Hispanic males in the deli of Cashwise Foods."
The store's officer said he saw Gartner take four chicken wings, valued at $1.49, and the other male ate one piece, and both refused to pay. Store surveillance videos do not show any theft, but "Christensen witnessed with his own eyes," according to the police report.
Video footage shows suspects leaving the store.
Fargo Police Officer Thomas Salmen responded to Christensen's call, and recommended that the report be forwarded to Cass County Juvenile Court and the city prosecutor's office for consideration of theft charges.
Mahoney said over the weekend that corporate managers from Cashwise Foods were not interested in pursuing the matter, but because Gartner's plea of guilty last year to the theft, the judicial process was already underway. Gartner spent a night in jail after his first arrest on February 23, 2017, and spent a second night in jail because of the bench warrant for failure to pay last week.
Gartner's possible sentence far outweighs his crime, Mahoney said. He thought the piece of chicken charge was solved after the sweat lodge incident. Since that time, Fargo Police have undergone cultural sensitivity training, and the Native American Commission is working on improving the area where the sweat lodge is located.
"The additional $400, they're outside people who think this is too high for this kid," Mahoney said. The city plans to ask the judge that "If he minds himself for the next six months, could you do a much less sentence or fine."
Excluding a driving without insurance charge from 2015, Gartner has no other convictions on his criminal record.
"The streets of Fargo are safer tonight," Gartner's grandmother, Sandra Berlin, wrote in a Facebook post the morning after Gartner was arrested the second time. "My grandson was taken to jail as he was waiting to board the train tonight, to go help at a ceremony. As that is what he does, as a young Native American man. Just like a year ago, February, when he was pulled from the sweat lodge, as he was praying and then taken to jail."
"How many Native American kids are staying on the right path?" Monica, Gartner's mother, said after Gartner's second court appearance. "The courts and the police are just waiting for him to fall, but they're not going to catch anything because he is not a bad person."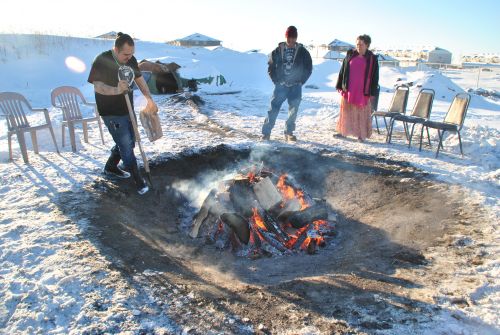 Police report from sweat lodge incident
Gartner learned about the Cahswise Foods theft charge after he was arrested a month later during last year's sweat lodge incident, he said. At the time, Fargo Police Officer Jacob Rued stated in a police report he was unaware of the spiritual significance of the sweat lodge, and after seeing a fire, and what they perceived to be a tent with homeless people, ordered participants – young and old – and in little more than undergarments or light clothing, into the cold.
"I stopped and approached the fire on foot, about 100 feet from the street," Rued stated in the police report. "Now, I saw a tent near the fire with a large amount of smoke coming out of it. Still seeing no people or obvious means to extinguish this open flame on the ground, I radioed the Fargo Fire Department to respond.
"I approached the tent and announced myself as police. A male, Zebadiah Gartner, exited the tent and approached me. I asked Gartner what he was doing here. He said they were having a Native American prayer service. I asked Gartner whose land they were on and if they had permission to be here. Gartner said it was city land and the city commission had told them they could be here. I asked Gartner for a permit if that was the case, but he said he didn't have one… I explained to Gartner that regardless of this land issue, his fire was still illegal."
Gartner refused to sit when ordered to, the police report stated. A second male person exited the sweat lodge.
"Realizing I was outnumbered and alone, I believed I needed to get Gartner obviously uncooperative, under control for my own safety," Rued stated in the police report. "I put my hand on Gartner's arm and told him he needed to come to my car, he pulled away. Gartner told me not to touch him. I grabbed his arm and he pulled away again, more forcefully. Resisting my attempts to take him into custody, I put Gartner into an arm bar and made one knee strike to his left thigh.
"Gartner dropped to the ground and I handcuffed him."
Gartner was arrested for resisting police that night, and the charges were dismissed the following day, but not after he spent the night behind bars.
The incident spurred the city to take action last year, initiating cultural awareness classes for city employees. Initially, conversations between the city and the Native American Commission led to plans to renovate the sweat lodge area, but the area may be moved to a more permanent location soon, Mahoney said.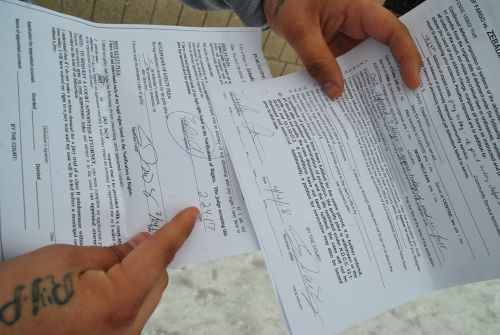 Second arrest
Gartner's mother, his grandmother, and a friend, Leona Owlboy, from the Spirit Lake Tribe, showed up at municipal court to support Gartner the morning after he was arrested the second time at Fargo's Amtrak Train Station. All of them say police have been harassing the family since the sweat lodge incident occurred on February 23, 2017.
"When they see him, they give him looks, they flip him off," Owlboy said.
"Why do they care?" Monica said. "To me, they're stalking him. They harass us at our house."
After a sweat ceremony, police are typically sitting at a store close to the sweat lodge area, Owlboy said.
"They're only hurting Zeb more, and it's messing with him," Owlboy said. She has had a recent relapse of ovarian cancer after a four-year remission, and Gartner helped her at a sweat ceremony less than a week ago.
"I didn't feel sick anymore," Owlboy said. "Zeb took it away, he took my pain. When someone needs help, he doesn't grab anything, he just goes."
"They don't understand this way of life," Berlin said. Gartner has become increasingly active in Native marches and ceremonies in Fargo and elsewhere during the past year. He sings traditional songs and beats a Native drum.
"There needs to be more people like Zeb."
Fargo Police Crime Prevention and Public Information Officer, Jessica Schindeldecker, said multiple officers were at the scene of the sweat lodge incident. She denied the accusations of police harassment.
"I think it would be highly unlikely he was targeted," Schindeldecker said.
Not guilty
Before the judge on Monday morning, Gartner stated that although he pled guilty to theft on iTV court in February, he did not sign the documents.
"There's no proof of me stealing this chicken," Gartner said. "That was a hard day last year."
Although he pled guilty on iTV in 2017, Gartner plans on filing a motion to change his guilty plea, he said.
"I didn't write guilty on the paper," Gartner said.
"So you appeared from jail on this? Originally?" Dawson said. "You must have been in jail for something unrelated."
"Yeah, I was arrested for resisting an officer."
"So, is this your signature?"
"No, sir."
"That's not your signature," Dawson said. "At the jail you would have received some papers: a rights form, a plea form, and a confidential information form… So you are suggesting someone else signed the guilty form?"
Dawson said the signatures appeared to match; Gartner disagreed.
Receiving the chanupa
Gartner received the familial ceremonial pipe known as the chanupa after the sweat lodge incident, and has been on a spiritual journey ever since. Receiving the chanupa means that he must lead a righteous life, he said.
He is studying Indigenous ways, frequents rallies and marches, and can often be seen singing traditional songs while beating a Native drum. He has been instrumental to Fargo's only Indigenous sweat lodge during ceremonies the past year; each event takes hours to prepare. There's wood to cut, red-hot stones to carry, and water to pour. A sweat lodge ceremony can be compared to a Christian going to church.
Before the sentencing, he talked about spiritual occurrences during sweat ceremonies that help keep him growing, and sometimes help heal those who are injured in body or spirit.
Despite having no criminal record, Fargo's Municipal Court would not lower Gartner's initial fine, even after a plea from Mahoney for leniency.
"We feel bad about it, and in my mind, he's on a religious journey right now, he's trying to do sweat lodges and he's trying to help people," Mahoney said.
"You were charged, you appeared, and you pled guilty"
"If the city may be heard on this matter," the prosecutor for the City of Fargo, Stamate Skliris, said before Judge Dawson Monday morning. "The city recognizes from the outset that the court is a separate and independent entity, and that it is unusual for the city to weigh in on sentencing matters. Ultimately we recognize that the court is going to make its decision and we respect that, but we've heard from a number of witnesses in this case and the nature of this case that the defendant was arrested last year… and subsequently the day after he was charged with shoplifting."
The city asked for $400 to be paid off over a period of time.
"It's our understanding at the city that the defendant is unable to pay the fine, and the city does not object the conversion of the $400 and/or the 10 days that was told by the court last Thursday for a jail sentence and run if as a second period of deferred imposition sentence for 11 months," Skliris said.
If he could not pay the fine, Gartner could have faced jail time.
"If he couldn't pay the $400, then it was 10 days," Skliris said.
"A $500 fine would usually equate 10 days in jail," Judge Dawson said. "The original cost was $400, and there is usually a $100 bench warrant fee, just to keep the deferred intact, and again, you always have the option of reopening the case. If you did not sign this, and you want to straighten her out, you have a signature that certainly appears to be yours, but if you're indicating it isn't, then you have those options."
"I feel there are some other words supposed to be said, but why do I have to pay such a high amount?" Gartner said.
Dawson did not accept the prosecutor's recommendation or Gartner's petition to lower the fine.
"You were charged, you appeared, and you pled guilty," Dawson said. "On the books this is still a deferred imposition sentence."
The situation Gartner finds himself in now, after failing to pay fines and court fees, is a "vicious cycle" that keeps bringing in the same people, over and over again, Mahoney said.
"You get into jail, you can't pay the fine, and you're kind of screwed and you just can't get out of that circle," Mahoney said. "We're trying to get people so that they're not always trapped."
The repetitious circle increases overall costs, Mahoney said, who also said he is a proponent of judicial reform.
"The F5 Project helps people into a job and moving forward, but there needs to be a discussion about is there a better way of doing criminal justice."
Mahoney plans to start a conversation soon about judicial reform: what are the best methods for helping people, how to start bringing costs down, and how to keep lawbreakers behind bars who are habitual criminals.
"What we get tired of is this merry-go-round, it's the same merry-go-round we see them in the system over and over again, and is there anything we can do to break that cycle," Mahoney said.
"The other issue we're having is the early release from jail, people are released and what do they do? They go back to crime," Mahoney said. "If we don't offer them a different choice… the stats from the police department are people are released and what do they do? They go back to crime. It's a vicious circle."
Gartner is bewildered by the disruption an extra boneless Buffalo Wing has caused.
"You know, I don't know how I feel," Gartner said. "Really, man, it feels unreal."