​The Final Standing Rock
by C.S. Hagen | .(JavaScript must be enabled to view this email address) | News | February 23rd, 2017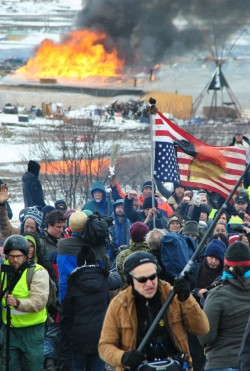 CANNON BALL - Twenty hours before the U.S. Army Corps of Engineers' deadline to evacuate the Oceti camps, the thunder beings arrived.
And geese returned home a month or more early.
Signs, activists say, like the the herded buffalo that charged near law enforcement in November 2016, or the golden eagle who perched for hours on a nearby fence, that nature is listening.
On the final day for the Standing Rock camps' fight against the Dakota Access Pipeline, native songs and flames filled the air. No tears, many smiles, for their cause - to protect water and indigenous rights - had just begun, activists said.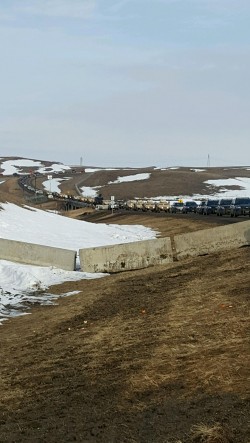 "People on the ground are doing the right thing," long time activist and attorney Chase Iron Eyes said. As he spoke lightning streaked in the horizon.
"They are surrounding us on all sides, not only by the United States military the Army Corps, but by the National Guard, by Morton County Law Enforcement, by every small town and county in North Dakota, and by private DAPL mercenaries. But add to that there are federal Indian police that answer to the Bureau of Indian Affairs, which answers to the Department of the Interior, and used to answer to the Department of War, and now those federal Indian police answer to President Trump."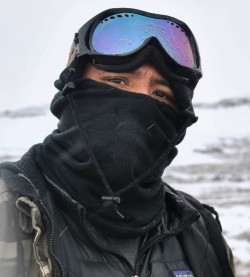 Shiyé Bidzííl, a Standing Rock Sioux activist, has spent many of the winter months at the Oceti camps. He experienced difficulty live feeding one hour before the Army Corps deadline of 2 p.m. Wednesday, and climbed out of the floodplain onto Highway 1806 - where law enforcement kept journalists and legal observers at bay - to get better reception.
"All this stuff we're doing to Mother Earth here is very wrong," Bidzííl said. "And in the end, it's not DAPL, it's not Morton County, it's not the water protectors who will have the last say so. All these beings are signs, we're talking about the thunder beings, the eagles, it's here. It's right before our eyes."
Behind Bidzííl, another tipi burst into flames. In all, more than 20 structures including tipis, tents, and makeshift homes were burned to ash. Each flame burst was preceded by an explosion. Two people, a seven-year-old boy and a 17-year-old girl were burned, and had to be transported by the Standing Rock ambulances to local hospitals, according to the North Dakota Joint Information Center.
"This camp might be burning down, but this is just the beginning of it," Bidzííl said.
Camp structures were burned not for vengeance, Bidzííl said, but for cleansing.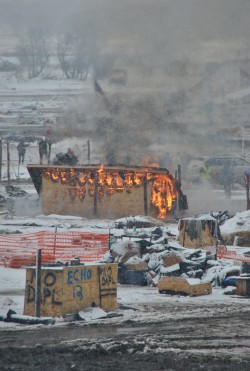 "It's a way of leaving a place that we've held so long here, and burning down a structure is a part of that ceremony of leaving things. Burning. Burning all the prayers, all the traditions, all our fights, courage, bravery, strength, all going up in flames. Everything we do here means something."
Burning their tents activists have called home for months, is also their way of giving back to nature.
"Burning your camp, burning your tipi, burning a place you've called home, because the enemy is coming in to attack you, and we don't want them touching anything. We don't want them coming into our tipi and our home. So what do we do? We burnt it. And for us we're burning it back, let it go back to its natural state of being."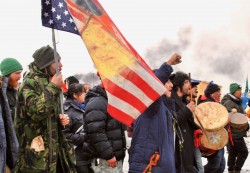 South on Highway 1806, across the Cannon Ball Bridge, busses and state-sponsored travel-assistance packages worth $300 were waiting for anyone who wanted to leave.
No one volunteered, Highway Patrol Lt. Tom Iverson said. The services, which included a hot shower, food, taxi money, and a bus ticket home, were going to be available until 5 p.m. Thursday, according to the North Dakota Joint Information Center.
Jennifer Cook, a legal observer from the North Dakota ACLU was worried about being stuck behind cement barricades, hundreds of meters away from the camps.
"We are only here to observe actions, we're not here to protest, we're only here to record what we see and what we hear," Cook said. She has seen an improvement in police responses since Governor Doug Burgum took office.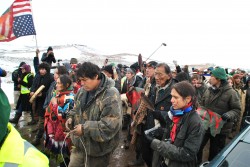 "Our hope is our access will continue, and that we will be able to ensure that this is a peaceful and safe removal of any water protectors that choose to stay in the camp past the two o'clock deadline."
Shortly before 2 p.m. deadline, a group of at least 60 activists paraded from Oceti's front entrance to where a United Nations College bus waited to escort them away. Many were covered in mud, their possessions were meager. Some wore plastic bags to protect themselves from stinging snowflakes. Burning sage and hugs accompanied drumbeats as water protectors - now friends - said their farewells.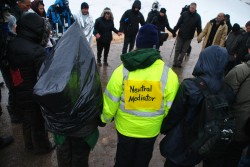 Across the Cannon Ball River, however, a handful of up to 100 activists refused to leave. Morton County Sheriff's Department reported 10 people were arrested on Wednesday. Law enforcement did not infiltrate the camps as sundown approached. International journalists from the New York Times, Fox New, CBS, ABC, and local reporters from the Bismarck Tribune, and the Grand Forks Herald lined up like Civil War gentry awaiting a spectacle behind a serpentine wall as the clock struck 2 o'clock.
More than 100 police officers from counties and cities - Fargo to Kenmare - including the Wisconsin Sheriff's Department, planned to "ceremoniously arrest" activists, Iverson said. A ceremonious arrest is a staged event meant to show law enforcement's restraint, but the arrests accompanied real trespassing charges, Iverson said.
"It's not going to end today," Iverson said. "There are multiple camps."
Law enforcement also wanted to inspect every dwelling in search of possible crime scenes including missing persons or drugs, Iverson said. Setting fire to structures was hindering police investigations.
"It's hypocritical to say it's about clean water when things are on fire and things are exploding," Iverson said.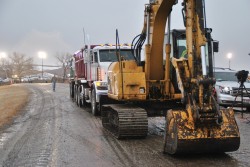 Earlier in the day, Burgum's policy advisor, Levi Bachmeier, asked camp wellness director Johnny Aseron for permission to allow armed police with cleanup crews into the camps before the deadline.
"Armed or unarmed?" Aseron said. "While we are in a cleanup day we're going to have armed officers in the camp?"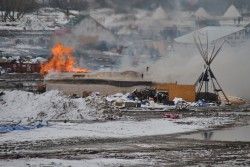 The offer was refused. The cleanup crews were turned away, according to Iverson. Early Thursday morning the North Dakota Joint Information Center reported no major movements from either law enforcement or the activists remaining in the camps. Law enforcement plans to raid all camps on Army Corps lands, but not the private land at the Sacred Stone Camp.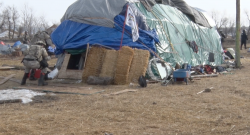 Camp leaders also requested a "Geneva space" at the southern end of the Oceti camp for those who wanted to peacefully resist. Their offer was accepted by the governor's office until 2 p.m. Wednesday.
Activists said law enforcement were fearful, they, however, were not.
"Fear," Bidzííl said. "A wonderful, beautiful, chaotic way of explaining everything. We can use fear to fight fear. I allowed myself to be put into that situation in order to rid the fear in me.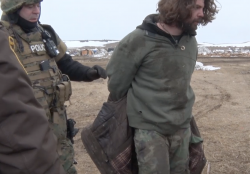 Law enforcement cleared the former Oceti Sakowin Camp by 2:09 p.m Thursday, arresting 46 activists who refused to leave the main camp area, according to the North Dakota Joint Information Center.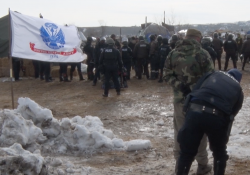 "The past two days have gone very smoothly in a challenging environment and complex effort to clear the camp," Burgum said in a press release. "Dozens of local, state, and federal agencies showed tremendous coordination to ensure the prices was conducted safely and securely."
No less than lethal force was used during the overtaking of the former Oceti Sakowin, the North Dakota Joint Information Center reported. A group of veterans occupying a tent refused to leave voluntarily, but would exercise passive resistance resulting in law enforcement carrying them out.
One activist waited for police on a rooftop. Approximately 60 activists fled to the frozen Cannon Ball River, and many others escaped to Sacred Stone Camp, which is on private land and was not to be cleared, according to government spokespeople.
As of February 21, the North Dakota National Guard accounted for 35,412 man hours spent guarding road blocks and assisting police, and 1,421 guard members were called for duty throughout the controversy, according to the North Dakota National Guard. The North Dakota National Guard spent a total of $8,752,232 during the months after former Governor Jack Dalrymple called a state of emergency in August 2016.