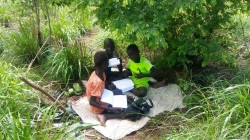 One woman's journey from war-torn South Sudan and back again -- all to fulfill her dream of setting up a library
FARGO - Twenty-two years after Amal Dei escaped South Sudan's civil wars, she returned loaded with donated backpacks, children's books, T-shirts, and pencils. She knew what she wanted; as a child she never had the opportunity to learn to read.
She returned to the Gambela Region, across the Nile River in Ethiopia where hundreds of thousands of South Sudanese fled decades of ethnic cleansing and violence, finding arguable respite in refugee camps.
Three boys reading under the shade of a young Nippi tree caught her eye, and she knew her library must be built on the exact same spot.
"Seeing the kids reading under the tree, they reminded me of me, and I was shocked just seeing them read," Dei, now 32, said. "I wasn't expecting it, and I had no words to describe it. They were so happy, and I was so proud of them."
While American teenagers grumble over walking to a local swimming pool, Dei's childhood was spent running, fleeing local militias and bandits, crossing borders between Ethiopia and South Sudan countless times. One thousand miles one way, another thousand miles back across the Upper Nile, to the towns of Wic Deng-Nyang, or Itang, it was the only life she knew since her memories took shape.
"I grew up running from the war," Dei said one week after her return to her homeland. "We walked long distances, many miles, months at a time. Seeing the bodies on the ground, holes made by bombs, being almost swept away by the White Nile, hearing about your family being killed and raped.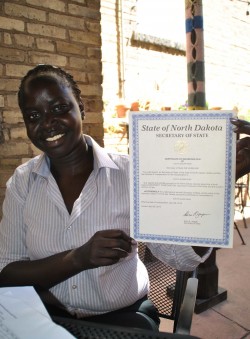 "But we were part of the lucky ones."
Lucky, because she survived. Civil wars between South Sudan and Sudan have plagued the young nation since 1962, claiming tens of thousands of lives and displacing one out of every three people, according to the Mercy Corps. Child soldiers are recruited by local militias.
Many in the refugee camps are malnourished, easy prey for disease-carrying mosquitos and typhoid. Today, South Sudan is in the grips of a "massive humanitarian crisis," with more than 5.1 million people needing aid, and 4.8 million facing hunger. Due to the economic collapse and the most recent three years of near-drought conditions, areas in South Sudan are experiencing famine, according to Mercy Corps.
Dei never had the chance to go to school. Growing up, she couldn't read or write, there wasn't time for such luxuries. She knew about lions, crocodiles, how to avoid angry militia. Her family survived on grasses -- not unlike spinach -- on dried corn ground into cakes, bananas and milk on good days. Dei, and her three brothers -- who never made it out as they succumbed to illnesses -- fished with spears. Once, a spear found its way into her foot. She still bears the scar.
"If it comes, it comes," Dei said, remembering her attitude as a child to her family's nomadic life. "You just live. I never went to school. Never learned to read and write."
When her family was able to stay in one place, they lived in a mud "hut house," Dei said. The memories made her grin widely. "Cool and comfy, no electricity, no running water, everything was natural. Cows pretty much lived with us. They were really nice cows."
Her final journey was another thousand-mile trek, rife with stalking lions and marauding militia, to Kenya's Ifo Refugee Camp, currently holding more than 60,000 displaced people. Months later, her name was called after receiving paperwork help from aid workers and family. She boarded a plane to San Diego, California, in 1995.
"Kids would make fun of me," Dei said. "But I would go to my little corner and think about how to learn English. Sports helped me cope, a lot."
Within months, she learned about written words and their meanings. She became a track star, found mentors in her coaches. In tenth grade, she moved to Atlanta, Georgia, lived with her uncle, and started playing basketball.
"The learning was fun," Dei said. "I was eager to learn, to read more, to better my future, not only for me, but for my family as well."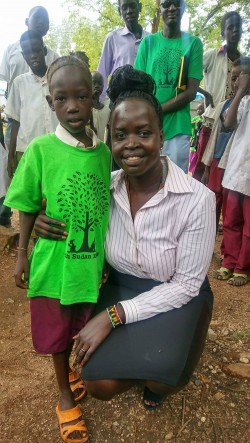 Although her brothers had passed away, she left her mother and father, a former South Sudan soldier, behind. Due to the wars, she didn't know where her parents lived. After graduating high school on time in 2001, she went to work as a line operator in a local factory, with a dream of saving money to find her mother.
The journey, made by a relative, cost her approximately $4,000, and she found her in Khartoum, Sudan's capital city. "When he found her, the buses couldn't get through because of another war," Dei said.
Dei arranged for an apartment, paid her mother's rent, and sent her money. "But she spent it on feeding street kids," Dei said. They called, daily, and it was from her mother's encouragement that she decided to go back to school.
"I am not your burden," her mother told her.
She never saw her mother again. Before she could go back to visit her, her mother died. "It haunts me each and every day."
But it was through her mother's advice that she began to plan for a different future. "That's when the idea of forming an organization came in."
First, however, she traveled to Fergus Falls, Minnesota, and obtained a bachelor's degree from North Dakota State University in health education and community health, with a minor in child development. Now, she's working on a master's degree in public health, and hopes one day to work with the United Nations. In the meantime, her organization - South Sudan Read - has received permission from the Ethiopian government to build a library, the first in the Gambela Region.
Her mission: educate, develop, and construct libraries internationally.
On her trip to the Gambela Region last month, she was stopped by customs officials, and "bribed" an official with a T-shirt to allow her gifts to pass through inspection. She saw overcrowded schools, filled with refugee children, walked the pathways as an adult that she once took as a child. She also made an address to Parliament - consisting of only men - about her dream to set up a library.
"I was the only woman," Dei said. "'Be strong, just go at it,' I told myself. And they liked the idea. Something that can help the community, and they told me to go and look for land."
The land surrounding the Nippi tree has been donated for her cause. Now, she is attempting to raise the necessary funds -- $100,000 -- to build the structure. She has floor plans, licenses, even a certificate of incorporation from the State of North Dakota Secretary of State identifying her organization as a nonprofit corporation.
When finished, her library will stand near an already-existing school, overcrowded, three students to a bench, with no toilets, but thousands of smiling children eager to learn, she said. After she passed out the backpacks, the crayons, the children's books, many children danced in the rain.
Only a select few -- the poorest in the area -- received her backpacks and crayons. At one point the children grew fearful, thinking that they wore the new bright green T-shirts for a photo opportunity, and would have to give them back.
"I just started crying, because I didn't have any more," Dei said. "Kids were dancing in the rain. You give them shoes they will appreciate it. If you give them a dress, they are happy for it. But how are they going to learn in a broken classroom?
"This is not about me, it's about them."
Locals gave her a nickname, Ms. Good Luck, she said, for wherever she went, the rains followed.
"What I saw is devastation. These people need help."
No matter how long the library takes to build, she says one thing is certain: the Nippi tree, known for its cool shade on hot days, will remain as a reminder of the simple pleasure, often taken for granted, of reading.