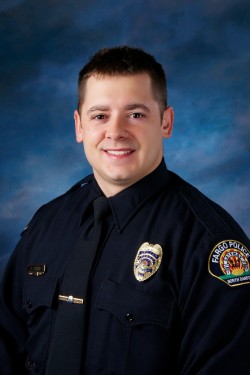 Fargo Police K9 officer arrested in Moorhead
Early Tuesday morning, Fargo Police K9 Officer Jeremiah Wayne Ferris was arrested on domestic assault charges, according to Fargo Police Chief David Todd.
"I cannot comment on any specifics of the case," Todd said. "The community trusts its police department to hold itself to a high standard in protecting and serving our citizens. I apologize to our community for this incident and feel like we have let you down. Please trust me when I say we will do a thorough investigation and address this situation appropriately."
Moorhead Police officers were dispatched at 1:34 am Tuesday morning to the 1500 block of River Drive South, and did not leave the scene until 2:12 am, according to the Red River Regional Dispatch Center.
Ferris, 35, of Moorhead, was charged with two counts of misdemeanor domestic assault by committing an act intended to cause fear of bodily harm or death, and one count of disorderly conduct, or brawling, according to the Minnesota Judicial Branch. Ferris was released on his own recognizance after paying bond of $2,000, according to court records.
Ferris, an eight-year veteran of the Fargo Police Department, was placed on administrative leave. As a K9 officer, Ferris lived with his trained police dog, a Belgian Malinois named Bali. Now that Ferris has been placed on leave, the department's two other K9 officers will be assisting with the dog's needs.
"I apologize on behalf of the men and women of the Fargo Police Department to the victim of this domestic assault," Todd said. "I am sorry for any fear you suffered in this incident. Police officers are the people you are supposed to be able to trust and turn to when you are in fear. I hope we can re-earn that trust with you and assist you in any way possible."
Todd further reported that according to preliminary information, he believes Ferris is in need of assistance, and the help he needs will be provided. "However, we must hold ourselves accountable to the extent our community can have faith in us."
Ferris's arrest surprised former classmate Sabrina Hornung. She heard about the incident through a Facebook post.
"He was always really nice, really amicable," Sabrina Hornung, who attended Moorhead High School with Ferris, said. "He was charming, kind of a jokester."
Ferris is scheduled to reappear in court on June 28, at 9am.
Opiate trafficking arrests in North Dakota increase 500 percent in two years
During the past two years, 37 individuals have been charged or sentenced on heroin or fentanyl-related trafficking crimes in North Dakota federal courts, the Department of Justice reported.
"We have prosecuted more fentanyl-related cases in federal court in North Dakota in the past two years than in the previous 10 years combined," US Attorney Christopher Myers said.
The increase in arrests stem from law enforcement "aggressively targeting opiate traffickers whose product causes serious bodily harm or death," and because of the higher risk of drugs including fentanyl and carfentanil, both synthetic opioids, to drug abusers.
The charges range from conspiracy to distribute controlled substances resulting in serious bodily injury or death to money laundering, according to the Department of Justice.
"The opiate epidemic is a healthcare crisis in North Dakota, as well as across the United States," Myers said. "With so many people addicted to these substances, the demand created makes it a lucrative endeavor for drug trafficking organizations."
Fentanyl, a grey, powdery killer known as "TNT," "Murder 8," and sometimes in the Upper Midwest as "China White," is primarily used as anesthesia and as pain killers for surgical procedures. It is a schedule II drug, and while meticulously weighed by pharmacists when prescribed by physicians, a tiny mistake by street dealers can lead to death.
Picture a raisin cut into 500 pieces. One microscopic sliver is the maximum dose of fentanyl a person can ingest without overdosing, Fargo Police Lt. Shannon Ruziska said.
Fargo Police responded to 69 overdose calls in 2016, and 16 people died from overdoses. Only two of the overdose deaths were not related to fentanyl, police report.
Although Fargo has the "Good Sam Law," which stipulates a certain amount of protection during overdose situations, abusers say they are afraid to call police for fear of arrest.
Much of the synthetic opioids or ingredients are manufactured in China, shipped to the USA or Mexico, or ordered off the dark web.
The average prison time for the 37 people charged or sentenced is nearly 10 years in federal prison, Myers stated. "It's no secret that the penalties in federal court for drug trafficking are much more severe than state court. We want drug traffickers to understand that if you traffic in fentanyl or similar substances in North Dakota, no matter what the amount, you will likely find yourself in federal court."
"The issue is both a North Dakota and national public safety concern since a minute amount can and often does result in death," Drug Enforcement Administration Assistant Special Agent in Charge Kenneth Solek said.
"These are dangerous substances that destroy everything they touch, tear apart lives, and ruin communities," Homeland Security Investigation - St. Paul Special Agent in Charge Alex Khu said. "The significant increase in arrests and aggressive prosecutions against the people pushing these drugs demonstrates the intensity and tenacity with which law enforcement is attacking this issue and highlights what successful partnerships can accomplish."
An additional 13 people have also been indicted on opiate-related charges and await trial later this year.
"Law enforcement cannot arrest our way out of this crisis. However, targeting the traffickers of these substances is an import part of the strategy," Myers said.