​'True justice for Brooke Crews'
by C.S. Hagen | .(JavaScript must be enabled to view this email address) | News | February 2nd, 2018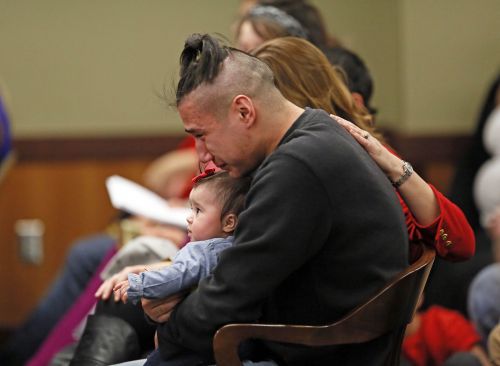 FARGO – Minutes before the judge sentenced Brooke Lynn Crews to life imprisonment without the possibility of parole, the killer spoke, apologizing for her actions.
"I wish I could take their pain, there is no excuse," Crews said. "I deserve every year I get, and I know it doesn't help."
Crews was describing the pain of Savanna LaFontaine Greywind's family, and for one of Fargo's daughters she killed, and for the infant she stole from Savanna's womb while she was eight months pregnant. Crews stalked, planned, then deliberately murdered Savanna in a case of fetal abduction in order to kidnap her then unborn baby. She then lied to police and tried to hide Savanna's body while keeping the baby as her own for nearly a week.
The prosecution argued for the sentence she received; the defense asked for mercy, and to give Crews some degree of hope that she could one day be a free woman.
Presiding Judge Frank L. Racek chose life in prison without parole. The sentencing was met with a round of whispered "yeses" throughout a crowded courtroom.
"This is who she is as we sit here today, a cold-blooded killer," Assistant State's Attorney Tanya Martinez said in court.
Savanna was excited to be a young mother. She and her boyfriend, Ashton Matheny, had rented an apartment. On the day she was murdered, pizza was on the way, but Savanna enjoyed helping others, which was why she was a certified nurse's assistant, and so accepted Crews's invitation to walk 24 steps up to her neighbor's apartment to help with a sewing project.
Crews hated the 22-year-old Native woman, Martinez said, for reasons having to do with an unruly cat, among others. Once inside the apartment, Crews started an argument with Savanna, pushed her down, knocking her out when she hit her head on a hard object. And then, without anesthetic, Crews grabbed a utility knife or a blade and began performing a crude C-section on Savanna, cutting her hip-to-hip.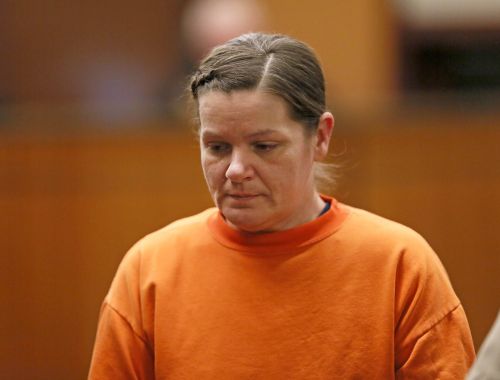 "There were no efforts to save Savanna's life when this was going on," Martinez said. "She was merely a vessel for the baby Brooke Crews planned on stealing." Quoting Crews's testimony Martinez said, "She would wake up and pass out, and wake up and pass back out, and then she would wake up, but it happened so fast. I did cut her, and then I took her baby out of her. She was not dead when I cut her and took her baby out of her."
Martinez returned to the prosecution's statement: "But we now know, that as Haisley Jo was being born on August 19, 2017, she was taking her first breaths, as her mother was taking her last."
Haisley Jo's birth certificate declares her birthday as August 21, 2017. "Why? Because there was no cooperation here," Martinez said of Crews's attempts to befuddle police.
Crews had multiple opportunities to confess, but she didn't, Martinez said. Instead, Crews lied to police, telling them Savanna wanted out of the pregnancy, that she planned on leaving her family and boyfriend, so she taught Savanna how to break her own water.
"This defendant had the baby with her the whole time," Martinez said. "She has forfeited her right to breathe freely… When the evidence is overwhelming, her cooperation just seems a little bit disingenuous."
Savanna's mother, Norberta, spoke before Judge Racek sentenced Crews.
"My heart is literally broken," Norberta said. "I don't understand how or why Brooke Crews befriended us, or why would she'd come into the store where I worked. I have so much guilt. I'm her mother, and I feel like I haven't protected her."
She described a situation that the judge affirmed was predatory stalking, that Crews planned Savanna's murder step by step, frequently checking into her apartment to ascertain the family's movements.
"I wonder if my daughter tried to scream for me," Norberta said. "For a person to do that to another person is completely evil. No punishment is strong enough."
Joe Greywind, the father, had his statement read by the family's lawyer, Gloria Allred, and entered the courtroom only to hear the sentencing.
"I feel rage that my daughter Savanna has been stolen from Haisley Jo," Joe said. "Brooke Crews took an angel from us. Brooke preyed on my daughter, and I feel it was premeditated."
He described how Savanna always kept in contact with her family whenever she left. When her texts suddenly stopped on the day she was killed, and she no longer answered phone calls, Joe and his family became worried. Police were called around 4:30 pm on August 19, and the massive eight-day search began. Even after Norberta begged Crews to allow her to search her apartment – and was denied – she clung to a hope that her daughter was still alive.
"The pain and void my granddaughter will have to live with for the rest of her life just breaks my heart," Norberta said.
Joe added that Indigenous-birthing customs included that the mother or grandmother be the first people who touch a newborn.
"My family's life has changed, we will never be the same," Joe said. "What she did to my granddaughter is beyond words. Brooke Crews had no right to be the first person to touch Haisley Jo. In this culture, always a mom or grandma touches a baby first to create the initial bond.
"We don't know how to handle this, even though we are getting help," Joe said. "We need true justice for Brooke Crews... It is still dark for us."
"This was a senseless, brutal act of depravity," Martinez said. "They knew that they would find Savanna's body and that it would be sliced hip-to-hip with no baby inside. Her [Crews's] cooperation at that point became self serving."
"Brooke Crews in her statement admitted that she knew when she went down to Savanna Greywind's apartment that she planned to bring her up and take her baby from her," Martinez said. "She admitted that she made up reasons in her head to justify the violence and aggression. She admitted that she decided it was because of something Savanna's cat had done, along with accusations of things being stolen. Just reasons to feel hate toward Savanna Greywind."
The Greywinds have moved away from Fargo, and they are all in counseling, Joe said.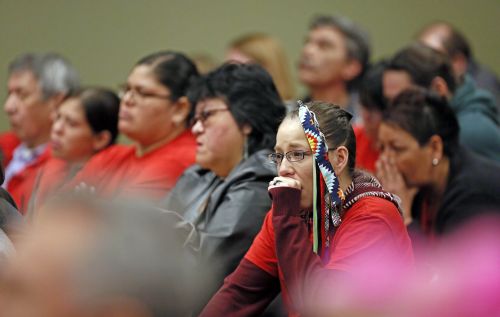 "Too beautiful for earth"
On Savanna's foot was a tattoo that read: "Too beautiful for earth." The tattoo was how authorities identified Savanna's body, wrapped in plastic, after she was pulled from the Red River.
"I doubt Crews knows what a body looks like when it's been in water for a week," Martinez said.
Norberta said her daughter and her boyfriend were excited about having a baby. They made baby lists, and were planning a baby shower for August 20. Haisley Jo, named in part after her grandfather, Joe, has an Indigenous name meaning Survivor. Savanna helped with the elderly, and was best friends with her sister, Kayla Greywind, who was also excited to become an aunt.
Kayla, 19, cried while reading her statement to the court.
"I feel what Brooke Crews did to my sister was very cruel," Kayla said. "I've been in shock ever since she's gone missing. The crimes against my sister have broken me, and I will never be the same."
The sisters used to share clothing, jewelry, even shoes. Savanna was afraid of pain, and was nervous about her upcoming birth.
Kayla pleaded with the judge for a maximum sentence. "I feel Brooke Crews deserves way worse than what she did to my sister," she said. "Savanna was always helping people, and that's why she went upstairs."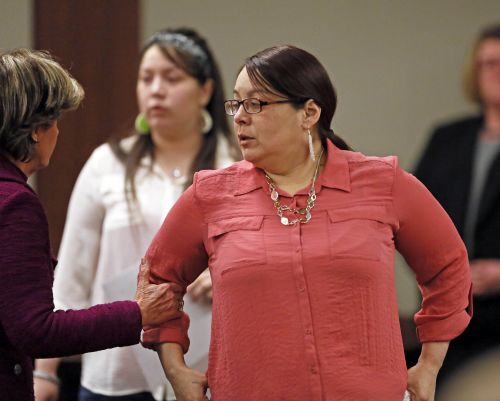 The defense
Crews's attorney, Steven D. Mottinger, of Johnson, Mottinger & Greenwood, PLLP, argued that his client accepted responsibility, which mattered.
"These cases are terribly difficult for everyone involved," Mottinger said. "Acceptance of responsibility is very important, it's important to clients, it's important to Brooke Crews, I'd like to think it means something to the Greywind family. Acceptance of responsibility has to mean something."
Judges consider 14 factors before sentencing, which would have included whether or not Crews plans to cooperate with the prosecution against co-defendant and live-in boyfriend, William Henry Hoehn, who will stand trial on March 20 for the same crimes Crews pleaded guilty to. The judge must also take into consideration Crews's criminal record, which is comprised primarily of writing bad checks.
A sentence of life in prison is different than life imprisonment without the possibility of parole. Life in prison simply means 30 years, with a possibility of parole. By pleading guilty, Crews saved prosecutors time and taxpayer dollars, which could have had an influence on the sentencing. Judge Racek said the minimum he was considering was 85 percent of Crews's remaining estimated natural life, which would have added up to 41.7 years, he said.
"The message of this case is important…" Racek said. "She deviated so far out of the norm of conduct."
And then he gave Crews life without the possibility of parole.
Crews nodded, whispered something to her attorney before she was escorted away, never once looking at the occupants in the courtroom.
Joe held his granddaughter high, smiled. The red ribbon in the baby's thin hair flashed like the red light bulbs used last autumn during a remembering Savanna week. Although a form of justice for the Greywind family prevailed in court, their road to possible healing is long, and perhaps not completely possible. The crisis of missing and Indigenous women across the nation continues, and has become of critical importance to national leaders, including North Dakota's Senator Heidi Heitkamp.
Jail
While in Cass County Jail, inmates inside reported verbal altercations with Crews.
Laycie Jean Williams was one of the inmates who said Crews bragged about killing Savanna, a registered member of the Spirit Lake Tribe.
Williams passed Crews while she was sitting alone in her cellblock.
"We would walk past the cellblock every day because we had to go to the rec room," Williams said. "She would sit there, smiling. She would talk about how she was going to get away with it, that nobody is going to do anything, only going to be here for a little bit… It's bad enough you did that and then you are going to sit there and brag about it?"
Crews told her how she killed Savanna, Williams said, reporting identical information as two other inmates who were in Cass County Jail with Hoehn, or with Crews.
"It's really sick," Williams, a Crow Creek Sioux Tribe member, said. Williams was in jail on drug related charges, and was moved to Pennington County Jail in South Dakota.
Captain Andrew Frobig of Cass County Jail confirmed that Williams and Crews were in jail together, but not on the same wing. Other inmates who reported similar accounts lived with Williams on Charlie 2 unit, Frobig said. There were no reported incidents on record between Crews or other inmates, he said. Frobig also confirmed another male inmate the High Plains Reader interviewed in October 2017 was incarcerated at the same time as Hoehn, and were in the same section.
"Not a single incident of any kind reported," Frobig said. "Any kind of taunting would have been noticed, with a diamond shaped pod, and the officer's desk in the middle, the officer would have heard that."
Crews's change of plea took Frobig by surprise, he said.
"She caught us all off guard," Frobig said. "But she hasn't caused any problems."
In addition to her sentence of life imprisonment without the possibility of parole, Crews also received 20 years for conspiracy to kidnap and 163 days for lying to police.