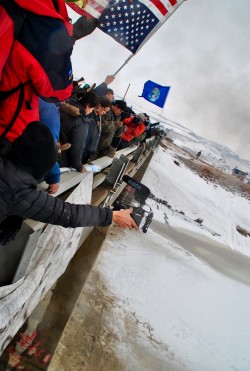 CANNON BALL - Bakken oil could be flowing through the Dakota Access Pipeline within a week, but Standing Rock still hopes for a legal miracle as the United Nations condemns what it calls widespread discrimination and North Dakota's militarized response.
As Standing Rock's legal options diminish, an injunction filed by Cheyenne River Tribe, part of the Great Sioux Nation, was once again turned down by federal judges on Tuesday. Previous injunctions filed by the tribe to stop pipeline construction have also been denied by US District Judge James E. Boasberg, citing the the tribe waited too long to bring up the claim under the Religious Freedom Restoration Act.
United Nations Special Rapporteur on the Rights of Indigenous Peoples Victoria Tauli-Corpuz stated on Monday that Native Americans have the right to defy undue pressures by extractive projects such as the Dakota Access Pipeline. In a scathing report, Tauli-Corpuz said the United Nations is concerned about the safety of indigenous peoples, their cultures, their sacred sites, and their human rights issues in the United States.
During her human rights mission for the United Nations, Tauli-Corpuz said she discovered widespread discrimination at local and national levels. The Standing Rock Sioux Tribe was not consulted as a sovereign nation.
"In the context of the Dakota Access Pipeline, the potentially affected tribes were denied access to information and excluded from consultations at the planning stage of the project," Tauli-Corpuz said. "Furthermore, in a show of disregard for treaties in the federal cross-responsibility, the Army Corps approved a draft environmental assessment regarding the pipeline that ignored the interests of the tribe.
"The draft made no attempt of proximity to the reservation or the fact that the pipeline would cross historic treaty lands of a number of tribal nations. In doing so the draft environmental assessment treated the tribe's interest as nonexistent, demonstrating the flawed current process."
The US Army Corps of Engineers continually dismissed risks and did not conduct an adequate cultural assessment before authorizing the pipeline to cross Lake Oahe or authorized the dumping of materials and waste into waters on Indian reservations, Tauli-Corpuz said. The Army Corps utilized a loophole in environmental assessment laws by fast tracking permits, and after the agency approved an environmental assessment study earlier this year, it backtracked and issued the final easement permit.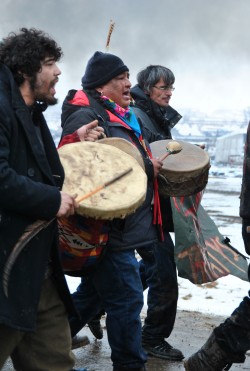 Public Service Commissioner Julie Fedorchak has stated that the Standing Rock Sioux Tribe was contacted from the beginning of the pipeline planning stages.
The problem is not confined to Standing Rock, but widespread throughout the U.S., Rauli-Corpuz said.
In addition to local and federal government dismissiveness, Native Americans face the full force of negative health impacts from extraction, with rising levels of heavy metals in water and contamination in livestock from spills, faulty well construction, and the effects of fracking, or toxic and non-biodegradable discharges into surface waters.
The oil boom has also attracted thousands of oil and gas workers, creating an "incredible increase" in human trafficking, drugs, and sex crimes, Tauli-Corpuz said.
"The trauma accumulated as a result of a the largely discriminatory policies of the government toward Indian tribes and individuals since first contact and today, still results in distrust of government initiatives and poor health outcomes for Indian individuals," Tauli-Corpuz said.
Her research showed that government, rather than people, has the final say in matters related to Native Americans, and "it is imperative the federal government properly consult before encroaching on indigenous lands," Tauli-Corpuz said.
With few legal options left to halt Energy Transfer Partners, the parent company of Dakota Access, LLC, Standing Rock and supporters are preparing to march in Washington DC on March 10, in the Native Nations Rise campaign.
"They want us to believe that the fight is over," Standing Rock Sioux Chairman Dave Archambault II said in a press release. "But we can still win this. We can unite in peaceful, prayerful resistance against this illegal pipeline."
Officials plan to reopen the tribe's main artery, Highway 1806, by March 13 if there is "no identifiable threat from protesters to block the highway," the North Dakota Joint Information Center reported.
Boom
The North Dakota political machine has been repeatedly rated one of the worst in the United States for transparency by political watchdogs such as The Center for Public Integrity, and its reactions to the Dakota Access Pipeline controversy have been scrutinized by press from around the world.
Before pipeline construction began, a 78-page assessment report was compiled by Iowa-based Strategic Economics Group, Inc., written by Harvey Siegelman, Mike Lipsman, and Dan Otto, for Energy Transfer Partners.
The pipeline companies promised jobs, growth, and stability, according to the November 12, 2014 report entitled Assessment of the Economic and Fiscal Impacts of the Dakota Access Pipeline in North Dakota, South Dakota, Iowa, and Illinois.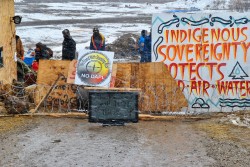 The report states that the pipeline project would create approximately 32,721 job-years - amount of work done by one person for one year. An average salary per worker was listed as $57,000 a year. "The increase in employment will generate a $1.9 billion increase in labor income, and a nearly $5 billion increase in production and sales in the region," the report stated.
After the pipeline is finished, 160 ongoing jobs will be added to the economy in North Dakota, generating $11 million in labor income and more than $23 million in new production and sales per year, the report promised.
The pipeline was planned to cost Dakota Access, LLC $1.4 billion in North Dakota, of that amount an estimated $655.9 million, or 47 percent totaling $397 million, was planned to result in direct and indirect purchases in North Dakota.
The total impact of the pipeline project in North Dakota was expected to add nearly 7,700 job-years of employment, generate more than $450 million in labor income, and add about $1.05 billion to the production and sales within the state, according to the report. Additionally, the state was to benefit by receiving revenues of approximately $32.9 million in taxes, of which $1.7 was for local governments, and $5.9 million from individual income taxes. During the first year of operation the state is slated to receive $13.1 million in new property taxes for local governments.
The construction state of the pipeline was expected to generate $9.6 billion in total output nationally, but only half of that, $4.96 billion in output, or production and sales, would be captured in the four-state area. "That is because many of the manufacturers of products that will ultimately be purchased for this project are located outside of this region," the report states.
More than two years after the report was written, one of the authors, Lipsman, said he felt that the report will prove accurate, but that at least two more years were needed for government agencies to compile all the necessary information.
"Obviously there's been a lot more spent by Dakota Access because of all the slowdown," Lipsman said. "Initially, we thought the construction would take two years, and then we came back and they said it would take one year, but with all the delays it's now in the second year."
Crews moved from state to state, Lipsman said, and although the actual number of people on the job might be less than what Strategic Economics Group, Inc. reported, he calculated job hours, and not actual personnel numbers.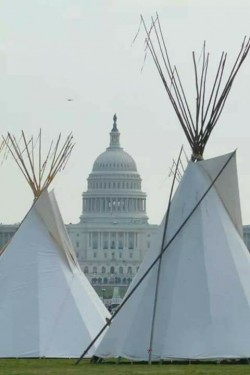 "Especially since they were doing this so fast, a lot of people got significant overtime, Lipsman said. "When we did ours in job years, the actual number of people who were on the project might be less than what we forecasted, but that was because we assume a 40-hour week, but if someone is working 15 to 20 hours of overtime you have fewer bodies but still as much labor going in."
The Dakota Access Pipeline used less than 57 percent American-made steel, according to the Midwest Alliance for Infrastructure Now, an industry group lobbying for completion of the pipeline. Despite President Trump's executive order demanding pipes to be made from American-manufactured steel, most if not all of the steel pipes planned for the Dakota Access Pipeline and the Keystone XL projects have already been purchased. Piles of steel tubes are scattered throughout the Midwest.
"Much of the steel for the Dakota Access project appears to have been manufactured in Canada by EVRAZ North America, a subsidiary of the Russian steel giant Evraz," according to DeSmog, a news outlet focused on global warming misinformation campaigns.
EVRAZ is owned in part by Roman Abramovich, a Russian multi-billionaire who assisted President Vladimir Putin into office in the late 1990s, according to DeSmog. The company's management team is nearly all Russian nationals and former government workers, which should send red flags up with all American companies.
For the 2013-2014 fiscal year, Abramovich reported a record profit of £18 million, according to media outlet Journal Star.
Bakken oil production saw its "largest decline ever in North Dakota production" in September 2016, pumping out 895,330 barrels per day, according to media outlet Oil Price. Production of oil rebounded to 942,455 barrels in December 2016. The price of North Dakota sweet crude was up slightly in January to $40.75, and in February up again to $42.50 per barrel, which is a far cry from the all-time high in 2008 of $136.29 per barrel, according to Oil Price.
Winona LaDuke, a longtime activist and founder of Honor the Earth, disagrees with the math behind Bakken oil. She was part of the fight that shut down Enbridge's Keystone Pipeline, and says that since Enbridge is a 28 percent investor in the Dakota Access Pipeline, or as she says the Dakota Excess Pipeline, Enbridge should also be responsible for 28 percent of the injuries that occurred.
LaDuke says the Bakken oil patch is busted, and the state should be focused more on infrastructure for people rather than for companies. More people today are employed in solar energy facilities than in oil patches, LaDuke said, and the future does not rest with fossil fuels.
Government projections estimate 900,000 barrels of oil will be hauled out of the Bakken per day until 2019. "What I'm trying to figure out is where's the oil for the 570,000 barrels a day pipeline you are shoving down our throats? All the oil going out of there now, is the same that will be going out of there in two years."
The workforce and mineral rights
On the ground reporting, live streaming videos, and reports from activists in the field rarely reported seeing local license plates on Dakota Access Pipeline vehicles, semis, or trucks. And while the state has been quite content bringing in outside companies, supplies, and an out-of-state workforce for the project, its response has shown contempt against all outside activists fighting the Dakota Access Pipeline.
Pam Link, director of governmental relations and new business development for the Laborer's International Union of North America Local 563, said business couldn't be better. In 2016, Local 563 had from 400 to 600 union members working on the Dakota Access Pipeline.
"A vast majority of them were North Dakotans," Link said. Most of the jobs were short-term, but members are already back at work across the state, she said. Her union currently has approximately a dozen workers involved at the drill pad crossing the Missouri River. "We have massive work going on, starting right now, it's unbelievable, how busy we will be, it's unbelievable how much work we have."
Link wouldn't say if the work load increase was due to changes made by Trump's Administration, but said in 2016 her union was focused primarily on the Dakota Access Pipeline.
Local #49 of the International Union of Operating Engineers, Laborer's International Union of North America Local 300, and the International Brotherhood of Teamsters, among others, also had members working on the pipeline, according Link. None replied to telephone calls for comment.
"A larger percentage of positions in the earlier phases of oil development are shorter term or transient in nature, but as more wells are added, more people will be needed to service and maintain those wells," Tessa Sandstrom, the director of communications for the North Dakota Petroleum Council, said.
Not including transportation and construction jobs, the Bakken workforce has increased from 5,000 jobs in 2005 to 81,500 in 2013, Sandstrom reported. Numbers began to decline in 2015, but "they will still be a pretty big chunk of North Dakota's total workforce," Sandstorm said.
"The petroleum industry will continue to provide economic, tax, employment, and energy security benefits well into the future of North Dakota," Sandstorm said. "The Dakota Access Pipeline will play a large part in that because it will make transporting North Dakota crude more economic which means we will get a better price for the barrel."
Pipeline oil will decrease the cost of transportation per barrel, allowing the state to accumulate at least $100 million or more per year if total oil prices do not sink lower than $50 per barrel, Sandstrom said. While the pipeline controversy cost the state more than $38.2 million taxpayer dollars, according to information released Tuesday by the North Dakota Joint Information Center, the state could easily see its investment paid back through pipeline taxes.
"It's easy for detractors to immediately jump on this as being only a benefit for the oil companies, but it, in fact, is a boon to the state and mineral owners as well. Mineral owners would stand to gain between $100 to $120 million per year because of this pipeline"
"In terms of businesses benefitting from oil and gas development, it is not a few local drillers who benefit from the work here," Sandstorm said.
North Dakota has more than 400 individuals and 115 companies or independent contractors who are involved in the drilling and well production processes in the Bakken, Sandstorm said. There are also 117 certified native-owned companies that provide oil and gas development services. According to a 2014 study made public by the Manhattan Institute for Policy Research, more than 876 business in North Dakota are part of the larger oil and natural gas supply chain.
"These aren't just the stereotypical roughnecks or roustabouts either," Sandstorm said. "These positions, businesses, and contractors range from the skilled trades, such as electricians, to engineers and from human resources professionals to legal and environmental consultants."
Exact numbers of people employed or those who are benefitting from the Dakota Access Pipeline are at best difficult to pin down. At the height of the state's most recent oil "boom" from 2010 until 2014, the state's population increased by 66,000, according to the North Dakota Census Office.
Gary Preszler, chairman for National Host Production Deduction Committee and former commissioner for North Dakota Land Management, also owns a large mineral interest in Billings County, from which he said the royalty payments have put his children through college.
"The average mineral owner is not going to get wealthy from their checks, because wells deplete and start producing less and less," Preszler said. "The average mineral owner is not going to have any life-changing windfall. They might improve their lifestyle a little bit."
The average mineral rights owner is a retired elderly person receiving $50 a month, he said.
The history of mineral rights in North Dakota is confusing even to oil company accountants, and many mistakes have been made in the past, Preszler said. The puzzle dates back to the 1930s Great Depression when many farmers and ranchers sold their mineral rights to survive.
At the beginning, the state kept five percent of the mineral rights giving 95 percent to purchasers, then in the late 1940s, the state began keeping 50 percent, then 100 percent in the 1960s, Meszler said. Farm credit service banks and the state-owned Bank of North Dakota also own mineral rights in western North Dakota's oil-rich lands from foreclosures, and typically keep 50 percent mineral rights when land is resold. Professional oil workers and oil companies also have purchased mineral rights directly from landowners.
Today, third generation cousins scattered across the United States and oblivious to their ownership titles also are heirs to mineral rights, Preszler said.
"When you're a mineral owner, it's not all the sudden the money pours in," he said. Oil price swings, production tapering, and mechanical failures fluctuate royalty checks. Sometimes, "You go that mailbox for the month and there's nothing there," Preszler said.
The Minerals Management Division of the Department of North Dakota Trust Lands manages 2.567 million mineral acres throughout the state, of which 1.215 million mineral acres are in the oil and gas producing counties, and another 1.352 million acres are in non-producing counties. Schools and other trusts own 1.84 million acres, and foreclosed properties formerly managed by the Bank of North Dakota and Sovereign Lands make up the remaining 728,000 mineral acres.
The state of North Dakota covers 45,250,560 acres, according to North Dakota Studies, of which approximately 4,689,920 acres are on Native American reservations. The Bakken oil patch, in its entirety, spans approximately 15,360,000 acres.
While some in the Peace Garden State may be profiting from Bakken oil and the Dakota Access Pipeline, few think about the long term environmental and sociological effects, the reason behind Standing Rock's resistance against the pipeline. Additionally, the United Nations wants the state to pay more attention to those who are to a large degree not profiting from the oil "boom."
"The United States government should fully realize the rights of indigenous peoples as enshrined in the UN declaration and the rights of indigenous peoples, and i strongly recommend that the United States government continue to improve on its policies to develop stronger government and government relations with the tribes," Tauli-Corpuz said.