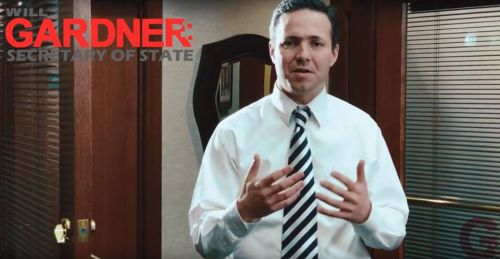 BISMARCK– At least one person in the North Dakota Republican Party knew about Will Gardner's 2006 Peeping Tom incident, but no one in the GOP was alerted before the majority party endorsed him for one of the state's most powerful offices, Secretary of State.
Claiming he had forgotten the candidate's name, prosecuting attorney Aaron Grayson Birst, who now lobbies with the North Dakota Association of Counties and is vice chairman of District 7 Republicans, an affluent Bismarck neighborhood home to Representative Rick Becker of the Bastiat Caucus, said he didn't alert anyone to Gardner's past.
"I actually remember the case but unfortunately I didn't remember the name," Birst said. "So when Will announced it never rang a bell. So I never discussed it with anyone."
Gardner was married, with children, and 29 at the time when he pleaded guilty to a lesser charge of disorderly conduct after peering into women's dorm windows at NDSU and was discovered with his pants unzipped and shirtfront pulled out. He was an employee at NDSU's library.
He repeatedly lied to NDSU police officers making excuses such as he was out for a walk, that he had just used the restrooms, that he had just finished work and had a hard day, that he didn't know the dormitory, Weibl Hall, was a girls' residence, according to the police report.
"He had seen William crouch and peer very closely, with his face basically right up to the glass, into at least six different room windows," a police officer reported in the arrest report.
"At one point… William appeared to get 'spooked' and quickly returned to his van, bent and acted as if he was tying his shoe for a moment, before returning to look into more windows."
Gardner was originally charged with surreptitious intrusion and trespassing. A search revealed that he has a parking pass for the NDSU Library staff.
After pleading guilty, Gardner was put on one year of unsupervised probation, and paid a total fine of $225, according to court documents. He withdrew from the race on May 20, and the man who currently holds the position, Al Jaeger, also a Republican, will be running independently against Democrat Josh Boschee.
Boschee said he knew about the Peeping Tom incident, but had not received the related police report. He has worked with Birst, and knows him as a man of integrity, but described Gardner's case as "creepy."
"If he did remember it, he would have likely mentioned it or said something," Boschee said. "I don't think he withheld information."
Bismarck's District 7 had 11 votes endorsing Jaeger, and 17 for Gardner. The names of those who voted are on a secret ballot, Dawson Schefter, Fargo's ND GOP chief of staff, said.
"I do find it hard to believe in a room of 1,500 people, Republicans, that no one checked police or court records, and maybe it's because they thought he was a man with a good family and a man of faith," Boschee said.
According to attorneys familiar with the case, Gardner was originally charged with a crime of a more sexual nature, but the charge was plea bargained down to disorderly conduct, a class B misdemeanor, which falls under the category of being a public nuisance, or in Fargo against the regulations of decency. Other crimes that fall into a similar category include urinating in public, indecent exposure, or public lewdness, which may require defendants to register as sex offenders.
Right-wing media personalities, AM 1100 The Flag's Scott Hennen, and POV Now, Chris Berg, said Gardner should have been shown mercy for being penitent, instead of withdrawing from the race.
No public posts of apology were found from Gardner, his wife posted the only explanation, and he did not reply to requests for information.
"Should he have dropped out of this race, in your view?" Hennen asked Berg the day after Gardner dropped out of the race.
"I don't think he should have dropped out, it sounds like he has a repentant heart…" Berg said. "Unless there's more that we don't know. The timing of this news dropping… it's weird timing."
"I'm just saying for the voter of North Dakota… I think people look for people who are repentant, who say, 'Look I screwed up, and I wouldn't do it again,'" Hennen said. "Josh Boschee is an openly gay individual, for many Christians they view that as a sin, as do I, not just because he's gay but he's decided to engage in a relationship outside of a marriage. That's a sin, and he's openly flaunting it."
A relationship outside of a marriage may be considered a Biblical sin in some – but not all – circles, as the Bible defines adultery as having sex with someone else's spouse. Premarital sex is frowned upon, but the Old Testament is filled with heroic figures having sex with others outside their marriage, including Abraham's relationship with Hagar. Extramarital affairs are also not considered a crime by legal institutions.
"You guys are so forgiving when Republicans are doing bad things," Paul Leintz, a traffic reporter and producer at KFGO 790 AM said in the comment section of Hennen's and Berg's video. "If it were a Democrat, you would hang them out to dry."
Boschee said he has listened to the Hennen and Berg video, but didn't pay it much attention.
"I'm proud of who I am," Boschee said. "I continue to do good work in this community regardless of who I am and who I love. If talk show hosts want to make it about something else, it will blow up in their face."
The North Dakota Democratic-NPL said at the time Gardner attempted to lie to police, has shown he does not respect women's privacy, and tried to play down responsibility for his actions.
"The fact that Will Gardner was even on the ballot speaks volumes of about the leadership of the ND GOP during this debacle: Kelly Armstrong and his successor, Rick Berg," North Dakota Democratic-NPL Executive Director Scott McNeil said. "Are voters expected to believe that not one of the 1,500 Republican delegates to their convention knew of Gardner's dangerous and illicit behavior? They failed the members of their party and North Dakotans deserve an honest and transparent answer for this massive mistake."
"This race was never about Will Gardner or his behavior," Boschee said in a press release after Gardner dropped out. "This race is about the future of North Dakota and the integrity of the Secretary of State's Office. My campaign will continue to focus on bringing the Secretary of State's Office into the 21st century and ensuring every eligible North Dakotan has equal access to the voting process, and I am committed to that goal."
Laura, Gardner's wife, posted a public explanation on Gardner's Secretary of State Facebook page.
"When life falls apart, you pick up the pieces and make decisions how to move on," Laura said. "Some people forgive you and maybe some never will be able to.
"It happened in my life a long time ago – times were really tough," Laura said. "My world was crashing down, and I had to make some big decisions at the time. I made the decision that even though life was really falling apart I wanted to try to glue the pieces back together instead of throw them out. We moved on with life with those pieces glued back together well enough to hold until new life could grow around and stabilize everything again."
Laura described the world as harsh, and that her family hasn't missed a Sunday Mass since they were married, or one sacrament for their seven children.
"We won't let the publicity of this one awful day in our lives shut us down forever," Laura said. "There has to be a way a person can still go on to do good for the world even after they've made a mistake."
[This story was updated with new information.]