​Elisa Korenne: readings and book signing
by Särah Nour | .(JavaScript must be enabled to view this email address) | Writer's Block | July 19th, 2017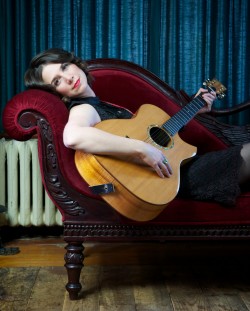 This evening, local fans of Elisa Korenne's music will get an opportunity to know her as a writer, while those unfamiliar with either will get a chance to see her perform for the first time.
Just last month, North Star Press released her memoir, "Hundred Miles to Nowhere: An Unlikely Love Story," which is now a finalist for the Next Generation Indie Book Awards. The memoir chronicles her 2006 move from New York to Minnesota, and the culture shock that resulted. Her experiences in Minnesota have included surviving a tornado, eating roadkill for dinner, and going on a blind date that became a three-day camping trip.
Josh Axelrad, author of the memoir "Repeat Until Rich," has described this book as "An absolutely stunning debut. Brilliant, breathtaking and hopeful. Korenne is the ideal storyteller: part enchantress, part dogged reporter, wise, studious, generous. Her book is a superbly crafted journey into the unexpected riches of the rural American wilderness, and of the heart."
Joe Jencks, fellow musician and co-founder of the band Brother Sun, has said, "Elisa Korenne has written an action-packed, heart-driven page turner. Each line is crafted with the focus and care of the song lyrics for which she has become known. You will want to slowly savor the reading of it, enjoying the rich nuances of Korenne's words and brilliant storytelling."
Korenne's music—a mix of rock, blues, and folk—focuses on eccentric and obscure historical figures she's discovered in museum exhibits and old books. For example, the song "Andy the Lightbulb Eater" is about a sideshow performer named Todd Robbins, while "Butte" tells the story of a Montana madam who died by suicide. "Oy Vey is Jewish for Uff-da"tells stories of the Jewish pioneers.
She also takes on controversial figures, such as politician A.C. Townley, health insurance saleswoman Sister "Lumberjack" Amata Mackett, and mail-order bride Rachel Calof. "Madams, Matrons, and Madwomen" explores women in history whose lives went against social convention.
"When I started performing them," Korenne has said, "my audiences sat up straighter and leaned in. Listeners kept requesting those songs, and people would come up to me after concerts to tell me how much those two songs resonated with them. I couldn't help but write more songs like them."
Since then, Prairie Public Broadcasting has commissioned Korenne to compose music for a series of short music documentaries. Gull Lake TEDx even featured her as a speaker at the April 2017 conference.
Korenne's personal essays have appeared in several publications, including The Midwest Prairie Review, Lake Region Review, Red Dirt Review, Lake Country Journal, Northwoods Woman, and East Ottertail Focus. In the past she has won the Prairie Gate Literary Festival's Writing Contest. She has been a finalist for the Loft Literary Center's Mentor Program and the Writer's Advice Flash Prose Contest.
IF YOU GO
Elisa Korenne
Reading, book signing, maybe singing
Thursday, July 20, 6:30pm
Zandbroz Variety, 420 Broadway N, Fargo
701-239-4729