A little art on the prairie
by Sabrina Hornung | .(JavaScript must be enabled to view this email address) | Editorial | August 16th, 2017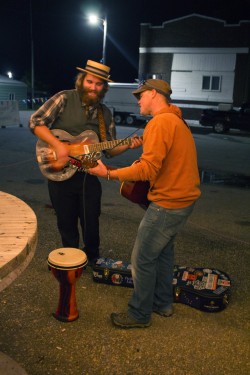 Our opinion: We all breathe the same air, and we all drank the same beer.
Last weekend I helped a pal plan a small festival in an even smaller town. In fact, you may find me bartending there once in a blue moon, flexing my extensive knowledge of cheap beer and rail whiskeys if Janet (their regular bartendress) needs a night off. We invited an eclectic group of talented musicians from across North Dakota and even asked our pals to bring in a pop-up art show in the old WPA-era town hall.
Live music and art shows can be found all over Fargo-Moorhead and some of us may take it for granted. And I will be the first to admit it, even though I work for an arts and entertainment weekly.
I've heard of Fargo referred to as "the Paris of the prairie" or "Imperial Cass" on a less flowery note because of our population influencing access to arts funding and programming. It's easy to take that for granted when we have access to fine institutions such as the Rourke or the Plains for visual arts, FMCT or Theatre B for the theatre arts, and access to the Fargo Theatre for independent films and a handful of film events throughout the year.
If we want to see some live music we can hit up the Aquarium, Junkyard, or various other venues throughout the week to support our friends or meet up with our peers. We're very fortunate to have such a creative community as well as spaces that accommodate our passions.
Center Fest may not have been the most well-organized event, but maintaining communication with limited service is a challenge unto itself, yet somehow our mantra came from a "Field of Dreams" reference: "If you build it they will come," and they did. Not in droves by any means but we did have a manageable crowd and it was pure magic on multiple levels.
In a time that is so politically divided, it was refreshing to see people of all ages get together and unite for the sake of a good time. Farmers and long-hairs stood side by side, no harsh words were overheard and the only punches thrown were the two drunk guys who ascended the amateur boxing ring.
We don't all have to vote for the same person to get along. We all breathe the same air, and that weekend we all drank the same beer.
Along with visitors who made the trek to Robinson, a handful of locals showed up, ranging from 5 to 90. Many of us don't think twice about having access to bands that play live original music, but to a handful of people this was their first experience -- same with the Wandering Ghost art show.
The nearest towns that provide art programming are over 60 miles away in either direction, though the number of school age children on highway 36 is pretty low. Hopefully, next year we can dedicate a portion of our programming to engaging our audience more.
There were a handful of people in the area who may never have had access to a gallery art show, and we brought it to them. We wanted to provide a unique experience and revitalize the old town hall, and breathe life into an otherwise abandoned space that once hosted basketball tournaments, sunrise dances, school plays, roller skating, and even served as a movie hall.
An old Robinson tradition was the "Sunrise Dance," the name is self explanatory but a live band would play into the wee hours and people have been talking about it for decades after. One local in his early seventies looked bright-eyed and mentioned that maybe--maybe we could bring back the Sunrise Dance. I asked another gentleman around the same age what he thought of all the festivities and he said, "Well, it's something different but ya gotta do stuff like this or the town will die out."
My faith in DIY was revitalized this weekend. As artists and patrons of the arts we need to continue to work together to cultivate our scene or to at least branch out and network with creatives across the state, to see what the statewide art scene is like.
We all agree that the arts are essential. Let's share our knowledge and make them accessible. All it takes is a little elbow grease. You might be pleasantly surprised.