Bands on the run
by Tom Bixby | .(JavaScript must be enabled to view this email address) | Editorial | March 29th, 2017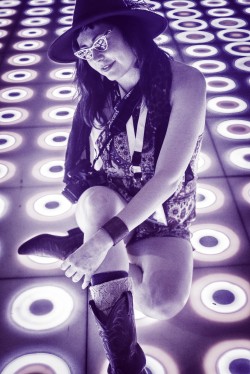 Who wouldn't want to go to Austin for the SXSW? And not just for the music. There is joy in the air, the whole city having a street party, everyone walking from one event to another.
But many bands from other countries were refused entry into the U.S., and for a number of different reasons, or no reason was given.
These bands are not well off. The typical budget for going through the visa process, visiting and performing, is about $15 thousand. The typical group is an obscure indie band hoping to get some exposure and become a known rock entity. It's a major project for them. They have to plan and save for many months to manage it.
David Sackllaw, writing in Consequence of Sound: "The story is always the same. A band from a foreign country is coming to make the rounds through SXSW. Days before the show, the artist has to cancel. Their visa was delayed, held up at an embassy, or denied outright. Fans are disappointed, venues lose out, and festivals either try to replace the act at the last minute or just cut their loss and eat a time slot. The band loses money — money they would have made from shows and money they've already spent to begin the visa process, often months earlier."
Some bands were traveling on an ESTA, a visa waiver program for travelers, including musicians playing unpaid. ESTA stands for Electronic System for Travel Authorization. It's an automated system that determines the eligibility of visitors to travel to the United States under the Visa Waiver Program (VWP). U.S. Customs and Border Control agents do not have to allow ESTA holders into the country, and they don't have to give reasons for it.
A B-1 visa is a tourist visa. In the past, bands were allowed into the U.S. with a B-1 if they were playing unpaid. This year, the bands were turned back because the U.S. Customs and Border Protection (UBP) stopped accepting ESTA and B-1, without notifying SXSW or artists who already had these documents.
Many bands were not allowed entry at the border or airport, or were not allowed to board their flight in their own country. Jazz:Refreshed, who play afro-punk jazz; United Vibrations do English shoegaze; Chilean rock band Trementina; Soviet Soviet, a three-piece post-punk band based in Pesaro, Italy; the Danish Electronic Dance Music producer ELOQ. Spanish rappers Yung Beef, Hakim Lemonhaze, AC3, Mthbts, and ElRotwa, were not allowed into the plane at Barcelona. Their visas had been cancelled days before the flight.
There are dozens more, all of them suffering career setbacks and substantial financial losses inflicted by agencies of the federal government.
Soviet Soviet were handcuffed, spent the night in jail, had their cellphones confiscated and were not allowed to contact family and friends. The next morning they were driven to the airport by police.
The UBP now considers SXSW a paid performance festival -- because admission is charged -- though the bands aren't paid.
A foreign band now needs a P-1 visa. These are for bands coming into the U.S. for paid performances. "If an individual is a member of an internationally recognized entertainment group, they must apply for and be granted a P-1 visa."
"In order to demonstrate that they are admissible, the applicant must overcome ALL grounds of inadmissibility."
U.S. immigration law lists more than 60 grounds for inadmissibility, divided into several major categories, including health-related grounds, criminality, security reasons, public charge, labor certification, illegal entrants and immigration violations, documentation requirements, and miscellaneous grounds.
In the past, the application process for P-1 visas was relatively straightforward. Now the applicant for a P-1 must be an individual "who possesses an extraordinary ability in the arts...and has been recognized nationally or internationally for those achievements."
To substantiate that, they must have "received or been nominated for a significant national award in the field, or prove they meet three out of six criteria, including national or international recognition as shown by critical reviews in major newspapers or magazines, evidence of substantial remuneration as shown by contracts, and testimonials from recognized experts in the field in which they are engaged."
Egyptian-Canadians Cherine Amr and Nancy Mounir of heavy metal band Massive Scar Era, were denied entry at the border, near Seattle. Cherine says, "We're 100-percent independent and self-financed and the band is doing this without any support from a label."
To Cherine, Nancy, and all the other artists who were turned back, I owe you more than an apology and I wish you a speedy recovery from this disaster.
Like many other changes these days, this doesn't seem real. The SXSW is meant for unknown indie bands to try themselves out, and the federal government, through the U.S. Customs and Border Protection, is intent on destroying it.
For a long time, all of my adult life, people I met in my travels who hated the U.S. were of a type, very political and Marxist. Now we're giving others reasons to hate us -- reasonable people with balanced points of view. If the present drift of policy continues, it won't end well, and some of the damage will be permanent.