'Centrist' notions
by Sabrina Hornung | .(JavaScript must be enabled to view this email address) | Editorial | November 1st, 2017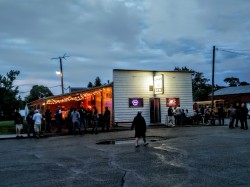 Last week, KFYR reported that "Rugby says it's once again the geographical center of North America, and the townspeople have a trademark to back it up."
Which isn't entirely true. Last Saturday we spoke to Bill Bender, mayor of Robinson, ND and proprietor of Hanson's Bar, which according to the US Patent Office is still the legal and righteous Geographical Center of North America. Too bad KFYR didn't reach out to him.
It also stated that last December, a legal team representing the city of Rugby submitted an argument to the U.S. Patent and Trademark Office, suggesting that the city retain the trademark.
We fully disclose that Bill Bender is a close friend and our editor may even have a soft spot for him, and she may or may not sling drinks at Hanson's Bar once in a blue moon. Coffee-induced confessions aside, let's look at a bit of history shall we?
Rugby has held the title or at least the trademark for Geographical Center of North America since the early 1930s.
Pierre South Dakota was also in the running for the title but Rugby happened to beat them to it. A 23-foot-tall concrete obelisk was placed in the middle of US Highway 14 in 1923. It was eventually deemed a safety hazard and was moved to the top of Snake Butte in 1928.
According to South Dakota Public Broadcasting (SDPB) there was a plaque at the base of the monument that read "Center of South Dakota and Approximate Center of North America." One can blame vandals or the elements, but now all that is left of the forgotten monument is a concrete base on a hilltop.
No wonder the folks who are part of the pick up pulls in Robinson are reluctant to mention Hanson's Bar as a sponsor on their trucks to avoid the temptation of potential vandalism.
Anyway, according to SDPB, Robert F. Kerr, a professor at the South Dakota State College of Agriculture and Mechanic Arts (now SDSU), made the Pierre-as-center proposition in 1904. "Kerr drew lines from opposite corners of maps of South Dakota and North America and found that, for both, they intersected at Pierre."
Willis Johnson, geographer and president of the Northern Normal and Industrial School (presently Northern State) did something similar in 1911 and got the same result for his book 'South Dakota: A Republic of Friends.'
In 1931, the US Geological Society took over and deemed a location 18 miles North of Rugby the geographical center by balancing a cardboard cutout of a map on a pin. The location is closer to the small town of Balta and is located in the middle of a slough.
Rugby was selected as the Geographical Center of North America primarily because it is where US Highway 2 and US Highway 3 intersect and it is the county seat of Pierce county. In 1932 its iconic stone cairn was erected and a trademark was granted.
According to SDPB, The Sioux Falls daily paper the Argus Leader warned South Dakotans, "North Dakota is trying to swipe something from us...In this economy [sic] era, the North Dakotans might decide to appropriate the monument as well as the title without due process of law."
After the hullabaloo concerning what we like to refer to as the "geographical shift," a new contender for the center raised its head in the computer age: Center, North Dakota, which is approximately 100 miles from Robinson and 150 miles from Rugby. With a name like Center, that almost sounds too easy.
After 84 years, Bill Bender and his pals in Robinson were hard at some barstool science when they deduced that Hanson's bar was the geographical center of North America.
Robinson, a town of fewer than 50, is 100 miles south of Rugby. Which leads us to wonder: did the USGS consider the outlying islands in their calculations, because as Casey Mutzenberger stated in his letter that was recently published in the Forum, doesn't Robinson deserve the title?
As Bill Bender told Wall Street Journal writer Will Connors during his interview, "You snooze you lose--you know?"
Ironically enough, it turned out that the City of Rugby had let their trademark lapse in 2009. Bill Bender picked up where Rugby left off and even offered the title back if Rugby Mayor Arland Gieszler would agree to a charity boxing match.
Bender even built a makeshift boxing ring at Center Fest last August. Only for it to be broken in--literally broken in by a couple of locals. It also served as a stage for outdoor musical acts during Center Fest.
Last we heard, Mayor Gieszler declined Bender's boxing challenge. Instead the city of Rugby is seeking legal intervention, which only proves that the party with the most money wins the title. Needless to say, money doesn't just talk -- it screams.
What we can't help but ask is, if the trademark was such an important part of Rugby's identity, why did they let the trademark expire for eight years? And if a legal battle was the likely result, why aren't the people of Rugby upset with their chamber of commerce for even considering to use their hard-earned tax dollars because the city dropped the ball on a moniker that established their town's identity?
We think that Rugby should be more invested in their pioneer museum. That's the true gem of Rugby. I'm a sucker for WPA stone monuments, but that cairn doesn't hold a candle to Hanson's Bar. There's no jukebox, Jim Beam, or Morrisons that we know of, though there is a great Mexican restaurant a few steps away.
Think about this as tumbleweeds and empty beer cans collect at the lonesome concrete base of the "Approximate Center of North America" on Snake Butte in South Dakota. Rugby might have a nice monument, but nothing lasts forever.
Corrections
Last week we announced our Cocktail Showdown contenders. Somehow Judd Eskildsen over at Proof Artisan Distillers slipped through our pages. Also "Skeleton Parade' by Mark Elton was our featured art last week, he is author and illustrator of "Atypical Animals". For more of his work, visit www.BiblioTrek.com..