Drink the good stuff while you still can
by Tom Bixby | .(JavaScript must be enabled to view this email address) | Editorial | April 26th, 2017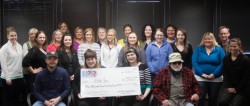 We're living through hard times, but they are hard times with an important basic amenity: strong, tasty beer and ale, brewed by independent craft brewers.
When did it all start? Historians are in disagreement. In 1976, the low point, there were only 50 breweries left in the entire nation, all of them brewing yellow soda pop. That was when Jack McAuliffe, one of our heroes, founded New Albion Brewing in Sonoma County, California, and kept it going for six years.
And though he didn't make it, he inspired many others to try their luck. The first brewpub, a brewery that served beer and food, was the Yakima Brewing and Malting Company, founded in 1982, in Yakima, Washington.
By 1996, 20 years after the founding of New Albion, there were a thousand breweries in the U.S., and craft breweries had one percent of the market. Now there are around five thousand, with 11% of the market.
We only realized how important they are when we found out we're losing them.
There is no legal definition of a craft brewery, but we all know who they are. Or do we? The Brewers Association defines it as a brewery that produces less than 6 million barrels of beer and is less than 25 percent owned or controlled by a larger brewer.
What concerns us is that we're losing so much and no one seems to care. Take, for example, one of the great brewing nations, the Czech Republic. It's not a big secret why they are what they are. The weather and soil are ideal for growing hops, and they've been brewing for at least 13 centuries. It took time -- for the first 400 years, they were home brewers. The first brewery was built in 1188, and the oldest existing brewery, the U Fleku microbrewery in Prague, was founded in 1499.
And now, after only 40 years, the U.S. has huge variety, a superbly tasty product, and a craft beer culture worthy of a European country -- a national treasure, a beer-drinking golden age, and we're losing it. But we don't have to, at least not in North Dakota.
AB InBev and Molson Coors—which together control 81% of the U.S. market —have announced craft beer deals as they aim to gain greater exposure to a consumer-led movement away from mass-produced beers, in favor of locally produced ales.
These brands, some of them once independent, are now just subsidiaries of AB InBev or Molson Coors or Heineken, which do not disclose their true ownership.
They choose a craft brewery with a strong market share in a major city and give it national distribution.
When the three monstrous multinational corporations buy a craft brewer, they know that part of craft beer culture is local and regional pride. They will not put their name anywhere on the bottle.
What they will do is sell their craft beer for less than a real craft brewery needs to break even, and push the little guys out of draft lines.
And that's just the first step. The actions of multinational corporations are predictable. The independents will lose shelf space at retail, be excluded from distributors, and finally lose access to the best ingredients.
We'll pay more for independently brewed, even if it costs more, and we bet a lot of other people will too. We support a law requiring the true ownership to be on the label or can, in print big enough to be read without a magnifying glass.
We can't of course pass such a law by ourselves. We invite you who can -- Al Carlson and Doug Burgum -- to have a few and see if you don't agree that we have something worth saving.
There are lots of independent craft breweries in North Dakota, but it's easy to choose one. They're all good. You, Al and Doug, won't have far to go. There's one in Bismarck, Laughing Sun. Go on down there and have a few. See what we mean? We do have something worth saving. Now have a few more and don't worry about getting to work on time tomorrow.
That law would be a good first step. After that, there need to be laws and regulations governing promotion, equal visibility and shelf space for small competitors, and marketing support, all of this to protect small independent brewers.
Lots of industries have entered this stage: get big or get out. But it is unfair if only
Two or three companies are bidding.
And AB InBev, Molson Coors, and Heineken should not even be able to buy craft brewers if the antitrust laws are properly applied.
Craft breweries are buying one another, fair enough. But Molson Coors, AB InBev, and Heineken, if left to their own devices, will cherry-pick the financially strongest, the most creative.
The probable winners: the duopoly, the big two.
Certain losers: beer drinkers, brewery employees, and the U.S., since the result in the long term will be mediocrity, almost the same fizzy colored water we started with 40 years ago, before Jack McAuliffe got started in Sonoma.