The corners that rocked
by Tom Bixby | .(JavaScript must be enabled to view this email address) | Editorial | March 1st, 2017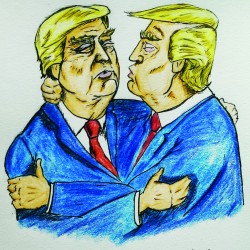 Spring is here and it doesn't matter what the weather is. How do we know?
When the Moorhead Dairy Queen opens on March first, it's officially spring hereabouts.
And a group of eminent Moorheadians is planning to restore downtown Moorhead to its former liveliness.
It is encouraging that such a distinguished group is involved in a challenging and long-term project: Concordia President William J. Craft; MSUM President Anne Blackhurst; Tim Beaton, Executive Director of the Fargo-Moorhead Area Foundation; MSCTC President Peggy Kennedy; and our all-time favorite mayor, Del Rae Williams.
They could use more involvement from the business community. Why don't they invite more of the great and good to join them? Thomas Astrup of American Crystal Sugar, CEO Donald Kloth of Busch Agricultural, Pactiv CEO John McGrath, Andrew Lubovich of Advanced Security, Eventide Chair Don Stieha...
They are asking for suggestions from the public. We want ours to be useful, so we asked a friend who knows more about a whole lot of things than we do.
She says there is a curse on Moorhead, similar to the curse on Boston, which lasted 86 years, from 1918, when the Red Sox traded Babe Ruth to the Yankees, until 2004, when they finally won a World Series.
What caused the curse on Moorhead? It's true, as Moorhead archivist Mark Piehl said, that tearing down the old buildings was a mistake, especially those on the present site of the Moorhead Center Mall.
But the true cause, we now know, is that the city put Ralph's Corner and Kirby's out of business. The basic motivation was that the city didn't want to see the sidewalks around that intersection filled with young people having a good time. The city was against fun.
They also considered Ralph's and Kirby's to be eyesores, the first thing that a visitor saw coming over the bridge from the North Dakota side.
To stay in business, Ralph's was required to invest 400 thousand dollars to bring the building up to code. But that wasn't enough for the city. They threatened an eminent domain suit if the owner refused to sell.
The best overview and account of Ralph's is John Lamb's, http://www.inforum.com/variety/3746502-some-ralphs-closing-still-stings-10-years-later Lamb recognized what was lost, understood that a place like Ralph's can't be rebuilt. It grew organically, little by little and for a very long time before it felt like home. He also wrote the best basic history of Kirby's, http://www.inforum.com/content/rock-and-hard-place-kirby%C2%92s-closing-puts-squeeze-fargo-moorhead-music-scene
We may be superstitious, but we know Ralph's and Kirby's are long gone and never coming back. There must be other ways to lift the curse and enliven Moorhead. A good starting point will be to consider carefully what gets built on the former Richards Tesoro gas station on the southeast corner of 8th and Main.
There needs to be more continuity, a knitting together. There are popular, bustling businesses, but they are destinations. Places are far apart; downtown should be more walkable and that will take time.
We're sure the mayor and council have heard this before, but downtown snowplowing could be improved. In winter, sidewalks on Main Avenue are often impassable. Sometimes there is a continuous ridge of snow left after plowing the street, right in the middle of the sidewalk.
Last winter, Joe Curry and Warren Christensen shoveled the sidewalk on the north side of Center Avenue, at least a block in front of the mall plus the bridge; and then the Oak Grove pedestrian bridge. That is a hell of a lot of work, and the city should give Joe and Warren a ticker tape parade.
We also recommend that the entire population of Clay County have as much fun as they can for as long as they can -- kicks and laughs to counteract the bad karma of the dour and unsmiling, prune-faced former city government. The street party welcoming new college students, when the Center Avenue bridge was closed to traffic, was a good start.
There are Fargoans with a grudge against Moorhead for closing Ralph's. Get over it, cross the river and hang out more. J. Earl Miller, interviewed by John Lamb, said he's "still a little pissed off. I have a hard time shopping in or visiting Moorhead." Come on, Jay, you too, one more river to cross.
Kirby's closed thirteen years, eight months and two days ago, on June 30, 2003.
Ralph's Corner closed eleven years, nine months and eight days ago, on May 22, 2005.