​Our opinion: "We shape our buildings, and afterwards our buildings shape us."
by Tom Bixby | .(JavaScript must be enabled to view this email address) | Editorial | February 8th, 2017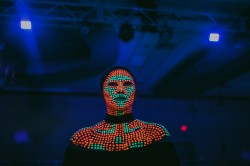 "I haven't seen the proposal yet," said Moorhead Mayor Del Rae Williams, "but there will be a Request For Bids for a commercial/residential project. It is prime downtown space and there has been a lot of interest."
The space is the vacant lot on the southeast corner of 8th Street and Main Avenue, the former location of the Richards Tesoro gas station, and some of the most important real estate in the city of Moorhead.
It couldn't be more centrally located. And look at its near neighbors: to the south, the beautiful St. John the Divine Church; and across Main Avenue, to the north, the most famous Dairy Queen and rebel franchisee in the nation. Whatever goes into that space should be similarly distinguished.
The mayor made her comment on Facebook. There were others.
Some thought that the city has enough green space, one saying that the city can't take care of what it has, so why build more?
Others thought that it would be a good place for a park, or open space for a farmer's market or food trucks.
Tom Tepley, the next-door landowner, thinks the city paid so much that it's going to "lose a ton." Records show that the city paid $1.1 million to buy the property, and $165 thousand for moving expenses.
After construction of the right-turn lane, what's left of the property, Tepley thinks, is small enough that the city's options are limited, and that it would be a good place for a farmers market and food trucks.
The comments about appearance started with criticism of the Red Door Apartments on 8th Street. Seven people hated them and three liked them, including artist Chris Orth. Chad Johnson thinks RDA is "great land use in such a busy corridor. And not another 3-story, 36 unit, box of blah." That's right, Chad, not like the bleak and sterile southwest part of a certain nearby city.
And how were the owners allowed to build those hideous apartments? "They are within code," wrote Mayor Williams. "Color isn't a zoned thing."
The issue: should the new building blend in with what's around it, or contrast?
That raises an issue more important than the color of the Red Door Apartments.
How much power do the mayor and council have to oversee design and to force changes to inappropriate proposals? Do they check that the project is within code and that's all?
Mayor Williams: "They saw the footprint of the buildings, which were within code. Colors or materials weren't included in the plat drawing that I saw."
Can the mayor and council legislate themselves some design oversight? Probably. Do they want to? I hope so. If it is "prime downtown space and there is a lot of interest," bidders might be willing to commit to reasonable design standards, or to a stipulated architectural design and color scheme.
Columbus, Indiana, population about the same as Moorhead, is an architectural Mecca, with 40 to 50 thousand visitors every year. They hired an architect in 1957, to build a school, then did it again in 1960 and they were on their way. Check it out!
https://columbus.in.us/art-architecture/the-architecture-story/
https://columbus.in.us/wp-content/uploads/2016/07/Cummins-Foundation-Architecture-Program.pdf
Columbus's original model, of corporate sponsorship of taxpayer-supported building projects, may not be viable in Moorhead, financially or politically. It doesn't apply to the Richards Tesoro property. But it is still instructive. Takeaway: do one project at a time, then another, and create the most beautiful small city in the nation.
Whatever is built on 104 8th Street S will be there for the foreseeable future. Please, Moorhead Mayor and Council, take a step back and think about your options. If you can, prioritize quality.
If you decide to experiment, the architects don't have to be world-famous, but they can be talented, up-and-coming, original. How to find them? Do some homework. William Menking, Editor-in-chief at The Architect's Newspaper, is a good person to ask.
https://www.facebook.com/wmenking
Or hold an architectural design contest and invite corporate leaders to help judge it (Busch Agricultural, Pactiv, American Crystal Sugar, others I don't know about), as a way to get started.
Frequently asked question: I don't live in Moorhead, so why don't I shut up about this?
Full disclosure: a sentimental attachment. My great-great-grandfather, Simon Sherman Bixby (1823-1904), built the house at 120 12th St N, in Moorhead, across the street from the fire station, in the late summer of 1881.
He built it as fast as he could, before the cold weather came. I'm not saying it's the Comstock House, but I'm proud of it anyway. The basement has a tamped earth floor, just dirt. He leveled it and beat on it with something heavy until it was hard and floor-like. Sometimes in the spring it gets sticky.