The state legislature is starving NDSU of funds
by Tom Bixby | .(JavaScript must be enabled to view this email address) | Editorial | May 10th, 2017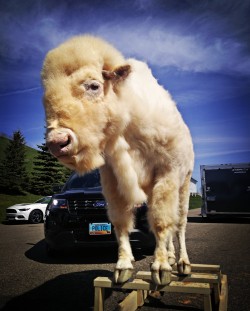 "I felt compelled to write," said Dr. Lawrence P. Reynolds of NDSU in a recent letter to the editor, "because of the statements attributed to ND Senate Majority Leader Rich Wardner (R-Dickinson), who said, 'Everybody has to cinch it up,' and then later stated he 'was confident funding could be reinstated after this biennium for programs and jobs that are needed…I understand we could lose some quality people, but it is what it is. You can't spend money you don't have.'
"This was after he had emphatically stated, 'We [the legislature] are guarding it [the Legacy Fund] very carefully [as it is an] asset in the future.'"
The statements of State Sen. Wardner require translation. By 'quality people,' he means the thinking population and anyone else who disagrees with him. He wants them to leave.
The people he wants to stay are the elderly establishment and their heirs, in positions of encysted dominance, or sheeplike others who always vote Republican.
The state senators and representatives are guarding the Legacy Fund carefully so they can use it to benefit entities which have contributed to their political campaigns -- Big Oil, the National Rifle Association and similar others.
They would not, of course, send them a mattress full of hundred-dollar bills. They would do it by passing suggested legislation and investing in approved projects that would make it through any compliance department, measures that would violate the spirit, but not the letter, of the Fund's legal authorization.
"The principal and earnings of the Legacy Fund may not be expended before June 30, 2017. An expenditure of principal after that date requires a vote of at least two-thirds of the members elected to each house of the legislative assembly. Not more than 15% of the principal of the legacy fund may be expended during a biennum," says the Sovereign Wealth Fund Institute.
15% of the principal of the Legacy Fund comes to about $600 million, and we are in a situation the Legacy Fund was created for. We're sorry to say that this will not happen in the foreseeable future, since the Republican Party holds the governorship and has majorities in the house and senate.
Prof. Reynolds makes the point that the budget cuts will make it nearly impossible to recruit the best young faculty, and that the number and quality of classes will decline.
We can be more specific. In other states that have cut support for higher education, there are few if any new hires. Most courses are taught by adjuncts, most of them graduate students.
Fewer courses will be available, with many more students in them. Group projects requiring any appreciable investment of time will not be available, and these are among the most valuable undergraduate experiences.
The bigger class sizes will make it difficult to grade papers. The standard six-page paper will shrink to three. Once the papers have been graded, the professor, if there is one, or the head teaching assistant, may ask to see the A's and the F's, if she or he is conscientious. She won't even see the others.
To get into an upper division course with limited enrollment, students will compete for entrance in some form of triage.
Some courses will be cancelled, and these may be degree requirements, professional prerequisites, or entire programs, so that students will have to remain enrolled another year or transfer elsewhere to graduate.
It goes without saying that the ambience will be markedly more impersonal. And there won't be as much diversity. Prospective foreign students, for example, will know that the quality isn't there.
We don't believe that so many people want to come to the U.S. just for the money. The most precious thing we have, beyond civilized behavior and the rule of law, is social mobility.
We do believe that one of a university's main jobs is to accept promising people from modest backgrounds and to provide situations that help them achieve self-realization.
All colleges and universities say they are eager to do this. But that's not true.
Research from the Equality of Opportunity Project shows that the universities where
many students from families in the lowest 20% income bracket rise to a middle-class or higher socioeconomic level, are not the famous ones.
The most effective colleges, that do the most to maintain and create social mobility, are public, accredited, not prestigious, and mostly bicoastal. The states that do the most for their low-income students are California, New York, and Indiana. New Jersey, Louisiana, and Texas have outstanding single institutions, but no comprehensive policy.
North Dakota could be one of them. We would be building on a generation of progress. It wouldn't take all that much, just some inspired leadership and careful husbanding of resources.