​Veggie-ing out is easy
by Diane Miller | .(JavaScript must be enabled to view this email address) | Editorial | August 7th, 2014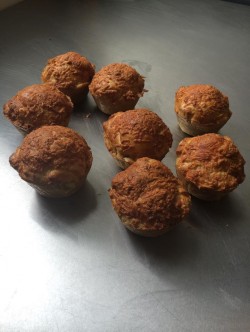 I've now been a vegetarian for full year. Holy corncobs, has it ever been easy.
In fact, it's been so easy that I'll never go back to eating meat again – ever. Quote me on that, because I used to be a bacon cheeseburger, pepperoni pizza and fried chicken fanatic. I even once ate 12 pieces of bacon (nothing else) at an Embers in Mankato …
College!
I decided to become a vegetarian mostly for wellness reasons, but also for environmental and ethical reasons. But that's not what this editorial is about. It's mostly about how easy and enjoyable it is to be vegetarian; because all too often I hear people say, "I could never do that. I love meat too much" or "How do get your protein?"
Pastas, soups, pizzas, salads, sandwiches and tacos do not need meat to taste good or contain protein. I've had some of the best-tasting, protein-rich meals I've ever eaten in my life since becoming vegetarian. I've learned to really savor meals and enjoy different flavors. Have you ever had yam tacos, sautéed mushroom risotto, white bean chili, curried broccoli or Mediterranean pizza? If not, you're missing out.
I'm not an extreme health nut. I don't eat a salad every meal of the day. I don't judge others for eating meat. I understand some evidence suggests natural, leans meats are perfectly healthy and that "your grandma ate red meat everyday and she lived till the age of 97."
I am also not vegan. So I still eat cheese. I still eat eggs. If necessary, I will still eat meals cooked with meat and just remove the meat afterward. I even eat fish and seafood a few times a month. So perhaps that makes me a pescatarian or semi-vegetarian. I'm OK with whatever title.
But for those who are curious about becoming a vegetarian, I say try it and discover how wonderful meals can taste without flesh.
Thanks to the growth of the Fargo-Moorhead dining scene, nearly all the best restaurants offer fantastic vegetarian options. Here are my favorites:
Breakfast
Breakfast Burrito @ People's Organic
Spanish Omelet (order without chorizo) @ The Boiler Room
Lunch
Roasted Asparagus Salad @ The Blue Goose Café
Sweet Potato Roll @ Wasabi
Sloppy Duck @ Red Raven Espresso Parlor
Veggie Supreme Sub @ Grand Junction
Grandma's Lo Mein Noodles @ Lucy's North China Cuisine
Vegetarian Fargo sandwich @ Wurst Bier Hall
Dinner
Portabella Mushroom Torta @ Rustica
Vegan Basil Tofu @ Drunken Noodle
Vegetarian Specialty Taco @ Vinyl Taco
Candy Stripe and Golden Beet Risotto @ Monte's
The Backpacker Pizza @ Rhombus Guy's
Pasta Primavera @ Maxwell's
Wild Rice Burger @ HoDo Lounge