Who asked you?
by Sabrina Hornung | .(JavaScript must be enabled to view this email address) | Editorial | July 26th, 2017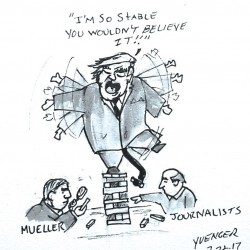 Our opinion: You cannot fool all the people all the time, unless they are from North Dakota.
This week Gallup poll reported that at 59% North Dakota has the second largest Trump approval rating in the nation, nipping at West Virginia's heels with their 60% approval rating and South Dakota ranked third with 57%. Really guys? We're more conservative than South Dakota?
What we would like to know is.. Who did they ask? According to gallup.com " Daily results are based on telephone interviews with approximately 1,500 national adults; Margin of error is ±3 percentage points."
According to Forum Communications results were based on phone interviews orchestrated between late January to late June with 254 adult participants. Is that an accurate representation? According to the New York Post, 46% of Americans still have a landline while 50.8% have only cell phones the remaining three percent are phoneless. We'd like to know the age demographic and how you can articulate the voice of the people by interviewing less than 1% of the state's population.
He has achieved a 50% or higher approval rating in 17 states while Massachusetts and Vermont have the lowest approval rating.
Also According to Gallup Trump's overall US approval rating is 39% the lowest presidential rating in history.
Our very own Last Word columnist and resident playwright Charlie Barber said it best when speaking of his experience as a democrat in Bismarck, "I'm a lonely little petunia in an onion patch."
Fool us twice, shame on us
And why did the rest of us sound so reactionary? Partly because we've been betrayed by the institutions we deal with most frequently in our everyday lives.
Want an example? You go to the emergency room, ask them if they take your insurance and they say yes and you stop worrying.
Then, weeks or months later, you get a bill for hundreds or thousands of dollars, from a doctor who maybe just entered the room momentarily and looked at you or asked a couple of questions.
You question the bill and they tell you the doctor was "out-of-network," and not covered by your insurance. They can't be held legally responsible for what they told you at the time, and when pressed, they'll always say that patient are responsible for informing themselves if they are covered, never mind that the hospital makes every effort to conceal such information, or to hide it in the fine print of a document thousands of words long.
We're talking about a lot of hospital emergency rooms, more than half of them.
One lady we know carries a document everywhere she goes, and says she signs it when she needs treatment at any emergency room.
"When you enter an ER you are given a financial responsibility form to sign. Do as I do, and endorse the form with a statement such as "All providers must accept Medicare assignment. Patient refuses care from nonparticipating providers." Then date and initial the endorsement. (Substitute the name of your own insurer.)
Also state "Patient not responsible for uncovered services unless advised in advance that services might not be covered and has the choice to decline." Again, initial and date the endorsement.
So where are we going with this? It's an illustration of predatory corporate behavior we are all subject to and all engaged in an unequal battle to preserve our health, savings and sanity.
Our mistake was to to think that the present occupant of the White House could change things and help us.
Have we wised up? We hope so.