​You can run but you can't hide
by Sabrina Hornung | .(JavaScript must be enabled to view this email address) | Editorial | May 30th, 2018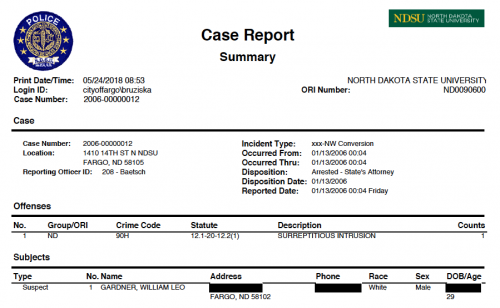 I know bringing up William Gardner's peeping Tom incident is like beating a dead horse, but it's disturbing on a multitude of levels. CS Hagen made mention that this incident happened to slip the minds of the North Dakota Republican party in last week's edition of HPR. In fact it even escaped the mind of prosecuting attorney Aaron Grayson Birst who also happened to be lobbying for the party.
So much for covering your tracks guys, now we can't help but wonder who else's tracks you're hiding.
I can't help but wonder if this embarrassing little incident so quickly escaped the minds of the young girls who caught him with his zipper down outside their windows. Perhaps they didn't even notice him and they were as equally in the dark as the North Dakota Republican party.
Conservative radio talk show host Scott Hennen had some endearing commentary regarding this issue too, supposing that if these young women had their curtains open they were openly welcoming a big bad wolf. I mean -- how could they possibly expect a man to resist their feminine wiles?
In the edited version of this editorial, I cry malarkey. The more I think about it the more incensed I get. That's about the equivalent of rationalizing rape by questioning what the victim was wearing.
With comments like that I have a strong sense that Hennen has no daughters. I had a Peeping Tom in my first apartment on Roberts Street in downtown Fargo a number of years ago. A man was caught looking in the window of my bedroom from a fire escape that he had accessed from the unsecured front door of my apartment building.
I lived alone and was horrified. My boyfriend at the time thought it was funny. Fourteen years later I still live alone and I'm still horrified. It's a creepy feeling once you realize that you're being watched. You feel violated and you eventually wonder how long it's been going on, and then you wonder if you'll ever find them waiting for you.
That's enough to make your skin crawl.
From that point on I've been almost overly conscious of keeping my shades drawn and my doors locked.You might not believe this, but more often than not women do not like being harrassed, gawked at, pawed at and objectified. I'm no angel but coming from a former burlesque dancer, I can attest that women like to be in control of our own objectification.
It's ironic that one man (or woman) can be charged as a sex offender for urinating in public but another can get a nice slap on the wrist for being caught with the front of his shirt undone and his zipper down outside of a girl's dorm at NDSU. If you have a daughter, remember that each of those girls are someone's daughter or someone's sister.
Call me crazy but sexual deviance and public urination are two entirely different animals.
I look forward to the day people will start to make dirty Republican jokes instead of dirty priest jokes at the bar. You have to laugh because it's so damn sad and yes it's inappropriate. At least the Catholic church apologized. Just to keep up with current events I might just take those jokes and start switching some words around. I'm an editor. That's my job.
The million dollar question here is: Why is this behavior normalized? We (and by 'we' I mean women) don't need to be put on a pedestal but give us a little bit of respect for the love of decency. Especially those seeking leadership positions in local, state, and national politics. Consider the moral high ground. People look up to you and consider you a role model. If you don't find this behavior disturbing you should be ashamed of yourself and not just because your "bro" got caught.