Character, or the lack thereof
by Ed Raymond | .(JavaScript must be enabled to view this email address) | Gadfly | September 20th, 2017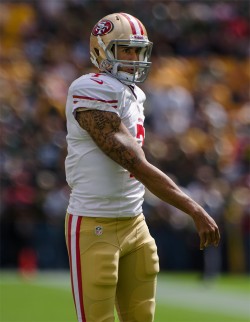 What kind of characters would charge $99 for a case of water?
In the days before the solar eclipse safety glasses sold for $8.95 for a five-pack of certified glasses. The day before the eclipse the price was raised to $59. During Hurricane Harvey, some gas stations were charging $20 a gallon. The other day I saw a local supermarket selling a 24-bottle case of water for $6.95. During Irma a Florida store was charging $99. An airline out of Houston was charging $6,785 for an economy seat. A woman who had paid $547.50 for a Miami to Phoenix flight was later told the flight price had been raised to $3,282.50. Do these gougers have character?
A man who has exhibited character all of his life has now become a national figure in the fight over racial discrimination. Colin Kaepernick has become a polarizing figure in American football by taking a knee during the playing of the Star Spangled Banner. He has been on the cover of Time magazine.
Kaepernick has been compared with Muhammad Ali, who famously told a draft board during the Vietnam War that "no Cong has ever called me a nigger!" Here was a man with character who refused to be inducted, who gave up almost four years of big incomes to make a point about race in the United States.
My other "character" Is King Donald Trump who said about Kaepernick: "Maybe he should find a country that works better for him." Kaepernick has responded: "I want to have a positive influence as much as I can. I've had people write me because of my tattoos. I've had people write me because of adoption. I've had people write me because I'm biracial. I've had people write because their kids have heart defects—my mother had two boys who died because of heart defects, which ultimately brought about my adoption. So to me, the more people you can touch, the more people you can influence in a positive way or inspire, the better."
Kaepernick is a pretty good quarterback
Colin was recruited out of high school by the University of Nevada and started for four seasons. He became the first NCAA quarterback to throw for more than 10,000 yards and rush for more than 4,000 yards. He scored 60 touchdowns and threw for 82 more. In his final season, in 2010, Nevada went 13-1 and finished in the eleventh spot in the final Associated Press poll.
I have watched Kaepernick play for the San Francisco 49ers for several seasons. I have watched him win a Super Bowl and dominate other games. His last paycheck was for $16.5 million. But at age 29, with his outstanding record at quarterback, no team in the National Football league wants to touch him with a ten-foot pole.
Having played eight years of high school and college football, after being named as an All-Conference college guard, after being named co-captain of my college team, after watching thousands of football games from high school to NFL, after hiring a number of football coaches as a high school principal, I figure I might know as much as the average football fan about the game.
Colin Kaepernick should be playing for some NFL team. ESPN analyst Ron Jaworski, a talented quarterback in his own right, says: "I believe Colin Kaepernick could be one of the greatest quarterbacks ever. I love his skill set."
There are 32 teams in the National Football league that employ 85 to 90 quarterbacks at any one time. Some are very good, like Tom Brady and Aaron Rogers; some are mediocre.
Kaepernick at 29 is still better than 75% of the currently employed quarterbacks. I have watched him play for years. I watched him beat Tom Brady at New England in the cold of December. I have watched him beat Aaron Rogers and the Green Bay Packers by out-passing Rogers and rushing for 181 yards.
His teammates voted him the team's highest honor "for inspirational and courageous play." But because of his stand—I should say kneeing—on racial discrimination, the outright murder of black unarmed men, and the controversy surrounding the creation of Black Lives Matter protests, he is on the sidelines with his afro and tattoos.
His tattoos, by the way, are of Bible verses. Let's remember that 31 NFL teams are owned by white billionaire owners, with most of them contributing millions to the campaign of Donald Trump. The other franchise is owned by the citizens of Green Bay.
Kaepernick combines ethical and moral strength, integrity, and fortitude
Bottom line, Kaepernick is a black intellectual who has schooled himself through his biracial life in his adopted white family. He is a constant reader who has read all of the great black writers, including James Baldwin, Ralph Ellison, and Maya Angelou.
He was raised in Turlock, California, where the population is 2% black. When the Kaepernicks went on vacation he was stared at because he was black and the rest of the family very white. Those who stared at him often asked if he were adopted. Did he belong?
He was and is an excellent student, earning high grades and graduating with a degree in business management. He was an outstanding baseball and football player in high school, a record-setting quarterback in Division 1 football, and one of the NFL's most thrilling players. And he is currently without a job because of racism.
John Bender, an offensive lineman who played with Kaepernick, paints a good portrait of him: "I saw him transform, develop, whatever you want to call it. Finding an identity was big for him, because in some aspects in life, he would get the racist treatment from white people because he was a black quarterback. And some people gave him the racist treatment because he was raised by a white family."
In the end, 80% of NFL players are black. What will 31 white billionaires do if the players decide not to play until Kaepernick is signed to a contract? Will they put on more patriotic shows featuring flags the size of football fields, military flyovers, and uniformed Afghanistan veterans instead of helping the racial problem in the country?
The magazine Sports Illustrated has a report of a BCS study that says Kaepernick protests around the country have already hurt NFL attendance. Stay tuned.
And here is a character without any
In previous columns I have written that after reading the qualities of sociopaths, psychopaths, and narcissists in the Manual of Mental Disorders published by the American Psychiatric Association, I have concluded Donald Trump is a very sick individual.
After all, I have tended bar for two years while earning an MA degree. I always thought the job was worth a psychology major.
Finally, Dr. Lance Dodes, a professor of psychiatry at Harvard University, has spoken out about King Donald's mental condition, and has contributed to a new book titled "The Dangerous Case of Donald Trump: 27 Psychiatrists and Mental health Experts Assess a President."
Dodes analysis is reviewed by Chauncey DeVega in "Harvard Psychiatrist: Trump is a Sociopath and a Very Sick Individual" published on September 12, 2017. I am going to quote liberally, slightly edited for brevity.
(1) He is a compulsive liar who creates his own fantasy world. He is extremely moody and impulsive. Trump's advisers have to satisfy his extreme narcissism and nurture his detachment from reality by presenting him—on a twice-daily basis—with a file folder fill with 'good news.' Fellow Republicans have suggested Trump may be 'crazy.'
(2) Trump exhibits elements of sociopathy. He lies and cheats, steals from others. He lacks empathy, a critical aspect of narcissism. His narcissism is particularly severe because he is also out of touch with reality whenever he becomes upset. Psychiatrists sometimes call that delusion.
(3) Sociopathy itself is a sign of a very sick individual, someone with a lying, cheating and emotional disorder. It is not just bad behavior that people have to lie and cheat the way he does, it is an incapacity to treat other people as full human beings. This is why his focus is on humiliating others to aggrandize himself, as he did in the Republican primaries, when he was debating and calling other people names. That is a serious mental and emotional problem. Normal people have normal empathy. It is part of being a human being. Lying and cheating and humiliating others and grinding them into dust in order to triumph is not just bad behavior. It is a mental illness.
(4) Hitler had a lot of followers too. Some people look for strong leaders. A lot of people seek out strong leaders because it is part of our shared human experience. So if you have someone who comes along say, "I am good and strong and great and I will protect you forever," a certain number of people will follow that person.
(5) The best diagnosis of Trump is that he is a malignant narcissist. It contains the narcissistic part, which is no big deal alone—lots of people are narcissistic—but the malignant part is the sociopathic dimension. These terms suggest Trump is a very primitive man. He is also a man who has a fundamental, deep psychological defect. It is expressed in his inability to empathize with others and his lack of genuine loyalty to anyone. You will notice that Trump wants everyone to be loyal to him, but he is loyal to nobody.
(6) I have known lots of people and none of them are as evil or dangerous as Donald Trump because they do not have the sociopathy part. Others may be self-centered, they may care mostly about themselves. But when it comes right down to it, they have some compassion, they have a conscience. But not Donald Trump.
This analysis indicates that King Donald is clearly not fit for a very challenging position, let alone the presidency of the United States. Maybe others in key positions have also recognized it.
According to one blogger, this was overheard at the Pentagon: "Don't worry. Department of Defense took away the codes. The briefcase is empty." (That's the one like a football that accompanies the president wherever he goes.)