​Is it the end of liberal education?
by Ed Raymond | .(JavaScript must be enabled to view this email address) | Gadfly | February 14th, 2018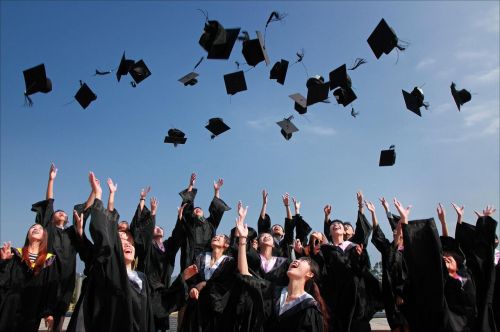 Do we finally have 'beauteous mankind in a brave new world?'
British philosopher and writer Aldous Huxley used a line of Miranda's speech in Shakespeare's play "The Tempest" as the title for his book about the future published in 1932: "O wonder! How many goodly creatures are there here! How beauteous mankind is! O brave new world! That has such people in it!"
Two recent news stories reminded me of why I taught his novel to my senior classes in English literature at Fargo Central High 60 years ago. First, Brave New World contains practically all of the issues of the 20th century these 18-year-olds were facing: politics, culture, economics, sociological issues, and that other most fascinating subject, sex. Ranked fifth out of the top 100 English novels of the 20th century, it's still a terrific read.
Before I get into the meat of this column, two words in common use have to be redefined, because both have been corrupted by today's politicians and pundits. "Conservative" is officially defined as meaning: (1) Tending to favor the preservation of the existing order and to regard proposals for change with distrust, (2) Moderate, prudent, cautious, (3) Tending to conserve, traditional in manner of style, conserving, preservative.
The word "liberal," the most maligned word by Republicans in politics, actually means the following: (1) Having, expressing, and following social or political views or policies that favor revolutionary progress and reform, (2) Having, expressing, and following views or policies that favor the freedom of individuals to act or express themselves in a manner of their own choosing, (3) Of or relating to representational forms of government, (4) Tolerant of the ideas or behavior of others, and (5) Tending to give freely and generously.
Of liberal goose poop and conservative costs of higher education
One news story concerned the decision of billionaire Tom Golisano, the founder of Paychex, to refuse to pay his 2017 school taxes of $90,000 to the New York town of South Bristol because the town council did not keep geese from pooping all over his very expansive and expensive lawn.
His property is not described in the story, but I'm assuming his cottage in the Finger Lakes region of New York state with a school tax of $90,000 is quite an expansive one.
The 76 year-old says: "You can't walk barefoot, can't play frisbee, can't have your grandchildren run around. Here I'm paying all this money in taxes and I can't use my property because of the geese droppings."
Actually, he has been complaining about his total property bills for years, so council members feel he is using the geese as red pooping herrings. He claims he has used fishing line, smelly repellants, and wolf decoys to scare the geese.
I suggest he has sufficient resources to solve the problem. He could pay high school students to chase the geese off when they fly in. He could operate robot lawn mowers that could be programmed to cut the lawn when Mother Goose is spotted by robots. That's just two ideas. He evidently does not have a liberal education that encourages creative thinking.
Then there was an editorial in the Economist, with the theme that students are wasting their time and money by going to college, instead of joining the workforce and working their way up the ladder.
I was shocked by the theme. This centrist publication has been around since 1843, usually supporting economic conservatives and social liberals. I consider myself a social liberal and economic moderate. But the editorial claims college degrees are used to screen applicants for very ordinary jobs that do not require college training.
What jobs will be left after 20 years of robotic development?
The media is filled with stories about how technology today is destroying and at the same time creating jobs. Add artificial intelligence and powerful computers to this mix and some scientists say that half of all jobs in the U.S. will be handled by robots in the next 20 years.
What will all of these people replaced by automation do for a living? At a time in our history where we need to invest in people and education, we have states cutting support for all levels of education. Oklahoma, as an example, has cut K-12 education by 28% over the last decade.
Student college debt in the U.S. has reached $1.48 trillion, owed by 44 million students and parents. The average debt for 2016 college graduates is $37,172. Our average household debt is currently $131,437. Credit card debt has reached $1.1 trillion.
There is no doubt that if the United States is going to remain competitive in the world, we need to invest in education and creative thinking through art, music, literature, and the humanities as well as STEM (science, tech, engineering, and math). We are failing in this endeavor. How did Huxley solve this problem in his brave new world?
First, he eliminated natural human reproduction with the "Bokanovsky" process, where children are raised in decanters in government hatcheries and conditioning centers. He developed five classes of humans from the decanters by controlling the amount of oxygen and nutrients supplied to each decanter.
The gray-clad Alphas are the top class and are the rulers and directors of the nation. Second-class Betas, wearing mulberry, are subordinate to Alphas and serve as executive assistants.
The bottom three classes composed of the black-clad Epsilons, the khaki-clad Deltas, and the leaf-green Gammas are designed to do the scut work and the menial tasks associated with any society. By hypnosis, children have caste-appropriate classes covering self-image, class consciousness, social outlook, habits, tastes, morals, ambitions, and class prejudices while they sleep.
Where is trumpocracy leading us?
While King Donald wants to keep Gitmo open even if it only has 41 "combatants," does he know the military payroll and costs of Gitmo are $440 million? We must be the richest country in the world to spend over $10 million guarding each "worst-of-the-worst."
We currently have the highest income inequality in the developed world. While our One Percent have six homes, a dozen cars, private jets, and yachts, in 2016 13.3 million U.S. children and 36 million parents were living in poverty. This while the wealthiest Ten Percent own 84% of all stocks in the Wall Street Casino, making the U.S. world champion of income inequality.
Before Super Bowl LII, Minneapolis parents suggested that all profits from the extravaganza be used to restore cuts made in art, music, and physical education classes in Minnesota, and to reduce the class size of those with over forty students.
The world's richest man, Jeff Bezos of Amazon, plans to put another distributing facility employing 25,000 Epsilons Deltas, and Gammas into our brave new world. While he insists on huge tax breaks, thousands of his employees are on food stamps and are forced to use community centers for health care.
Bezos got $17 million in tax breaks from Ohio while 700 of his local employees survive on food stamps and welfare programs. Amazon workers are suing him in many locations for violating wage and hour laws, particularly for overtime and rest-break violations. Evidently, this is how he put together his world-leading $108 billion.
Philip Alston, the United Nations chief researcher on extreme poverty and human rights, stated the following after completing poverty research in the U. S.: "The United States is unique. First of all, it doesn't recognize what we call social rights at the international level—a right to healthcare, a right to housing, a right to food.
"The United States is unique in saying these are not rights. The United States again, uniquely, has the money. It could eliminate poverty overnight if it wanted to. What we're seeing now is a political choice. Where do you want to put your money? Do we give it to the very rich or into creating a decent society?"
Remember when Paul Ryan tweeted that one of the Gammas in our brave new world got a tax cut of $1.50 a week? The increase in her pay in a year paid for a Costco membership. A tax expert figured that the Koch brothers picked up about $28 million a week from corporate and individual tax cuts. They are Alphas in our class system. She is definitely a Gamma.
Sex in Huxley's brave new world
There is no procreational sex in 632 A.F. (After Henry Ford) in Huxley's world. Recreational sex is everywhere. Females who can reproduce children carry their contraceptives at all times in a cartridge belt called the "Malthusian Belt." (Read Malthus sometime!)
The maxim "Everyone belongs to everyone else" is constantly repeated. The idea of a family is actually "pornographic" and marriage, natural birth, and pregnancy are considered obscene. Emotional romantic relationships are obsolete; days spent in bed with a friend are encouraged.
If a person wants to be alone at any time it is considered "shocking, horrifying, and embarrassing." They chew sex-hormone gum, watch movies with "feelies," and enjoy sex orgies.
Our society is not there yet, but we seem to be on an inexorable path. The International Olympic Committee is distributing 110,000 condoms to Olympic athletes in South Korea, enough to supply 37 to each one during the event.
We need art historians, teachers, and artists
I watched the opening program of the Olympics the other night and was astounded by the technology displayed. But then I realized South Korea leads the world in the percentage of high school students going to college. It is ranked #1 in innovation in the world.
The U.S. is ranked 12th. We used to lead in these categories. We still have 52% of our population who have graduated from college while Japan has 50% and Germany 49%. But we are falling way behind in the ratio of college-bound. College has become unaffordable for the majority. We also have failed to support pre-school through doctoral programs.
We emphasize market values and ignore life-enriching values of higher education. We are deliberately educating Alphas and Betas while ignoring millions of Epsilons, Deltas, and Gammas.
In order to maintain a functioning society we need art historians, archeologists, musicians, teachers, and sociologists as well as CEOs, hedge fund managers, entrepreneurs, and Wall Street brokers. Some people do not need their life enriched by six homes, 12 cars, a private jet, and a yacht.
We must give everyone an equal chance to enrich their lives. Every conventional market task can be improved by liberal arts majors who use art, music, literature, and the humanities to temper and organize those markets.
Aleksandr Solzhenitsyn, Russian author of The Gulag Archipelago, knew a lot about good and evil in the chain of Soviet prisons: "The line separating good and evil passes not through states, nor between classes, nor between political parties either—but right through every human heart—and through all human hearts."