A gold star and a sad face for everyone
by HPR Contributor | .(JavaScript must be enabled to view this email address) | Last Word | October 25th, 2017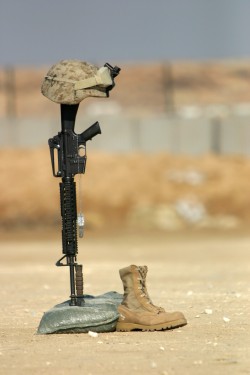 By Anthony Paul
[Editor's note: This piece contains language that some readers may find offensive]
It has been all over social media and the news lately, how our president and commander-in-chief called and spoke with one of these gold star families, the family of a fallen soldier.
This has been common practice with most presidents in recent years. However, President Trump has fallen under scrutiny for words he was overheard saying, "He knew what he signed up for." Half the country has blasted the president for that statement. I struggle to comprehend the reasoning behind it.
I am a Gold Star Family member. We lost my brother in 2006 during the Iraq war. He was a member of the 101st Airborne Black Sheep Division of the United States Army, The Screaming Eagles. To say these men are bad asses is an understatement.
My brother was stationed near Baghdad. Yes, he signed up to join the military during a war, a move that at the time did not make his mother happy. She was proud of him but constantly worried.
Patrolling the streets of Baghdad was a common task when stationed back at base, my brother told me. He always asked for candy in every care package we sent. Not for himself, although I'm sure he ate more than some.
He would give out the candy to young Iraqi children. He told me the children would often be used to set off bombs, and as soon as they were old enough to hold a gun they were forced to fight as well.
The stories he would tell I can't begin to divulge here, but rest assured that dangerous does not begin to describe what they went through. It was always a relief to be back at base, he told me, despite the constant attacks by insurgents.
His demise came on patrol of downtown Baghdad. An IED that had been buried under the road was set off by an Iraqi child as my brother's Humvee drove over it.
Before his death, my brother had the benefit of coming home for a sad occasion. Our Grandmother passed away from cancer. We were all so happy to see him, Grandma had fought such a long hard battle that it was almost a relief to know she was at peace.
When he came home, the Westboro Baptists were traveling all over the country protesting soldiers' funerals. Their disgusting display of hatred was well televised at the time. They would hold up signs saying "God Killed Your Son Because He Supports Evil," or "God Hates Soldiers," "God Hates Fags," "Your Son is Dead Because God Hates Him." They would scream at the top of their lungs that God killed your child because this country supports fags.
When I asked my brother what he thought about these terrible people he said, "I'm fighting to bring freedoms like this to other people. People who control them want us dead for forcing freedom and liberty down their f*cking throats and they can sure as hell try. But we back home have to be the shining example of what that freedom is and means. I don't like what they are doing but I am willing to give my life so that others have that same right because I believe that freedom, the right to say and do what you want, is what makes this country great."
I told him how badly I wanted to beat those people into a bloody pulp for the disrespect they have shown our soldiers.
He said to me, "It would be more disrespectful to try to silence their freedom. To force them to stop speaking truths they believe in is wrong. Because that very freedom is what I and everyone I fight beside signed up to protect. I don't like it either but I would gladly die to give them that right!"
He then made me promise that if he died and they protested his funeral that I wouldn't try to do anything to them.
The Westboro Baptists did protest my brother's funeral. We were fortunate to have the North Dakota Patriot Guard to block the view of their signs with American flags and to rev their motorcycles whenever the protestors started spewing their hatred at the top of their lungs. It was still very difficult for me to not run through that line and bash in the skull of every one of those hate-filled monsters. But we got through it.
That is the reason why today I cannot understand the people that say taking a knee, which I find to be a sign of service and respect, is disrespectful to our troops or our country. I feel the very opposite is true.
I was raised to never disrespect the flag. It never touches the ground. I will always show respect to our flag and our country. If someone disrespects our flag I would stop them by force if necessary.
In grade school, two kids had to leave class every time we did the Pledge of Allegiance. That was not a showing of disrespect. Their religion and beliefs did not allow them to make the Pledge of Allegiance.
We never thought twice about it and those two kids loved this country every bit as much as we did. To force them to say the Pledge of Allegiance would violate their freedom of religion. It was not disrespectful to the troops because the troops are fighting to protect that freedom!
I guess what I am trying to say is that protest, even when directly disrespecting the troops, as in the case of the Westboro Baptist Church, is actually showing them the greatest respect you ever could, by using the freedom they fought and died to protect. Taking a knee, which is generally a sign of respect and servitude, in protest, is more about showing respect than disrespect.
Something I do find disrespectful to not only the troops but to the Gold Star Families that live with their memories is to violate and bastardize that family's privacy for your own political agenda.
When my brother died, politicians showed up to pay their respects. They all seemed to treat it like a photo op, except for one. There was only one who took the time to meet the family and have a real conversation and offer his condolences. The rest came through the line with a handshake and a, "sorry for your loss," but he took the time to talk with my family and I. You could see and feel the compassion that Byron Dorgan had for everyone around him. It has been 11 years since my brother passed and I still will never forget the day of his funeral and the day we found out.
When a soldier dies, first the family is often greeted at the front door by a commanding officer and the pastor of their church. Then the parents are the next stop. I was fortunate to be at my parent's house when they came knocking. I was the one to answered the door, because my mother was getting ready for bed.
I hope nobody reading this ever has to hear the sound a mother makes when she loses her child. It is something that will never leave you mind, the screams and wails of absolute sorrow and despair.
I hope you never have to hold your sister in your arms when you go upstairs to tell her the news and feel the strength in her legs give out as you hold her and feel every muscle in her body shiver as she cries uncontrollably. I hope you never have to feel fortunate that your father was able to stand like a stone and comfort everyone as they feel their entire world coming down around them.
That moment and the days that follow are the most personal and publicly private moments a family can go through. I say publicly private because EVERYONE knows. They don't know what you're going through, but they know you are going through it.
During that time a common theme of solace was, "He knew what he signed up for." Because he did! No person ever expects it, but he was ready and willing to make that sacrifice should it be required of him!
My mother felt fortunate that she lost her son in the military rather than a car accident or some other freak occurrence, because at least she had that to hold on to.
"He knew what he signed up for." He was prepared to pay that cost to make the lives of people he never knew better and to protect the lives and freedom of everyone he loved. The phrase was repeated constantly in the following weeks as a means of trying to comfort a grieving family.
When my brother died 11 years ago, George W. Bush had already made it White House policy to not attend any soldier's funeral. He even banned the media from showing the dead soldiers returning home, so we would all be disconnected from the true cost.
Barack Obama overturned that, allowing the families to choose whether or not to allow media coverage. He also frequented Dover Air Force Base for the arrivals of our fallen patriots.
Our current president took the time to call a grieving family. As words of comfort he likely said, "He knew what he signed up for" -- as I had heard from so many during that time of hardship. It was comforting to me. It was comforting to my mother. I am absolutely sure it was comforting to that family, especially coming from our President and Commander in Chief.
I never voted for Donald Trump. I don't much care for him. However, he took the time to reach out and comfort a grieving family as the leader of the free world and President of the United States of America.
The only thing I find disrespectful about what happened in President Trump's phone call is the way our media is trying to take this very painful and private moment from this Gold Star Family and use it to further divide our people and push their own political agendas.
Their child was THEIR child. As an adult he belonged to the U.S. Military. In death he never ceased being their little baby that they raised and loved. Let that mother find her one foothold in the abyss of despair. Let her have those words to hold on to.