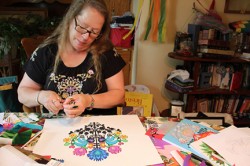 Wycinanki, pronounced vee-chee-nine-key, is the Polish art of papercutting. The distinguishing factor is the colorful, often symmetrical, layered paper cutouts. Tower City-based Meridee Erickson-Stowman learned the folk art wycinanki from Leona Wojcik Barthle, a woman of Polish descent who was based out of Sioux Falls, S.D.
The pair met in 1998 as part of the North Dakota Council on the Art's Folk and Traditional Arts Apprenticeship Program. According to the NDCA website the program was designed to "honor and encourage the preservation of North Dakota's diverse living traditions by providing grants that allow master traditional artists to pass their skills and knowledge to apprentices on a one-to-one basis over an extended period of time."
Stowman has completed three apprenticeships through the Folk and Traditional Arts Apprenticeship Program including wycinanki. She studied under Gladys Faiman, learning kraslice, the art of Czech egg decorating, and then with LeRoy Graber, learning German willow basket making. According to Stowman the willow basket making was the most difficult of the apprenticeships.
"I first learned of the Arts Apprenticeship Program while attending a summer folk art workshop taught by Tim Kloberdanz," Stowman says. "While I have always been interested in learning different art forms, that workshop ignited a passion to learn more about folk art."
Stowman creates her own patterns, often using themes found in nature -- or even her backyard. She is an avid birdwatcher and feeds a variety of birds. I have had the pleasure of studying under her and marveled at the goldfinches, hummingbirds and grosbeaks eyeing us curiously through the window. Not only did I receive an education in papercutting -- I also had a mini lesson in birding.
Stowman's intricate cuts are eye-catching, but the array of colors and the precise layering of both matte and metallic paper also draw the viewer's eye. The compositions have an old-world charm but also a whimsical air.
"I have degrees in composite art and education, but I have worked as a paraeducator in special education for over twenty years, using my creativity to help students learn," Stowman says.
She has served as an artist-in-residence at both Larimore and Jamestown Public Schools, and she has demonstrated wycinanki and kraslice at cultural events such as Pioneer Days at Bonanzaville and Sodbuster Days in Fort Ransom.
Stowman's passion for paper doesn't stop at wycinanki. She also practices scherenschnitte, the German art of papercutting. Scherenschnitte is more often silhouette-based and does not include the intricate collage-oriented layering of paper. She also does a fair share of Danish papercrafts such as woven stars, woven heart baskets and hushylder.
YOU SHOULD KNOW
To see Meridee Erickson-Stowman at work:
Fort Ransom Sodbuster Days
Sept. 12-13, 2015
Fort Ransom State Park
Fort Ransom, ND