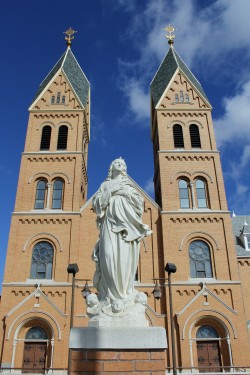 As much as I hate to admit that the passing of Labor Day leads to the passing of summer, I tend to reflect on my own personal highlight reel. I spent the majority of my summer in western North Dakota (in Stark County to be precise) and some of my favorite company was that of the monks at Assumption Abbey in Richardton.
My sweetheart and I decided to check out the abbey one summer day, but opened the door to see the monks at prayer. At the time we thought we would disturb them and made a hasty exit. A month later I returned alone and had a chance to meet Abbot Brian Wangler. I relayed the experience to the abbot and he smiled as I paused when I didn't know whether to refer to the activity as chanting or singing or ... and corrected me by adding, "You mean church stuff?" With that response I knew I was in good company.
Abbot Brian was kind enough to give me a brief tour of St. Mary's. The Assumption Abbey/St. Mary's church was built in 1906-1910 in the Bavarian Romanesque style under Milwaukee based architect Anton Dohmen. The towers measure 125 feet topped by 8-foot iron crosses. The church itself had undergone major interior and exterior renovations that involved the restoration of over 30 paintings, installation of new wood and brick flooring and the original wiring from 1908 was updated as well as the lighting and sound system. Handicap accessibility was also made possible.
The church itself is breathtaking, no matter what denomination you claim, with its lofty arches. And if you come at the right time you can hear the monks singing their prayers. Benedictine monks do not take a vow of silence and are quite active in the community. There are 52 stained glass windows depicting various saints and manger scenes with a prairie backdrop. The intent was to make the holy a bit more relatable to the average person.
The remains of Father Vincent Wehrle, the founder and first abbot, are housed within the vestibule of St. Mary's. Abbot Brian chuckled as he told me they were more than likely beneath my feet, and he then reassured me that he wasn't offended when I quickly stepped aside (was my face red?). Father Wehrle was born in Switzerland and later became a monk at Einsiedeln Abbey. He came to Dakota Territory in 1887, created a community in Devil's Lake and later brought a small group of monks to Richardton in 1899 to minister to the German Catholic immigrants that settled in Southwestern ND. In 1910 he was elected abbot.
During the first 70 years of the abbey the original occupation of the resident Benedictine monks was education. Due to limited enrollment and resources the seminary closed in 1967. Abbey Prep closed in 1968 and Assumption College closed in 1971.
According to a brochure I picked up in the visitor center, 54 monks call the abbey home, 26 of whom reside at the abbey while the others are on mission around neighboring states as well as in South America.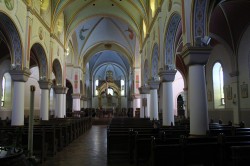 A typical day for a monk at the abbey is six hours of work, three hours of prayer (both private and communal), plus meals and adequate time to socialize, according to a "What do Monks do all Day?" pamphlet I picked up.
The Abbey also provides lodging for weary travelers and also space for workshops. Whether they are for writers, quilting groups or religious groups. Last month the abbey even provided the space for a rug hooking workshop. Large groups have been known to take over the former Schnell Dormitory, which can accommodate up to 100 people.
The Abbey also has an impressive gift shop featuring abbey-made wooden items such as icons and crosses, fourteen varieties of soaps (made with both goats milk or vegetable oils) pottery, bread and wine.
Once Abbot Brian and I had a chance to talk, I revealed that I was an artist as well as a writer. He then made a phone call and sent me to Brother Llewellyn Kouba's studio. He is the man behind the abbey pottery and he even had a piece in The Red River Reciprocity exhibit at The Plains Art Museum in Fargo last May. For the second part of "A Labor of Love and Faith" we will explore the work of Brother Llewellyn Kouba.
YOU SHOULD KNOW: