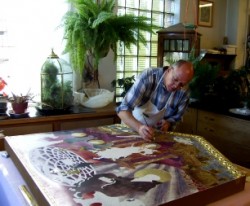 Last week we explored a bit of the history of Assumption Abbey in Richardton, N.D. We discussed a bit of the history and renovations, and then ended with Abbot Brian Wangler sending me to the Abbey Pottery Studio to meet the Abbey's resident artist, Brother Llewellyn Kouba.
The studio is located in a space that formerly housed a prep school dormitory. The studio came into being in 1987 with Brother Basil Atwell, OSB as the Abbey's first potter until he felt the call to be more active in ministry. He returned to seminary, was ordained to priesthood in 2002, and now Father Basil serves the diocese as a pastor. Brother Llewellyn Kouba took over the studio in 1996.
Brother Kouba was born and raised on a farm outside of Regent, N.D. and started his career as a self-taught painter. He stated in his artist bio: "I experienced great diversity in the clay mediums. Discovery of the elastic beauty of clay further led toward apprenticeship study with Sr. Denis Frandrup, of St Benedict's College, St. Joseph Minnesota; where I began to work with both hand-building and wheel thrown pottery that is then fired in an electric or a gas reduction kiln."
Upon entering the abbey studio I was enchanted not only by Brother Llewellyn Kouba's work but also by the array of beautiful tropical flowers and lively little birds happily fluttering away in their cage. In seeing his studio I could see that the beautiful art nouveau inspired subject matter featured in his work is a matter of art imitating life.
Brother Kouba is a man of many mediums. He is known to work with watercolor, oil painting, silk painting and rug hooking. Three of his rugs are made with hand-dyed wool and contain original patterns. The 3x5-foot rugs took nearly five years to complete.
Kouba also received a Folk Art Grant from The North Dakota Council on the Arts to pursue the study of iconography under master iconographer Peter Wilke. The intent of the Folk Arts Program is to encourage and perpetuate traditional/folk art throughout the state.
Brother Kouba created a breath taking 48x96-inch icon triptych titled "Passing the Gift of Creativity." The piece is housed in the Abbey's dining room. The dining room itself is a site to behold as one wall serves as a window that overlooks an awe-inspiring expanse of pristine prairie skyline.
The support for "Passing the Gift of Creativity" was made of linen and wood. "The gesso medium is a mixture of whitting or marble dust and rabbit (skin -- or hide) glue" Kouba said. "The pigments are natural earth ground minerals and dry powder pigments from all around the world and are the same pigments used by the Byzantine icon painters of ancient times. I made use of the Rublev's Colors (NY), which are then mixed with water or wine, and the yolk of an egg, which becomes the emulsifier or binder for the tempera medium."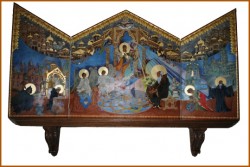 Brother Kouba also used a fair amount of gilding within the piece. The 23-karat gilding had to be laid down on a layer of "bole" (also known as gilders clay) in order to adhere to the surface of the piece before any of the pigments were applied.
"The Egg Tempera medium itself is much akin to the watercolor, except instead of working from light to dark value you work from dark to light, and is perhaps a bit more difficult to master in that you have a series of many highlights and floats. It is a beautiful translucent medium and I enjoyed the process and colors like none other," Kouba said.
The piece is alive with color symbolism and familiar faces in the abbey. "My model monks in the icon were Br. Jacob who is seen on the far left panel," Kouba said. "This panel contains a ladder, which is a symbol for the Benedictines as the ladder of humility or the ladder of Divine Ascent, prayers going up and favors coming down. Brother Jacob has exchanged his black Benedictine garb for the white cloth of the resurrected life in the New City Jerusalem."
Brother Victor (who was the oldest monk at the time 92) is depicted at a Prie Dieu kneeler, with hands folded in prayer. Brother Kouba continues, "Brother Louie, also on the far left panel, is wielding a hammer and chisel in the action of carving stone. The right hand panel depicts Einsiedeln Abbey in Switzerland where we were founded from. The Icon is complete with a lot of symbolism and color. The ancients never used perspective or shadowing but I felt it was necessary to deviate some from the traditional sense in order to portray the architectural features of the church's represented on the panels. So it really is a blend of the old and the new, but I very much tried to stay in tune with the language of the icon while writing it."
YOU SHOULD KNOW:
http://www.assumptionabbey.com/Pottery/