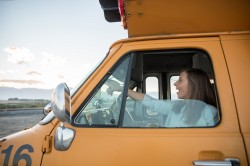 On January 4th, Ashley Hanson took a little school bus across the country to document rural arts with her Golden Retriever Bodie. She began this five-week road trip to highlight artists working in rural communities from West to East and North to South.
After the election, she planned the trip because of the major divides in our country between urban and rural areas. She has visited these communities with populations under 10,000 – the majority of the communities with a population under 2,500.
While traveling, she conducts interviews, creating arts and documenting the journey with audio, video, and photos. Ashley shares stories of artworks in rural communities and connects rural practitioners to each other. She hopes rural-based artists, cultural leaders and art organizations are enriching together at the intersection of art and its community development.
Public Transformation is a mobile artist residency and a cross-country documentary art project. As with Ashley on the five-week journey, they highlight rural artworks and encourage better and interconnected rural communities.
Ashley's little school bus is gathering up the bright side of artworks in rural communities, by documenting their cultural varieties and interconnections. Other artists will join Ashley to complete the project.
On February 6, all of the stories and artworks will be collected in a multi-media exhibition, at the Rural Arts & Culture Summit in Morris, MN, from June 6 to 8 and at the Outpost in Winona, MN in July. The exhibition is intended to interact with rural communities and artists, organizers, planners, or anyone living in and working with rural communities.
Public Transformation shares updates of the road trip on their website (www.publictransformation.org), or social media (@publictransformation, #publictransformation) and in email newsletters. The team is supported by Springboard for the Arts, Creative Exchange, Art of the Rural, and many individual donors.
Springboard for the Arts is a community development organization by and for artists, based in Saint Paul and Fergus Falls. It connects artists with the skills, information and services to make communities vibrant.
Creative Exchange recognizes that many local governments, community organizations and arts groups lack the resources to develop programs, so the team offers free toolkits, consultations and networking to encourage building stronger art communities.
You Should Know:
To donate to Public Transformation: https://goo.gl/ZoPa9V