AENDEE. opens on 8th
Arts | August 22nd, 2013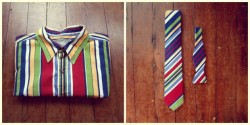 She's just 25 years old and already runs her own company.
It's literally a one-woman operation.
Ashley Nicole Dedin owns and operates AENDEE (pronounced "A-N-D"), a shop and studio that carries her own line of upcycled clothing and accessories for anyone to buy.
As of right now, Dedin does all her own sewing, package designing, public relations and bookkeeping. She also built the AENDEE website, maintains a blog for the brand and manages the brand's Facebook page.
Her only employee, she jokes, is "Ruby," her vacuum.
This high level of dedication she pours into a project or job is nothing new to Dedin.
What is relatively new, however, is how quickly Dedin has seen success from a project.
Her newest, and most successful, line from AENDEE consists of neckties and bowties. Dedin made her first necktie by a friend's request in the summer of 2012. She made it from a thrift store shirt, and named it the "Bruckbauer" (now the name of a line of ties modeled after the original).
In fact, all of Dedin's lines are made from secondhand materials. She considers using secondhand materials in creative ways the foundation of her brand. She explains she desires a very simple lifestyle, partly because she recognizes the advantages of living sustainably, both financially and environmentally.
She has made it a goal to not waste any material, so she saves it all, including minor scraps.
"I have an appreciation for vintage," Dedin says. "I just like the idea of secondhand."
Dedin especially enjoys when people bring shirts or materials in that have a special significance to them.
In fall 2012, Unglued began to carry AENDEE in its store on Broadway.
This past February, the brand made its craft debut at the Unglued: Craft Fest at the Plains Art Museum.
And in June, the brand participated in the first ever Alley Fair in Fargo.
A friend told her of a space that opened up in downtown Fargo and encouraged her to check it out as a home for AENDEE.
She was offered the space the same day she first visited it, and within only a few days, she committed to signing the lease.
The store preview occurred on July 26, the one-year anniversary of making her first necktie.
Dedin's shot to success has happened at a rapid speed, but it hasn't gone to her head.
"I hate using the word luck; I like using the word blessed," Dedin says to describe her recent string of fortune.
"I think people get really intimidated by living life boldly. I think people are afraid to be wrong."