​Allen Sprenger's Sculptures along Highway 49
Arts | April 3rd, 2019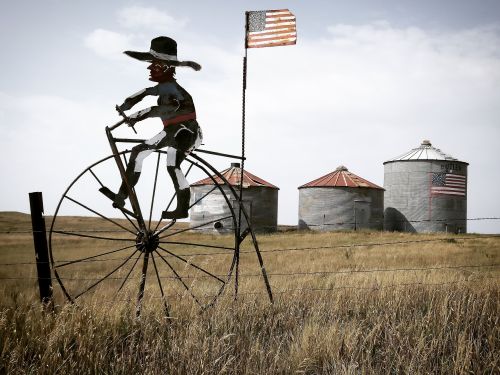 As you drive the stretch of Highway 49 between Glen Ullin and Elgin, you'll experience a variety of land features. You'll see rolling hills, open fields, and great expanses of pasture land surrounded by barbed wire fences and curious cattle. Glorious buttes and cut banks of the area surround and contain the Heart Butte Dam. To say it's a breathtaking view is an understatement.
Highway 49 is dotted by a few farmsteads and grain bins as one would expect from a state with such a strong agricultural backbone, but one part of the drive caught me pleasantly surprised as I found myself rubbernecking and spinning a U-turn on the lonely highway. There was a grouping of three grain bins surrounded by a barbed wire fence--which isn't unusual, but the first bin was painted with an American flag and the last was painted with a Lutheran flag and the fence was lined with a variety of whimsical life-size salvaged metal sculptures.
The pieces started with a small man in a large hat riding a big wheel bike with an American flag waving behind him and ended with a long frame bike with two adults and a child riding it, all wearing cowboy hats because--what else would you wear in western North Dakota? The two bike sculptures bookended one piece that looked as if it were made from salvaged pipe or possibly metal framework that spelled out "God Bless America," and there were two metal signs one with a rainbow that read "GOD'S PROMISE" in stenciled letters, while the other was a landscape triptych depicting a cross with vertical lettering that read "CIRIS" on one panel and a setting sun in the next. At the very south point of the work stood a large rock that was hand painted and read "Stone Church 1 Mile."
Allen Sprenger, 90, is the man behind the artwork. Though Sprenger was unable to talk about his work due to illness, I had the opportunity to speak to his son and caretaker Dwight Sprenger. He said the work was created around 1999-2000 and that his father was a self-taught artist who farmed most of his life. He went on to say, "There are all kinds of things that a person comes up with when you repair your equipment and buildings and things like that--it's practicing what you're thinking."
The work was created in the summer months and came as quite the surprise to Dwight. Allen exercised his creative bone later on in life and added a bit of whimsy to rural Grant county motorists.
The Stone Church was significant to Sprenger because his grandfather had gone there years ago but Dwight had no answer to the significance of the bicycles. He said, "It's not that I won't tell you--it's that I can't tell you. There's a little bit of a difference."